News
Despite recent woes, Jordan Spieth says fellow pros would still want him standing over big putt at the Ryder Cup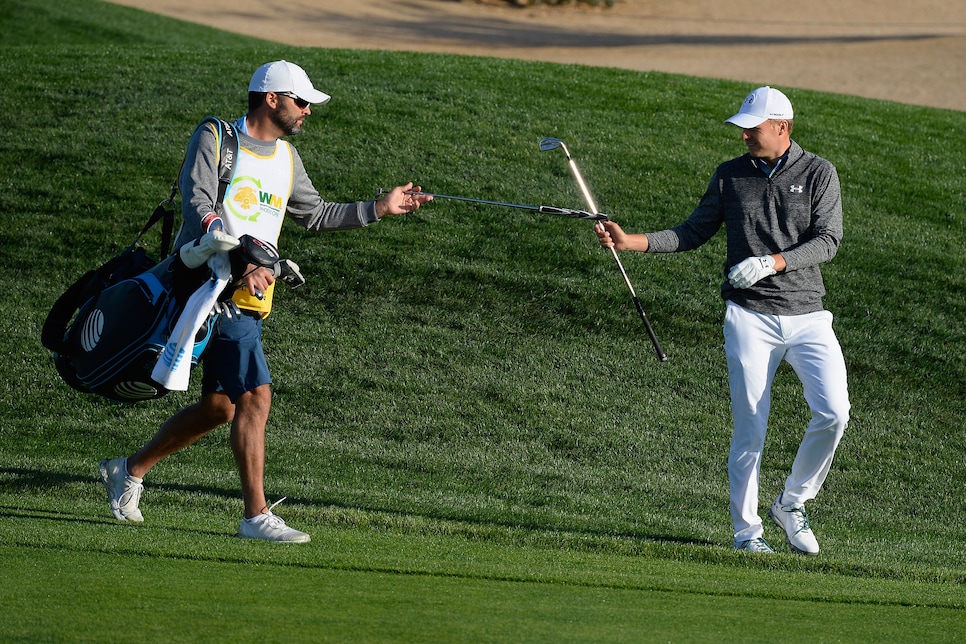 Robert Laberge/Getty Images
No golfer ever utters the word "slump." It's as bad as golf's other verboten "s-word." That one is so dangerous, you don't even dare type it. Suffice it to say it begins s-h and ends n-k. (Yes, that word.) In golf, it's practically an epithet.
So we won't talk about Jordan Spieth's little slump. We don't have to. He mentioned it Wednesday on the eve of his title defense in the AT&T Pebble Beach Pro-Am. Granted, he qualified it as a "minor slump," and he was only referring to his putting. As arguably the best putter of his generation, Spieth mentioning any problems on the greens is like Kate Upton fighting acne. Who could fathom these kinds of blemishes?
It's a small sample size—just three starts this season—but Spieth indeed is right about struggling in an area of the game that has separated him from his peers and paved the way to three major titles. The numbers game works like this: third-ranked player in the world is first in greens in regulation on the PGA Tour, averaging an eye-popping 81.67 percent, but ranks 153rd in putting average, 195th in strokes gained/putting and 202nd in total putting.
This is not a slump. This is a cosmic aberration, the earth tilting off its axis.
No wonder the guy is 123rd in the FedEx Cup standings.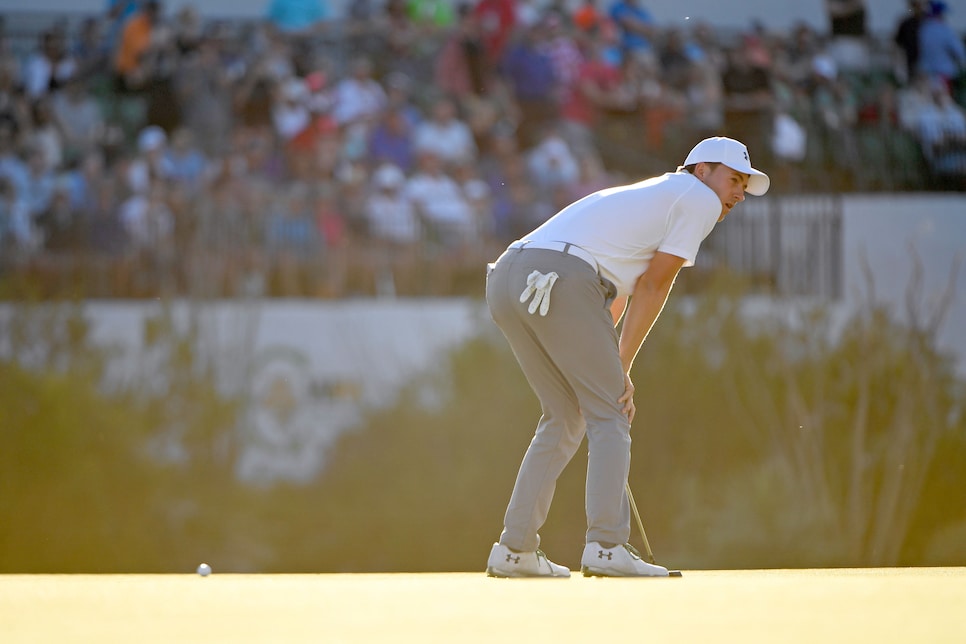 Chris Condon/Getty Images
The 24-year-old didn't shy away from the subject, but first he had to reaffirm his identity as the game's magician with a flat stick.
"Yeah, what goes through my head is I still believe that most of the guys that sit on this stage right here, you ask them who do they want putting on your team in a Ryder Cup, and I believe they would say my name," the garrulous Texan said. "So I have no doubt in my abilities. Just going through just a minor slump that is just setup related. I'm just trying to get back, and I got a little on top of it, and I was kind of hitting the ball into the ground with my hands pretty far forward, which is a very … it's opposite of what my natural tendency has been going back to when I was 8 years old.
"So I just kind of got into a place that I hadn't been before, and I just got to kind of get back into a comfortable setup position and then everything will fall through from there. The idea is just to stop thinking and just putt and not having to worry about things. But that's not the reality for a little while going forward here until I get to where when I set up over the putter I'm seeing my lines and I'm setup towards those lines."
Coming off a missed cut at the Waste Management Phoenix Open, his first since May at his hometown event in Dallas, the AT&T Byron Nelson, Spieth likely won't get a true idea of any putting progress this week. The poa annua greens at Pebble Beach are bumpier than the New England Patriots' flight home from Minneapolis. Steve Elkington still owns the best line about competing in the Crosby Clambake and the challenges of putting well when he famously pointed out that "the winner is the guy who makes all his six-inchers."
Last year, on the way to a four-stroke victory in cool, damp weather, Spieth concentrated on speed and mechanics. He would do well to repeat that approach. Then again, his real goal is to "go blank and just putt, and that's what I'm trying to get back to."
Which takes work, something he hasn't needed often when it comes to the short game.
"The weird part about this, what I was talking about with the putting, is I've never really had to work on much. I haven't really had to worry about the setup or anything like that," said Spieth, who earned his first paycheck in this event in 2013 when he finished T-22. "It's been about just minor adjustments in the stroke here or there that are triggers that just help me kind of stay fluid throughout the stroke. But I'm always, I've always historically have been tinkering with the swing. And something … that just trying to get a good compact feeling in the swing, and then it's just kind of shifted a little the other way right now, which is just a little bit abnormal for me, that is a kind of a fun challenge, to work on it to get it back."
Don't be surprised if he gets it back sooner rather than later. This is only a minor slump. And, thankfully, though he'd like to win this week, it's not a major tournament. He has time to experiment, find himself, groove that setup.
Besides, there are potentially worse problems. We won't mention them.