AUSTIN — The WGC-Dell Technologies Match Play begins tomorrow at Austin Country Club in what can safely be called the most exciting Wednesday in golf (there's not much competition). Aside from team events like the Ryder Cup and Presidents Cup, it's essentially our only chance to see the world's best golfers competing in this unique format. We asked a handful of the top contenders a simple question: If you had to give someone a single piece of advice on how to excel at match play, what would you say? Their responses were wide-ranging, psychologically astute and, occasionally, in direct contrast to what another had said.
"I like to play every single hole as if I'm 2 down," Jordan Spieth said, pointing out the one and only mentality change he makes for match play. "I start the match 2 down and when I get to even it resets. I go back to 2 down. Just stay aggressive. When you get up sometimes it almost feels like you're protecting a three-shot lead in a tournament when things can change so quickly, especially with the back nine out here. That hasn't changed back into my junior golf days ... it made me play aggressive golf."
In terms of psychology, Jon Rahm pointed to the value of resilience in a format that is particularly volatile, and in which—unlike stroke play—a bad stretch may not spell doom.
"I think it's never giving up," he said. "I know it sounds so cliché, but if you're 5 down, six holes to play, try to win six. It's never over until it's over, and momentum is a massive thing. One swing can change it all, and it can happen. You don't need to play perfect. ... If you just keep that mindset of being aggressive and just fighting for every shot, you should probably do fine in match play."
"Just don't get too down on yourself if it's not going your way," Robert Macintyre agreed. "Even with a couple holes to go, there's still plenty of opportunities."
Others, like Scottie Scheffler, felt that it's possible to get lost in tactics and forget that good golf is, as always, the most important element.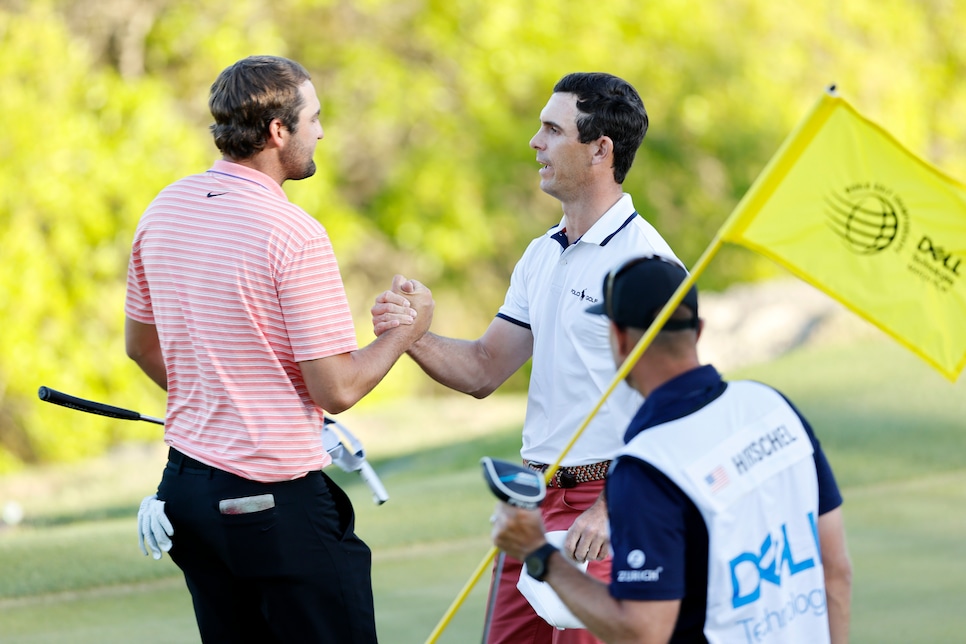 Billy Horschel shakes hands with Scottie Scheffler after winning 2 and 1 in the final of the WGC-Dell Technologies Match Play.
Michael Reaves
"I think people overthink it," said Scheffler, who lost the Match Play final last year to Billy Horschel. "I think a lot of people put too much strategy into giving putts or random stuff like that. For the most part, I think the only time your game plan really changes is if the guy you're playing with makes a really big mistake."
Horschel concurred, saying, "I think people get too much involved in trying to play the player, in my opinion. ... Sometimes a guy will hit it to 15 feet and you're like, 'man, I've got to hit this one close, too.' Well, he's not guaranteed to make that 15-footer. Then you hit a bad shot and you wind up making bogey and the guy just has an easy two-putt par."
On the other hand, Horschel conceded that there are times when you can't help but notice what your opponent is doing and react to it. Xander Schauffele remembered a moment from the 2019 Presidents Cup in Melbourne when Adam Scott became annoyed at an incident outside the ropes early in the round, and he realized that he had a chance to capitalize and extend his lead before Scott made his inevitable run.
"There's always opportunities and sort of swings in the span of 18 holes, even in nine holes, where you can kind of feel momentum go your way," he said. "You make a long putt or you make a birdie—a guy hits it to two feet or six feet and you make a 30-footer or a chip-in and then he ends up missing the six-footer, you'd call it a big emotional swing in a match. You alluded to the Adam Scott situation there. A player that good is always going to go on a run, and you just need to take as much of an advantage as possible of that situation, and that's sort of what Austin [Kaiser, his caddie] and I talked about at that moment."
The concept of playing tight golf, and not making major errors that essentially hand a hole to the opponent, was foremost on the mind of Collin Morikawa, who was disappointed at his poor showing at this event last year (a knockout after the group round), but who went undefeated in four Ryder Cup matches.
"You never want to give away shots," he said. "The biggest thing I learned last year is, I was three-putting, I was making stupid bogeys, I was putting myself in bad positions when I might have been in the middle of the fairway. And sometimes when you force issues, sometimes it's risk-reward. Sometimes you get away with it and sometimes you don't, and I just compounded those mistakes, and that's what you can't do."
Viktor Hovland, a former U.S. Amateur champion, emphasized a similar theme, as well as an old piece of advice that every match-play golfer learns: Expect your opponent to be heroic.
"You have to have the mindset that, OK, I'm probably going to have to shoot five, six under par to beat this guy. ... I feel like sometimes I've tried to maybe force things a little bit too much knowing the other guy is 40 feet away and feeling like I have to stick one in there close and then end up short-siding myself. Then he two-putts for a win and I make bogey instead of just playing my normal game."
"Always expect the other person to hole out or do something crazy," Schauffele said, echoing Hovland, "so you're never surprised."
In summary, this is a complicated format, in which you'll hear advice that sounds contradictory: play more aggressively than normal, but don't change your usual approach; ignore the opponent, but pay careful attention to his stumbles if there's momentum to be seized; don't get forced into desperation, yet always expect your opponent to make everything.
The beauty of match play is that the competition is so fluid, seemingly opposite credos can be true at the right time, and the more you hear, the more you realize that each piece of advice boils down to a single broader point: No matter where you are, have a keen sense of the moment, and apply the right lesson at the right time.