The Loop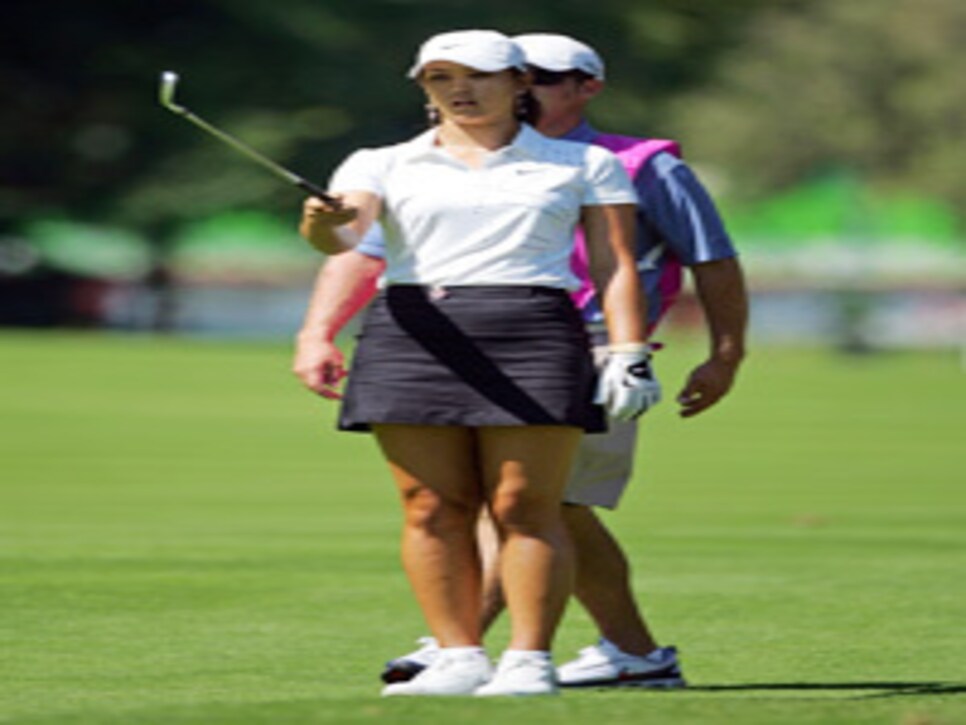 EVIANS-LES-BAINS, France - Want an indication of the tension level surrounding the Michelle Wie Camp as she continues to struggle with her game? David Clarke, who is about the 14th person to caddie for Michelle - and I'm being serious with that number - was approached by a reporter after Saturday's round and asked what club she hit on the 115-yard par-3 17th hole and replied: "I've been told by the family not to talk to the press." Hardly seems like revealing club selection is divulging a state secret. Clarke should know how to handle these situations. He toted luggage for Justin Rose on the men's tour before swing guru David Leadbetter hooked him up with Wie. At least Clarke finished the Evian Masters. Two years ago, Brian Smallwood, a long-time caddie for Betsy King, quit after one round here, fed-up with second-guessing from Wie's parents. And last year, Wie fired Greg Johnston after she finished T-26 in the Women's British Open the week after the Evian. Why caddie for Wie? The possible upside is too great - and there is that six-figure guarantee.
Sunday morning was overcast and cool and Wie, playing in only the second group out at 7:39 a.m., made a rare appearance in long pants. Her game did not warm up however. She made a double bogey 6 after driving out of bounds on the first hole, turned in 40 and had to rally to shoot a 76 and finish at 26-over-par 304. Interestingly enough, there was no standard bearer with the group. That's an indignity reserved for distance also-rans. Michelle's parents, mother Bo and Father B.J., always walk many yards apart as they follow their daughter, almost as if they are spreading out their very vocal cheering section. But, in a pattern that began as Saturday's third round spiraled out of control to an 84, Mom and Dad walked closer together and chatted occasionally, perhaps trying to answer the question on the minds of everyone: "What's going on with Michelle?"
There was a poignant moment on No. 16 when Wie left a 25-foot chip about 8 feet short and the sparse gallery following her applauded awkwardly, wanting to be encouraging but knowing the shot really did not warrant applause. It made you feel badly for the kid. If it is this painful to watch this kind of golf imagine what it must be like to play it. St. Andrews is not a good place to spray the ball the way she has at the Evian Masters this week - and the way she has in all her events this year. That miss to the right especially can really get you in trouble on the Old Course.
Speaking of the Old Course, I ran into five caddies at the kabob stand last night and none of them have been to St. Andrews, only seen it on TV. The plan for most is to hire a local caddie early in the week to walk practice rounds with them and help get yardages and locate the bunkers that at times seem to be scattered randomly. They all say they know three things about the course: Miss left if you are going to miss; lag putting is important on those huge double greens; and stay out of the bunkers. They also know that if the weather turns nasty their preparations will pretty much be useless. The five-day forecast for St. Andrews - and my experience is that the only accurate weather forecast in Scotland involves looking out the window and seeing what's going on right now -- is for little rain, high temperatures in the low 60s and 10-15 mph wind.
One final thought from Evian-les-Bains: Standing high on the sixth fairway at Evian Masters Golf Club early on a Sunday morning and following the lazy glide of a white sail boat on the bright blue of Lake Geneva while being serenaded by the sound of a church bell tolling in the distance is about as mellow as it gets. Makes you realize where the c'est la vie attitude comes from. Not a bad thing. Talk to you next week from St. Andrews where the beer is warm, the curry is hot and the weather is always unsettled.
(Photo: Andy Lyons/Getty Images)**