The Loop
Defending champ Jordan Spieth 'surely out of it' at Kapalua after costly second-round stumbles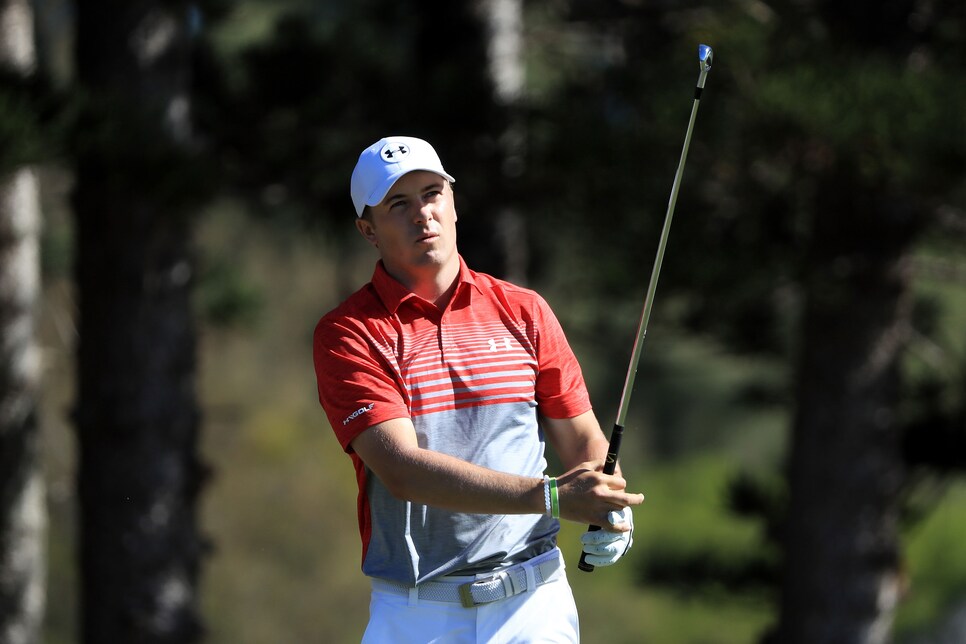 KAPALUA, Hawaii – Not that he should have expected to repeat his astounding performance in 2016 when he shot 30 under par on the Plantation Course, but Jordan Spieth already is conceding that he can't successfully defend his title in the SBS Tournament of Champions.
Spieth tied his career high with nine birdies Friday, but a surge up the leader board was scuttled by two uncharacteristically sloppy holes, making double bogey at the par-3 eighth and a triple bogey at the 17th. The Texan had to settle for a four-under 69 when something more promising was in the works.
When he begins Saturday's third round at Kapalua Resort alongside Charley Hoffman at 9:35 a.m. local time, Spieth will find himself trailing Ryder Cup teammate Ryan Moore and close friend Justin Thomas by seven strokes.
"We were in contention and now pretty surely out of it," said Spieth, who isn't used to that feeling in Maui, having finished second and first in his two appearances at Kapalua. "It's a bummer not to really have a chance to win after two rounds."
The two-time major winner can look to his misfortunes on those two holes and his relatively loose play overall for his struggles on the same course he toured so effortlessly last January. A year ago Spieth opened with two bogey-free rounds and suffered one bogey in each of the final two in his 30-under performance, one off Ernie Els' tournament record.
This week, he had two bogeys in his first-round 72. Then came Friday's twin disasters. He responded to the first mishap with birdies on his next five holes. A birdie at the par-5 15th got him to six under for the tournament and only three behind the leaders. But a "rookie move" at 17 sent him reeling.
Spieth, 23, reached back for a little more power at the par-4 17th and hooked his ball into the hazard left of the fairway. After taking a drop, he then powered a 7-iron through the fairway in a ravine. That second mistake was very costly.
"We rushed. Michael [Greller, his caddie] went off the front box [for a yardage]. Said something like we had 220 to the end before adjustment," Spieth explained. "What we should have done was take the time for us to sit back, look at the options, make sure that this next shot's in play and have Michael maybe walk off the 185-, 190-some-odd yards we had to the end and, say, 'Hey, this needs to pitch at 160. I just took a 7-iron, caught a flyer and ripped it, thinking I had way more than I did.
"Those are numbers you don't necessarily grab," Spieth continued. "We just didn't take our time, at all. It was kind of a rookie move to just step up and just be frustrated and hit something I don't normally make. But I also hit—I mean, hitting a ball where I did on 17 with about a 95-yard fairway is as bad a shot as I'll hit this year. So that was pretty frustrating, but at the same time, after, what, four or five years on tour, I should know, you can save yourself a shot by taking your time."
He chalked the mistake up to a bit of competitive rust. Spieth has competed twice since the Ryder Cup, one being his second Australian Open win in three years in November.
But rust aside, the mistake was all too familiar.
"I'm not known for making big numbers, and it seems to be a thing that's happened in the last year and a half or so, maybe by trying to do a little too much," he admitted. "You recognize that it's, whatever, one in hundreds of rounds you're going to play. It was a colorful one. You're going to have rounds like this. I guess looking at the big picture, I certainly understand that this is going to happen. But at the same time, you know, these are rounds of what-could-have-been. That didn't need to happen."
Ranked fifth in the world, Spieth still has his eyes on cleaning up his errors and salvaging what he can of the week. It wasn't a palatable thought, but it had to do.
"I'll struggle for the next couple hours getting over 17 kind of throwing me out of the tournament," he said. "Just feel like it's going to be too big of an uphill battle. But I can get myself, probably 12 to 14 under par the next two days and finish in the top five, so that becomes the next goal."