The Loop
__Matt, I've read and re-read your latest Maui adventure and can't help but feel you've slighted so much else of the island. Granted, Kapalua is where the Mercedes kicks off shortly, but did you bother to go elsewhere? Having been to the islands a number of times, I've found the folks at Kapalua quite snobbish if you're not a resort guest. Their luxe-level cousin at Hualalai couldn't be nicer, no matter what, but as they say, that's another island. Back to Maui, you missed that Makena South is also going private. And what about Wailea? Typically better playing conditions than Kapalua and the Gold will test your game, the Emerald is great for us normal mid-handicap players, and the Blue, well, even I don't care much for the Blue. My point is, you never left the comfy confines of Kapalua. A normal visitor would and deserves full travel information from you. What about other courses, other beaches, other restaurants (how in heavens did you miss Hali'imaile General Store?) or one of the best ways to see the island's beauty (between rounds) is investing in a Blue Hawaiian helicopter tour. There's so much more on Maui than just Kapalua. You focused so clearly on them I began to wonder if they comp'd your visit? With golf's growth flat and the economy in riggor, how about giving us something other than $500 per night hotels with a $200-plus round golf? The reality is fewer of us can afford it. Golf needs us. Be creative, be resourceful and show us where we can go for fun at a reasonable price.
__An interested golfer/traveler,
Thank you for your e-mail and thoughtful feedback. I appreciate it.
First, and without getting into how other writers and publications cover the world of travel, it's our company policy that I have to pay, at the very least, a media rate throughout my stay at any and all destinations. Depending on the resort, a room rate for me can be as little as $100 per night and I've paid as much as $325 per night. I'm usually paying full fare for golf, food, drinks, spa treatments and activities such as a zipline tour and ferry rides to adjacent islands. We have this policy so I can sit down at my keyboard and not feel as though I owe anyone undeserving compliments and that you, the reader, can trust my copy.
The word count on the Away Game is roughly 800 for the main text and about 150 words for the Local Knowledge sidebar. Because enticing travel is about both images and information, we like to run four to five pictures with each piece. I'm asked to get a very focused amount of facts in a limited amount of space. You make several great points in your e-mail, but you must've missed the short graph on taking the trip to Lana'i and playing the Challenge at Manele Bay.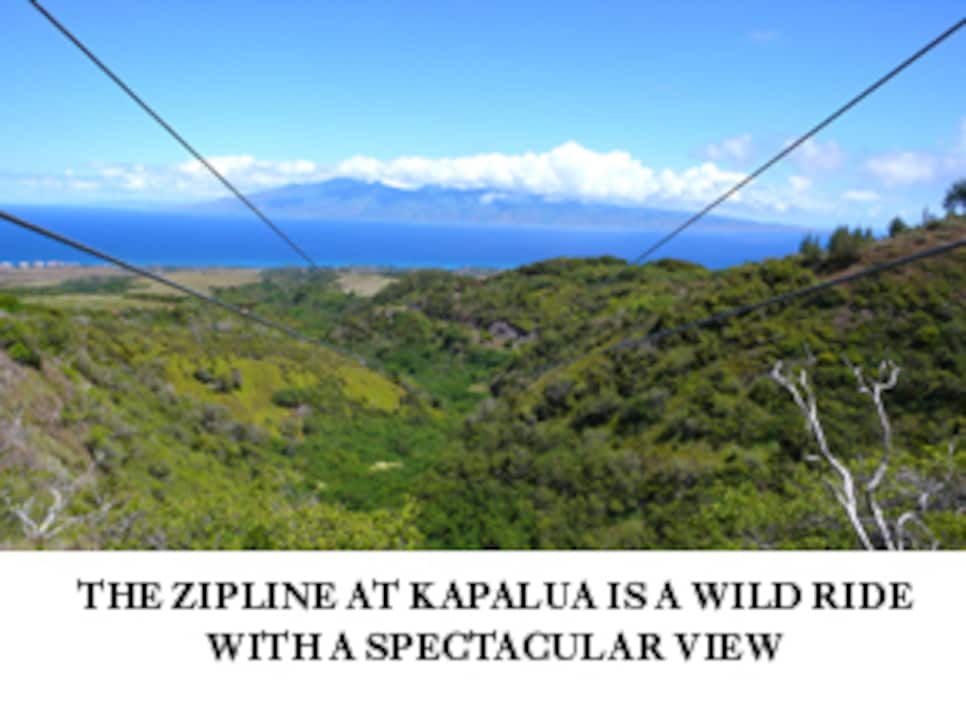 Another thing to consider, I'm only on site for three to four days for an Away Game (two days for an Ambush) and I try to create an itinerary that could be copied by a couple, a group of buddies or a collection of couples on vacation. Unlike Ireland, Scotland or Vegas, I figured a foursome of male friends would never leave their loved ones and head for Hawaii, so I structured the Kapalua trip as though I was a couple or a small family and that should be reflected in the activities I highlight throughout the story (zipline, golf school, Jean-Michel Cousteau's Ambassadors of the Environment, children's pool, kayaking, snorkeling, etc.)
We chose Kapalua for the January issue (on newsstands the first week of December) because it hosts the Mercedes for the first tour event in January (which you recognized) and the fact that there was a news hook (the $180 million renovation of the resort).
Another point you make, about the price points of our stories and the economy, is one we are taking very seriously at Golf Digest. In 12 months of travel coverage, I hope you can see some balance. One month might be Kapalua, but the month before it was Vegas and in coming months we will feature Myrtle Beach, Mississippi and Alabama. In the Ambush article, I may surprise a group of guys in Pinehurst and follow it up with a trip to St. George, Utah. A few months ago we brought back the Frugal Golfer column, which will detail cost-saving tips to you and other anxious readers.
As far as the course conditions, I can only write about what I see. I know Kapalua recently hired a new superintendent and when I played the Plantation and the Bay courses in July, they were both in great shape.
I'm only one guy but I have two ears and I'm open to suggestions for future stories so keep your e-mails coming. I'll be back to Hawaii in the near future to focus on another resort on another island, more golf and another set of adventures. Unfortunately I'll leave all reviews of helicopter tours to you.
In the April travel Q&A I speak to Jack Nicklaus. He tells me about a few close calls in small aircraft. Over the years he has had to ask some of his helicopter pilots to set it down in backyards of unsuspecting strangers due to bad weather. I've often said, small planes and helicopters are how cool people die. Which isn't to say I'm cool, but I do have a cool job and I'd like to keep it as long as I can. Remaining amongst the living would be a good place to start. Strapped in and suspended from a sturdy cable (pictured) is about as far as I'll go to getting an aerial vantage point of Maui.