News
Day 1 of EurAsia Cup shows Team Europe needs to get act together for the Ryder Cup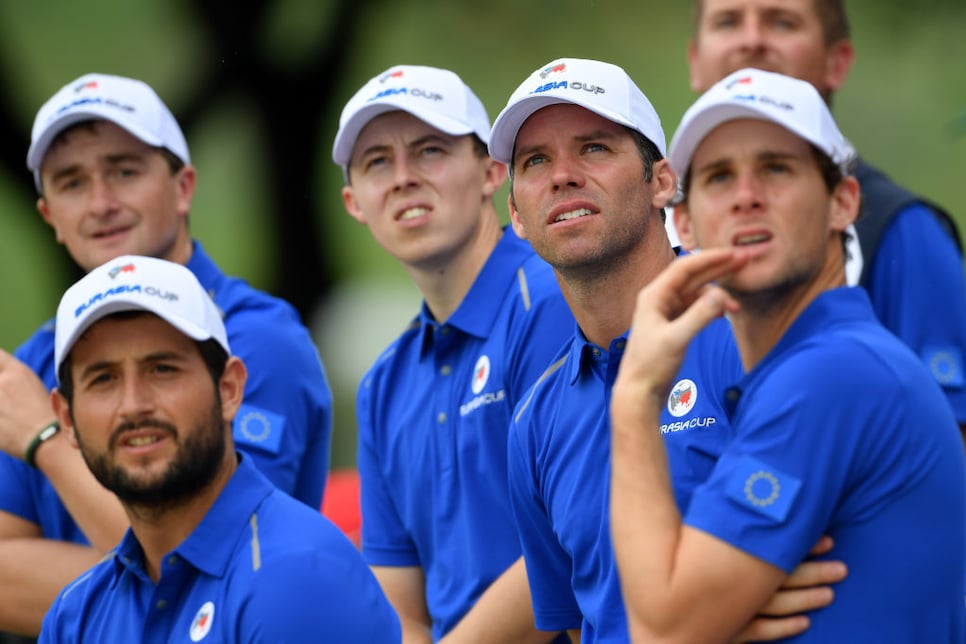 For a European team that was drubbed at the last Ryder Cup, this was not the start captain Thomas Bjorn needed.
Competing in this week's EurAsia Cup, the heavily-favored Euros won just two of Day 1's six matches, trailing by one point in the biennial event.
"When I look at the scoring in the groups I feel like a couple of guys might feel like they should have done better," said Bjorn, "but in general there was a lot of good golf from our side."
Though marquee names like Jon Rahm, Justin Rose and Rory McIlroy did not make the trip, the Europeans still brought their share of stars to Malaysia. Six players in the world's top 20—Henrik Stenson, Tommy Fleetwood, Tyrrell Hatton, Rafael Cabrera-Bello, Alex Noren and Paul Casey—are teeing it up, along with young guns like Matthew Fitzpatrick and Thomas Pieters. This against an Asian contingent that boasts just one player (Yuta Ikeda) inside the top 40, with half the team residing outside the OWGR top 100.
"We're not underestimating this team by any means," said Casey, who won his match with Fleetwood and is representing Europe for the first time in almost a decade. "We are taking this very seriously, so the score you see on the leader board right now is not through complacency … they have played some amazing golf to be in this position."
Among the notable upsets on Friday were Kang Sung-hoon and Poom Saksansin running Stenson and Alexander Levy off the course after 13 holes, while Fitzpatrick and Pieters fell, 2 and 1, to Ikeda and Gavin Green.
"I don't want to ever sound cocky with a team like Europe, and I'm not going to get cocky, but it's a great start," said Asia captain Arjun Atwal. "I noticed that every single pairing was comfortable with each other. That was my main goal this week, to just go out there and have fun."
Though two days of action remain, that the results are even close is a surprise. In the last iteration of the cup, the Europeans won 18½-5½
"I suspect that we'll go out tomorrow and be ready to play, and foursomes is a very different game," Bjorn said. "We feel like we knew we could find ourselves in this position, and we knew this Asian team is very strong and very much ready to play."
Such latitude is available to the Europeans this week. The same won't be said in France this fall. Not only are they coming off the business end of a 17-11 beatdown by the Americans in 2016, the U.S. roster will likely boast even more firepower with the emergence of Justin Thomas, Xander Schauffele, Kevin Kisner, Patrick Cantlay and Brian Harman. Plus the U.S. will have the confidence from a drubbing of the International team at last fall's Presidents Cup. Though the Yankees haven't won on foreign soil in 25 years, the Europeans will enter as underdogs.
But for now, the Europeans have another task at hand, one that could set the tone for the months ahead.