RILEY BOUNCES BACK
Davis Riley shakes off another missed chance, quickly jumps into mix in first Memorial start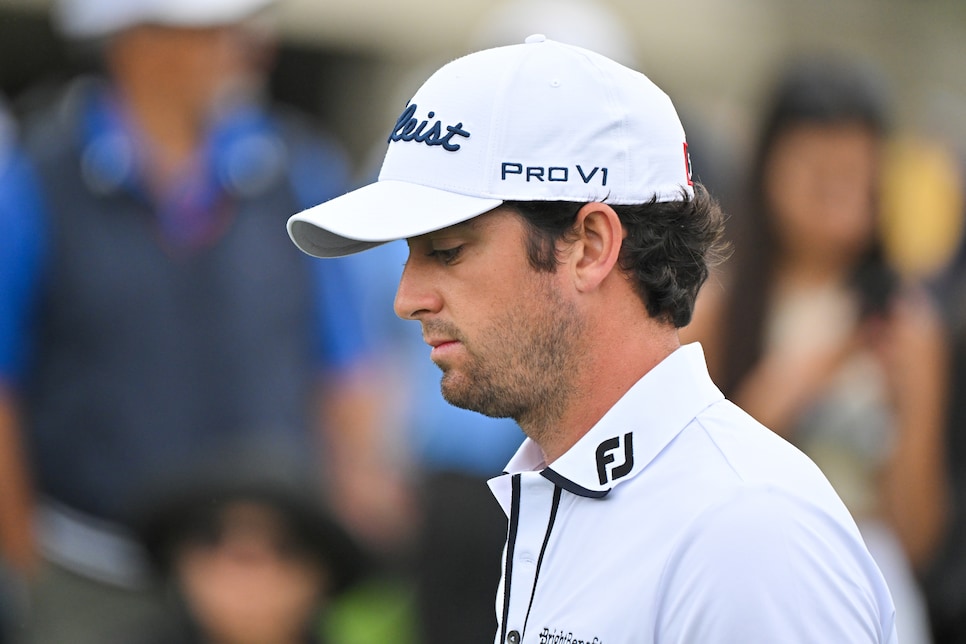 DUBLIN, Ohio — Davis Riley owns a welcoming disposition, an infectious smile and one of the most elegant swings on the PGA Tour. That swing is going to win him a lot of money and more than a few tournaments, but last week at the Charles Schwab Challenge it betrayed him at the most inopportune time and cost him a chance for his first victory.
Crushed with disappointment, all the rookie from Mississippi could muster Thursday in the opening round of the Memorial Tournament was a five-under-par 67 in his first official round at Muirfield Village Golf Club. Which was good for a share of lead.
Yeah, no. He wasn't crushed. He just continues to crush it.
Riley, 25, could have sulked and hung his head after he pumped a drive out of bounds on the 14th hole Sunday at Colonial Country Club and suffered a double bogey that dropped him out of a tie for the lead. He eventually finished T-4, his sixth top-10 in a season that also includes a playoff loss to Sam Burns at the Valspar Championship.
Instead, he wasn't about to let one poor swing overshadow all the good ones he made at Colonial—and for much of the year.
"That was a tough one to swallow," Riley said after storming home with a 31 on the inward nine at Muirfield Village on the strength of an eagle at the par-5 15th secured with a "perfect little cut 3-wood" approach from 262 yards to 17 feet. "I really felt like I had that tournament right there. And I feel like I've had a good chance, had a chance to win three or four golf tournaments in the past few months. That's been really nice. All I can do is keep putting myself in that position."
His attitude is as solid as the pass he makes at the ball. Or maybe it's a product of it. Either way, he had no trouble shaking off the disappointment or talking about it.
"It's like I was one golf swing away from being in a playoff or winning a golf tournament," he said. "And I've had that a couple times, like in Mexico, I lost by two to [Jon] Rahm, hit a shot at 16 and came up short and plugged in the bunker. It's like if that lands five yards further and goes on the green, actually I've got a good-looking birdie and that can change everything. Just little things like that."
Yeah, well little things like that might bother somebody less mature or lacking confidence. Riley, who attended Alabama and has formed a natural bond with fellow Crimson Tide product Justin Thomas, seems to roll with the punches quite admirably. One bad swing isn't cause for alarm, just a little introspection.
"It's just one bad golf swing. It's like you tell yourself don't do that. But it's easy to do that," he said with a wide smile. "I think the biggest thing in those situations is just you learn your tendencies when the pressure is really, really on. And I've kind of learned that about myself. I'm learning what shots I tend to hit more of when I'm under pressure or things I can do better under pressure. I think that's the biggest thing when you get in those moments.
"I'm playing good golf. And I've had a handful of top 10s in the past month, month and a half. It's like I'm doing the right stuff. I've just got to keep on doing it. It's like eventually it will happen."
In his last five starts since missing the cut at the RBC Heritage, Riley has finished T-4, fifth, T-9, T-13 (in his PGA Championship debut) and that T-4 last week at the Charles Schwab Challenge. He ranks 35th on the PGA Tour with a 70.266 scoring average. He's made $2.6 million and is now ranked 94th in the world. Yeah, he's doing the right stuff.