From The Archive
A quick Davis Love Jr. story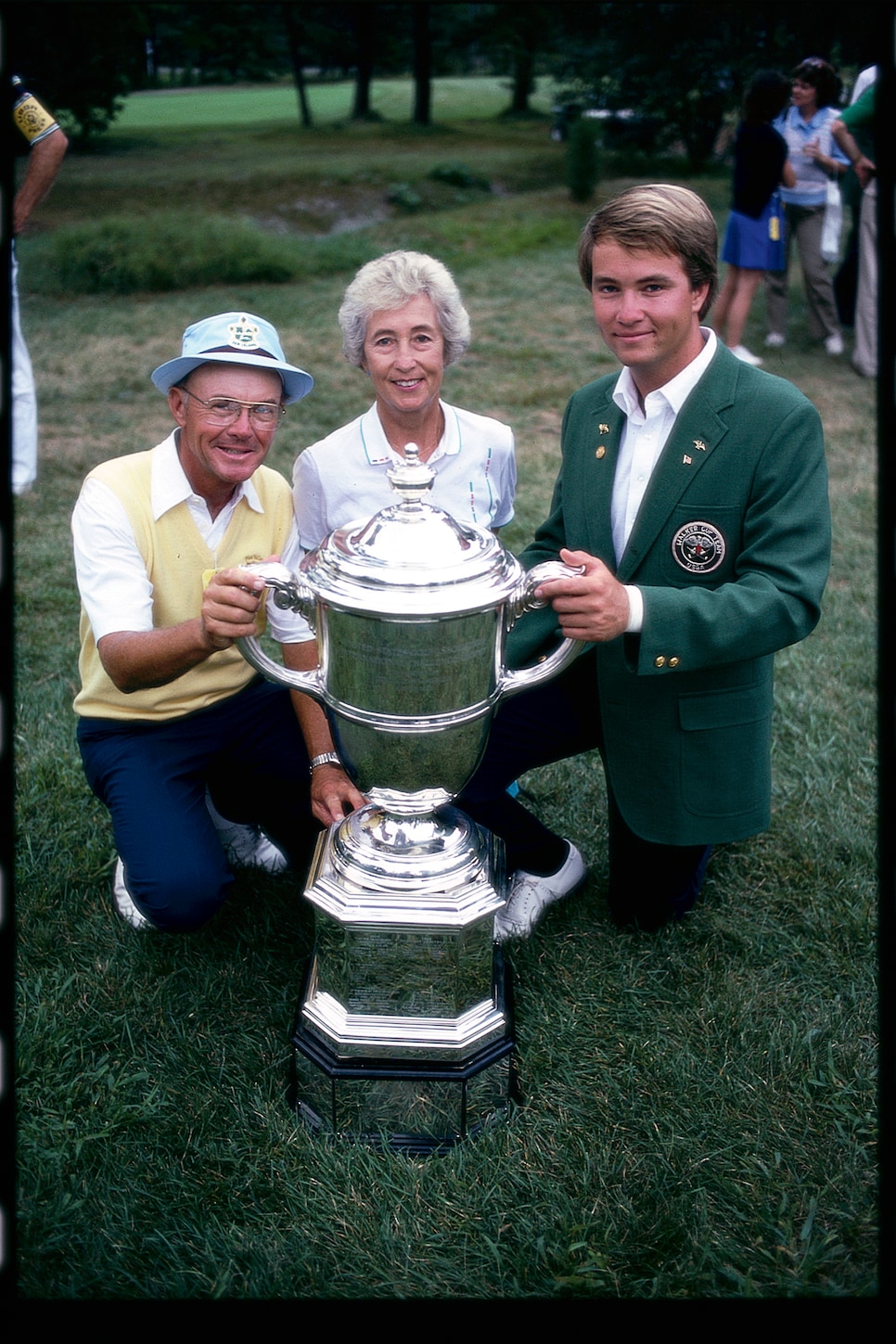 Davis Love III with his father, Davis Love Jr., and his mother, Penta, at the 1985 Walker Cup matches at Pine Valley.
Golf Digest archives
South Carolina reader George Gatesy says Bill Fields' Golf World story, "Lost in the Fog," which recounted the tragic plan crash that took the life of Davis Love Jr. and three colleagues, recalled a time when his father played with Mr. Love.
It brought to mind a story my father told me in the mid sixties. My father, Jules Gatesy, was an amateur golfer in New Jersey who qualified for and participated in the 1959 US Open at Winged Foot. During a qualifying round at Winged Foot the following year, he was paired with Davis Love, Jr. (At the time I believe Mr. Love was the Assistant Golf Professional at Mountain Ridge Country Club in NJ.) On the 13th hole (Par 3) my father hit a four wood that was heading right at the pin. My father was rooting out loud for the ball to go in the hole when Mr. Love stated, "Root for it to be close, but not in. If the ball goes in you'll be buying drinks for a thousand people at the clubhouse." I recall my father stating that Mr. Love was exceptionally nice to him during their round of golf...once a gentleman, always a gentleman.
Thanks, George. Davis was a wonderful man, as nice as you describe. He was also one of those people who worked so hard and conscientiously that he made those around him--and I was fortunate to work with him on a book--want to be just as focused and hard-working. His very being kept you on your toes.
To give you an idea of Davis' sense of determination and his high standards, here's a story behind that 1960 qualifying round at Winged Foot. After Davis had passed the first stage of qualification and was about to undertake the second--at Winged Foot--he had an accident. Helping a woman dislodge her front bumper from a metal barrier at a diner in New Jersey, Davis badly sliced several fingers on his hand.
The doctor told him that normal golf shots would tear the stitches open. The Open was out of the question. Davis thought otherwise. Believing that if he could avoid digging into the turf and sweep his shots he could protect his hand and still play, Davis borrowed clubs from his high-handicap members and put together a set almost entirely made up of woods. When he appeared at Winged Foot for that round with your father, an official there scolded him. He had no chance to qualify, the man said. He was only taking a spot from someone who could. How selfish!
Davis not only qualified but went on play so well at Cherry Hills in Denver that at one point he was on the leaderboard. A risky shot out of the rough, however, opened the wounds and forced him leave the competition.
A great teacher, a fine player, an amazing man.