The Loop
David Wells threw a perfect game 20 years ago—and I still can't believe I was there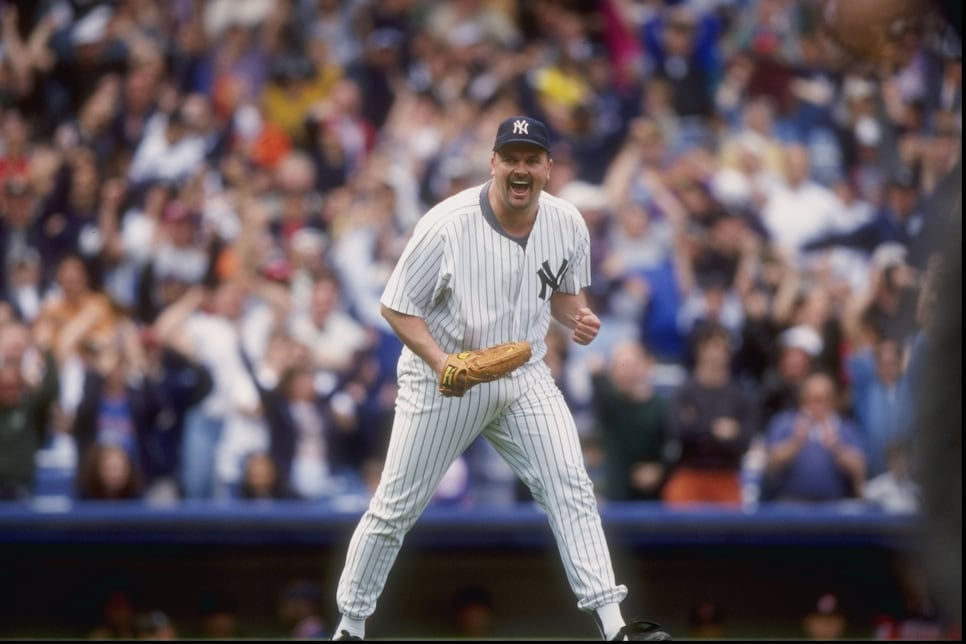 I can't believe I almost didn't go. I shudder at that thought when I think back to the morning of May 17, 1998. I was your typical lazy high school sophomore getting even lazier with the end of the school year approaching, but turning down free tickets to a Yankees game? On a beautiful afternoon?
But there I was pacing around the den of my family's house in Pelham, N.Y. I remember which room it was, because I loved that room. It's where I watched the Yankees win the first World Series title of my lifetime in 1996 (Although I ran through the entire house screaming when Charlie Hayes settled under that final pop-out) and where I witnessed Tiger Woods win the Masters by 12 shots in 1997. It also had a really cool wet bar, which had my parents' liquor collection displayed against the mirror behind it — but more importantly, had a mini-fridge that was always stocked with soda. I was an innocent 16-year-old, and again, I was also lazy. Why traipse all the way to Yankee Stadium when I could sit on that broken-in plaid couch and pound Pepsis all day?
Thankfully, my best friend Kiffy was particularly persuasive, because in order to go himself, he needed someone to go with. It was a free ticket, there would be no adults, and one of his parents would even drive us both ways. Oh, and the entertaining David Wells was pitching. Again, this should have been a no-brainer.
But why the last-minute scramble? It turns out, these were rain-check tickets. And whoever had planned on going to whatever game had been postponed previously couldn't go now. I'm not sure whose place I took that day, but thank you. And. . . sorry. You missed a decent ballgame.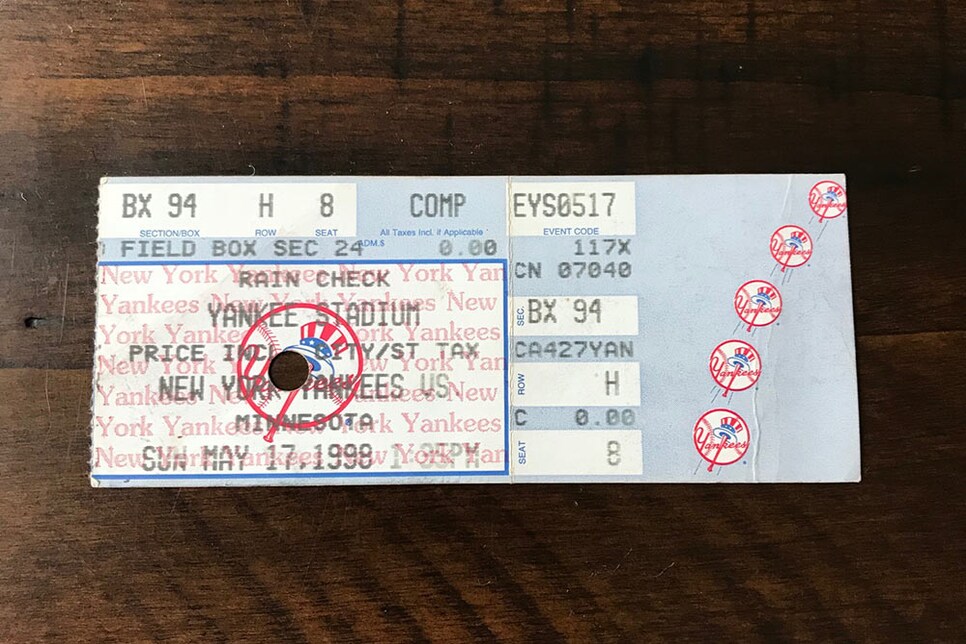 Thanks to my indecisiveness, by the time we got to Yankee Stadium we had to hustle to get to our seats in time for the first pitch. But we were delayed again by Kiffy complaining that we hadn't received that day's fan giveaway, a special-edition Yankees Beanie Baby, because we were too old. Now it was my turn to be persuasive, because time was wasting. And it was a freaking Beanie Baby. Eventually, I convinced him to stop hounding the woman near the entrance handing out the plush prizes (Why she wouldn't just give him one remains a mystery), and a few minutes later we were sitting down the left field line in the lower section, about midway between third base and the left-field wall. Pretty good seats! I put my glove on (Yes, I always brought my glove. No, I never caught a foul ball. Ever.) and focused my gaze on the burly left-hander digging in on the mound.
Wells got Matt Lawton to fly out in our direction to begin the game, and we were off. The pace of MLB games always feels much better in person, but this would be a particularly efficient day. After Wells retired the side in order on only nine pitches, I turned to Kiffy and said, "He's perfect through one!" We both laughed. And then scurried off to get junk food, because we were teenagers and hadn't had any in at least 30 minutes. I knew what I was getting: Carvel chocolate frozen yogurt with chocolate sprinkles. You know, in one of those mini baseball helmets. So good.
Anyway, back to the game. Wells needed all of 13 pitches in the second, picking up his first strikeout at Ron Coomer's expense. Remember Ron Coomer? That dude had one of the worst nicknames ever ("Coom Dawg"?), but in the mold of contemporary Matt Stairs, he was a "professional hitter" as they liked to joke on ESPN Baseball Tonight —a couldn't-miss show in an era when you couldn't see highlights at the press of a button. Anyway, I point Coomer out because the Twins lineup that day wasn't exactly the 1927 Yankees. A budding David Ortiz was on the DL. Marty Cordova, who was the A.L. Rookie of the Year in 1995, hit clean-up. A 41-year-old Paul Molitor hit third. And some guy named Jon Shave hit seventh. At that point in my life, I could name 99 percent of all MLB players, but Jon Shave? Was that even a real name?
Shave struck out looking to start a third inning in which Wells struck out the side. "He's perfect through three!" Kiffy and I chuckled to each other. Meanwhile, Minnesota Twins starter Latroy Hawkins wasn't quite as sharp. Not that he was ever sharp as a starter before eventually finding some success as a closer for the Twins and Cubs. Although, even then, he wasn't great. In fact, years later, my college buddies would refer to a Cubs fan friend of ours as "The Hawk" for his inability to close the deal with women. He didn't like that much, but I digress. . . On this day, Hawkins allowed four earned runs in seven innings (actually not too bad for him), including a home run to my all-time favorite Yankee, Bernie Williams, in the fourth inning. Bernie hitting bombs? Fro-yo! This was shaping up to be a heckuva day!
But back to Boomer, they say there's always one dicey moment during a no-hitter in which a pitcher gets saved by his defense. Well, in a perfect game, there's also any time a three-ball count comes up. The first of these happened when Lawton led off the fourth inning and took three bad pitches in a row. But Wells threw a strike and then got the outfielder to pop out to shortstop Derek Jeter. The most tense moment like this, however, came when the veteran Molitor worked a 3-1 count in the seventh, but Wells answered with two swinging strikes. "He's perfect through seven," I said quietly. We were too nervous to laugh anymore.
And I can assure you that Yankee Stadium held its collective breath with one out in the eighth inning as Coomer smashed a groundball up the middle. But Yankees second baseman Chuck Knoblauch fielded it cleanly, and, somewhat miraculously, made an accurate throw to Tino Martinez. Phew! Coomer was a professional hitter, but thankfully, not a great runner. Alex Ochoa popped out to end the inning, and HOLY CRAP HE'S PERFECT THROUGH EIGHT!
I don't remember much about the ninth inning other than Pat Meares hitting a lazy fly to right field that Paul O'Neill caught for the final out. But I do remember reciting a mantra over and over in my head that I've used as far as I can recall to help prepare myself for a bad sports results: "If it's meant to be, it's meant to be." I had said the same thing two years before when the Knicks trailed by two in the closing seconds of Game 7 against the Indiana Pacers and Patrick Ewing lumbered to the rim for an uncontested layup. It wasn't meant to be that day (it never is with the Knicks), but this time, it was. And I still can't believe it.
David Wells had faced 27 batters and retired every single one of them, including 11 via strikeout. At the time, it was only the 15th perfect game in Major League Baseball history. And years later, he'd admit that it was probably the first thrown while "half drunk," and with a "skull-rattling hangover," something 16-year-old me hadn't had the pleasure of dealing with yet. Although, once I had, it made Wells' accomplishment about 10 times more impressive.
When the final out was recorded, a crowd of nearly 50,000 people went crazy, and no one was more excited than the two high school sophomores jumping and screaming at the top of their lungs. We high-fived those around us. We laughed. We cried. We hugged. And most of all, I remember that we stayed. For a long time. Hanging onto a moment so big that even two teens realized instantly how lucky we were to experience something we would never see again. At least, not in person. Just about a year later we were together at a sleep-away basketball camp when we learned another Yankees pitcher, David Cone, had thrown a perfect game. Man, that Yankees dynasty was awesome.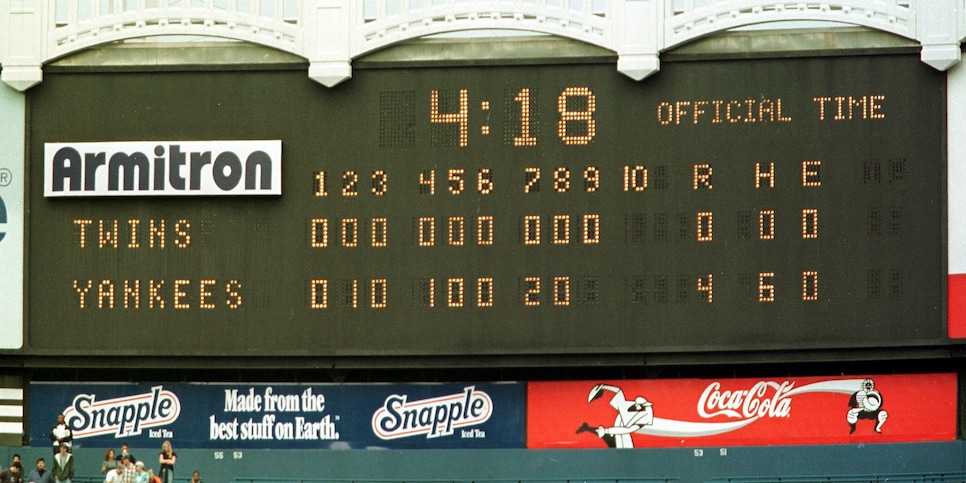 Since this occurred well before the iPhone Era, part of me is sad that the only memento I have from that magical day is that rain-check ticket, tucked away in a box filled with other keepsakes like scorecards from good days on the golf courses and press passes. But on the other hand, had this happened today, I'm not sure I would have enjoyed it as much with my head constantly buried in my phone snapping photos, excitedly ripping off emails to everyone I know, and trying to live tweet every moment. One thing I do wish I had from that day, however, is that stupid Beanie Baby. As Kiffy and I finally walked out of the stadium, we heard tales of people selling just the tags for hundreds of dollars. My bad, Kiffy. I should have helped you fight for one.
Everything after the final out that day is kind of a blur, but as I reminisce, so is everything since. Fourteen years later, I'd be the best man at Kiffy's wedding, three years after that, he'd return the favor at mine, and another three years after that, we're both dads living on opposite coasts. That's 20 freaking years! Like a well-pitched contest, life moves at a sneaky-fast pace. But while it's somewhat terrifying to think two decades have gone by since a perfect series of events led me to that perfect game, it's even scarier to think I almost passed up the opportunity to be there.