Instruction
How To Take It From The Range To The Course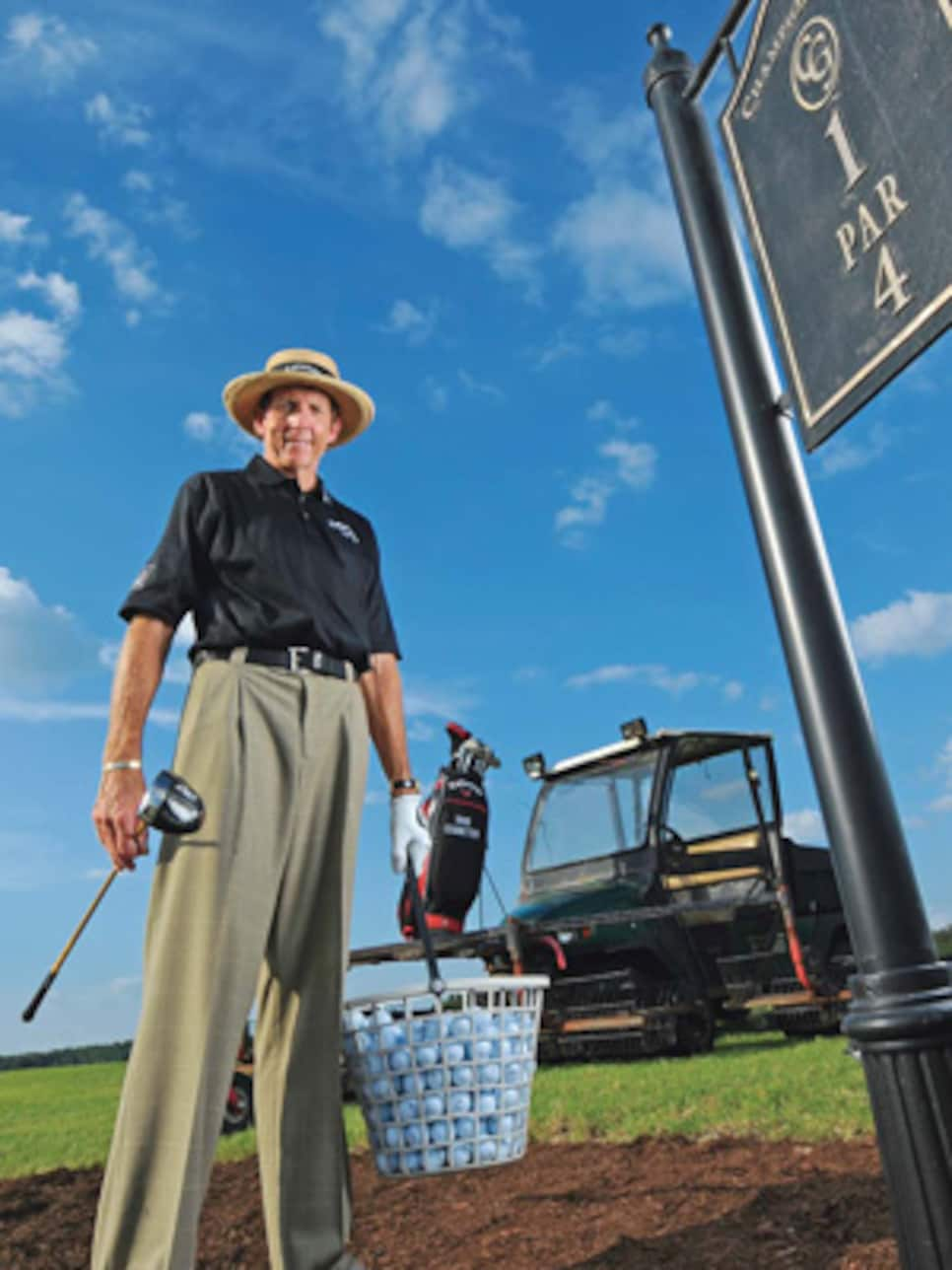 1. Warm-up goal: Hit it solid
On the practice tee at a British PGA Championship in the late '70s, I asked Gene Littler what he worked on before he went out to play. He told me his only goal was hitting the ball in the center of the clubface. Off-line shots didn't concern him as long as they were solid, because he could always adjust for accuracy. Mis-hitting shots was more worrisome to him. Littler's tempo is legendary, and probably stemmed from his desire to hit the ball flush. Concentrate on solid contact; it'll set up a great day.
2. Accept the swing you have
On-course betting shops were new at the 1974 British Open. My friends and I were scouting players early in the week, trying to decide who to bet on. Bruce Crampton caught our eye; he was striking it so pure on the range we couldn't believe he was going off at odds of 40-to-1 to win. We all bet on him.
Gary Player, on the other hand, was hitting it all over. Seeing his odds of 12-to-1, we hardly gave him a second look. Turns out, Crampton opened with 85-75 to miss the cut, and Player, looking comfortable despite his pre-tournament struggles, opened 69-68 and went on to win by four. The moral is, just because you hit it poorly on the range doesn't mean you will on the course.
3. Play 'holes' on the range
At the Masters in 1996, Nick Faldo played an interesting game on the practice tee. He was working on every shot he'd face on the course, complete with his caddie, Fanny Sunesson, saying things like, "The flag is 10 paces right, five from the back." This routine made Nick work the ball instead of hitting it dead straight. He never hit the same club twice in a row, and it made the course more familiar when he got there.
The gallery behind the practice tee was puzzled but eventually caught on to what Nick was doing and playfully cheered some of the "shots" he hit. I don't know if that routine was vital to Nick winning that Masters, but it certainly showed his focus and discipline.
4. Swing away with the driver
Most players warm up more with the driver than any other club. I don't think it's a bad idea, actually. Your driver is the most important club in the bag (except maybe your putter) because it sets up so many shots. Hitting driver is fun, helps with balance, and gets your blood flowing. It also builds confidence, even if you hit a few off line. John Daly likes hitting his driver so much that he sometimes starts his warm-up with it and works down. Geoff Ogilvy hits almost nothing but drivers and wedges, figuring if he hits the longest and shortest clubs well, the ones in between can't be far off. So if smashing driver gets you psyched, let it fly.
5. Limit on-course thoughts
When I was working with Gary Nicklaus about 15 years ago, I asked his dad how many swing thoughts he took to the first tee during his prime. Jack's answer: "I never had more than five." That blew me away. Faldo used four when we worked together, which I thought was amazing. I can still hear Nick's mantra: Sit, coil, pull, release. I heard it a thousand times. For most of us, two pre-swing thoughts and one during the swing is plenty. Any more than that, and you risk getting overloaded.
6. Take a feel to the tee
I started coaching Nick Price in 1982, and he's been one of the best at turning swing mechanics into feels. When Nick is working on something, say, having his left thumb under the shaft at the top, he's precise about doing it correctly, even checking it visually. But when he leaves the range, he doesn't check his thumb again because he's no longer thinking about mechanics. He has memorized how the correct position feels, which frees him to hit shots with no distractions. It's OK to have a mechanical key, but don't get burdened by it when you're trying to post a score.
7. Try playing odds and evens
If your warm-up is unstructured, do what Bob Charles used to do. "Charley Bob," as we called him, hit the odd-numbered clubs on Thursday, the even-numbered clubs on Friday, then back to the odds, and so on. This instilled in him a sense of routine that made him feel prepared when he left the practice tee.
8. Have a five-minute plan
When you get to the course too late for a proper warm-up, make sure you at least loosen up your trunk muscles, especially your lats and abdominals. Try these stretches. With your arms extended, grab the roof frame of a cart, and tilt your upper body to the left and hold. Repeat, tilting to the right. Next, with your fingers on the edge of the roof, bend forward and stretch your lower back and stomach. Then make 10 long, slow swings holding two clubs. Finally, make a few swings with your sand wedge (your heaviest club). If you're wondering if your warm-up was sufficient, keep in mind that generations of players grew up on courses with no range. You'll be good to go more quickly than you think.
9. Sub a club? Go for it!
Switching out a putter or wedge just before a round can be risky, but if your hunch is strong, do it. Arnold Palmer used to change putters at the last minute all the time. Mark Calcavecchia does it. Tiger Woods benched his putter--the one he'd used to win 13 majors--just before the British Open in July, then switched back for the final round. Provided the club isn't designed radically different from the one you've been playing, you might catch enough magic to play well with it.
10. Skip those mid-range putts
There are three types of putts you should hit before you head out. Start from two to three feet to build confidence. Then move back to at least 15 feet. The six- to 14-footers do you little good because you miss most of them. So go back to 15 or 20 feet, where your expectations are lower and you can focus on pace. Finally, hit a couple of 50-footers. Ray Floyd said that long lags helped him stand tall so his arms had room to swing and he could get his whole body into the act. You'll tee off feeling ready to putt great.