EASY MONEY
David Feherty admits he joined LIV Golf for the exact reason you think: 'They paid me a lot of money'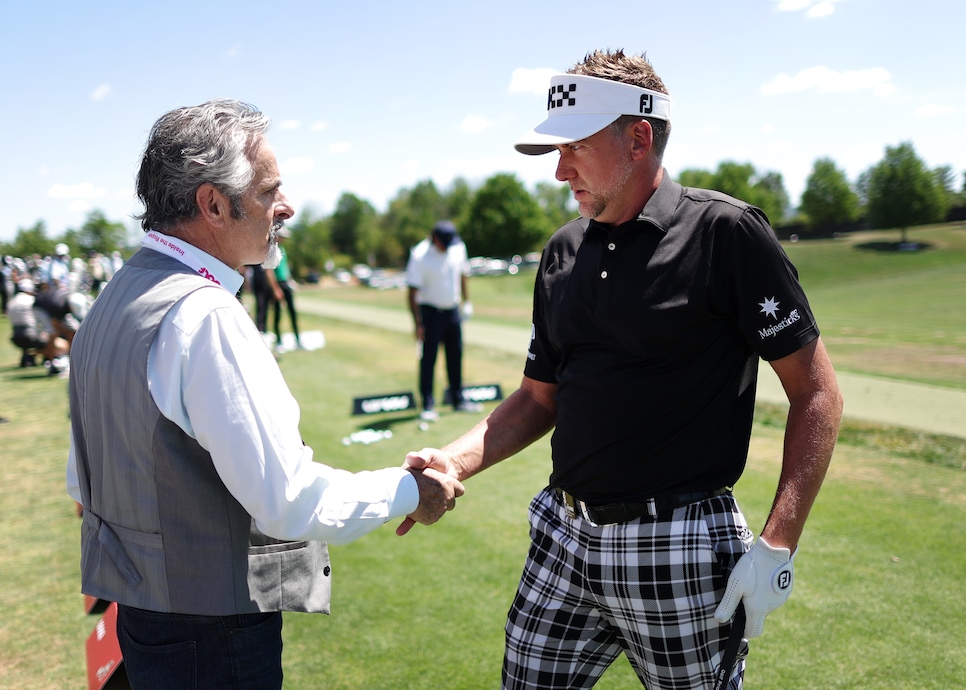 David Feherty talks with Ian Poulter at the third LIV Golf event of the season in New Jersey.
Jonathan Ferrey/LIV Golf
Grow the game. A lighter schedule. A different format. Only 54 holes.
Those are all just a smattering of reasons most of the players who left the PGA Tour for LIV Golf have used to explain their respective decisions to join the fledgling series.
But broadcaster David Feherty? He went straight for the obvious.
"Money," Feherty told the Toledo Blade earlier this week. "People don't talk about it. I hear, 'well, it's to grow the game.' Bull … they paid me a lot of money."
Feherty, 63, left NBC Sports and Golf Channel last month to become an analyst for LIV Golf. He was part of NBC's coverage of the Open Championship at St. Andrews, then moved on to his new role with LIV shortly after.
Money was the clear reason why Feherty left. But he also said that there were two more distinct explanations for why the jump was a no-brainer. One of those was a chance to be a lead analyst for the first time in his career. The other was personality driven.
"An opportunity to be myself again," Feherty told the Blade. "It's become more and more difficult, especially in sports broadcasting, to have any kind of character. Charles Barkely can say pretty much anything he wants, because it's, 'oh, that's just Charles.' And it is just Charles. But I have become more and more guarded over the last few years. There are people waiting around every corner hoping to be offended by something. [Expletive] those people."
Feherty also touched on doing business with Saudi Arabia.
"People that criticize are doing business with China, doing business with Russia. China, in particular, is a country where they're murdering Uyghurs left, right, and center, and their human rights record is horrendous," he said. "You can point to various countries throughout the world. I wouldn't want to behave like that, but wherever golf is, good happens, and I'm hoping this will do the same thing. [LIV] has said its going to donate $100 million to area charities."