News
With a 62, Darren Clarke would be alone on top in Florida without his 'oops' rules gaffe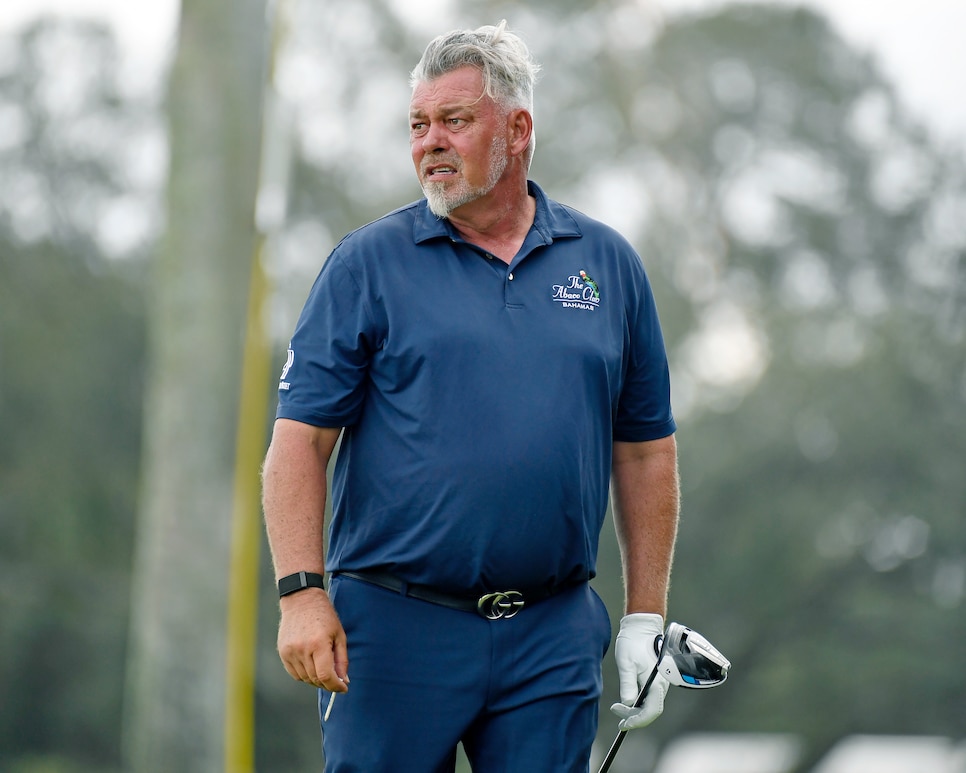 Darren Clarke watches his tee shot on the 12th hole during the second round of the Timber Tech Championship.
Tracy Wilcox
Darren Clarke is hungry for a win on the PGA Tour Champions. The Irishman who was a Ryder Cup regular and captured the 2011 Open Championship has competed 2½ years on the senior circuit without a victory. He's really only contended a few times, with five top fives in 39 starts.
Clarke did show he's still got game by shooting a 62 earlier this year in the Sanford Invitational's second round, but a second 70 for the week on Sunday dropped him into a tie for 12th.
If Clarke were to lose the title he has near his grasp this week in the TimberTech Championship—especially if it's by one shot—it will be especially brutal. He'll rue a brain cramp on the second hole on Saturday at Broken Sound Club in Boca Raton, Fla.
With eight birdies and an eagle, Clarke fashioned a tremendous 10-under 62 on the Old Course and was tied atop the leader board with Robert Karlsson (66). The round should have been a 61. On the second hole, Clarke hit a drive into the middle of the fairway, arrived at the ball, and then marked and picked it up. Like the previous round, he thought they were playing lift, clean and place. They were not.
"Oops," Clarke said good naturedly while recounting the gaffe. "One-shot penalty straightaway."
Unfazed, and in a hint of how the day might break his way, Clarke missed long over the green with his third shot, but then chipped in to save par. He wouldn't make a bogey all day and finished spectacularly by making a near-tap-in eagle at 18.
Clarke said it wasn't he first time he'd made such an error.
"I've done it a few times," he said. "I keep doing stupid things at the moment; that's one of the bad things about getting older. I've done it at Tiger's tournament at Sherwood, I've done it somewhere else, played the wrong ball. I should probably be a little bit more attentive.
"You know, c'est la vie. Sixty-two; I'll still take a 62."