Dan Jenkins: Tweets from the Ancient Twitterer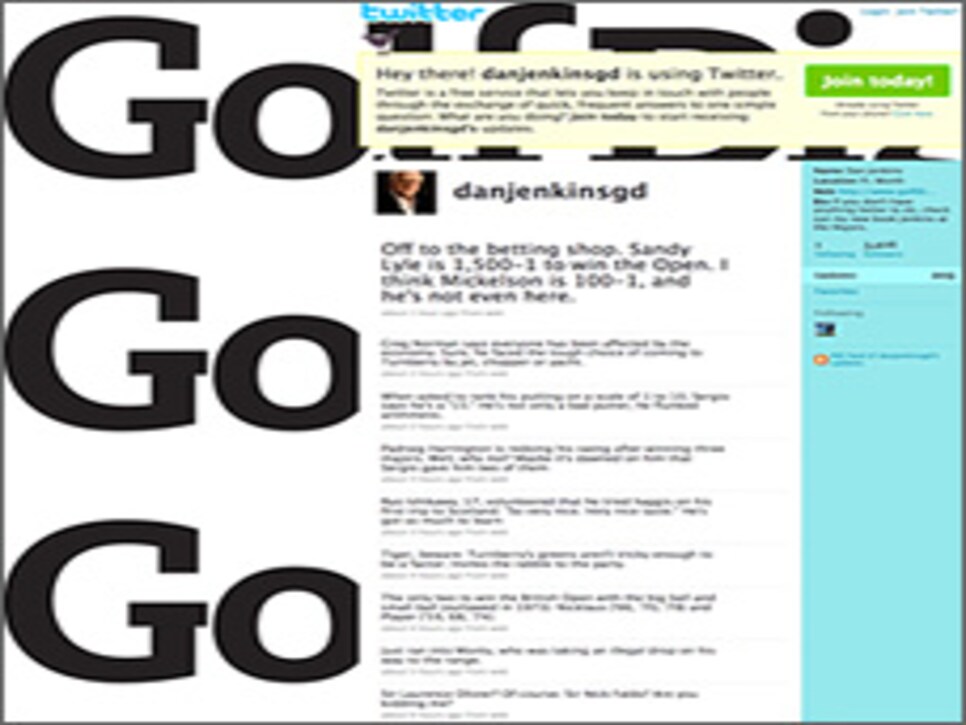 TURNBERRY, Scotland--Golf Digest Writer-at-Large Dan Jenkins is back on Twitter (twitter.com/danjenkinsgd) for his 201st major championship. Some highlights from Jenkins, 79, dubbed The Ancient Twitterer for his tweets (limited to 140 characters):
Seen & heard at the Open: Woman picks herself up after tripping on the street. Concerned golf writer: "Can you tell us where Roxy's is?"
After knee surgery, Tiger says it's nice to play with a leg that doesn't make noise. Wait until he's 79; his body'll play a lot of bad jazz.
Sandy Lyle says he's sorry for suggesting that Monty cheated years ago. Then he suggested that Monty cheated years ago.
Just ran into Monty, who was taking an illegal drop on his way to the range.
Sir Laurence Olivier? Of course. Sir Nick Faldo? Are you kidding me?
Padraig Harrington is redoing his swing after winning three majors. Well, why not? Maybe it's dawned on him that Sergio gave him two of them.
When asked to rank his putting on a scale of 1 to 10, Sergio says he's a "15." He's not only a bad putter, he flunked arithmetic.
Ryo Ishikawa, 17, volunteered that he tried haggis on his first trip to Scotland. "So very nice. Very nice taste." He's got so much to learn.
Greg Norman says everyone has been affected by the economy. Sure, he faced the tough choice of coming to Turnberry by jet, chopper or yacht.
Off to the betting shop. Sandy Lyle is 1,500-1 to win the Open. I think Mickelson is 100-1, and he's not even here.