News
Danielle Kang wins Buick LPGA Shanghai by two, her second career victory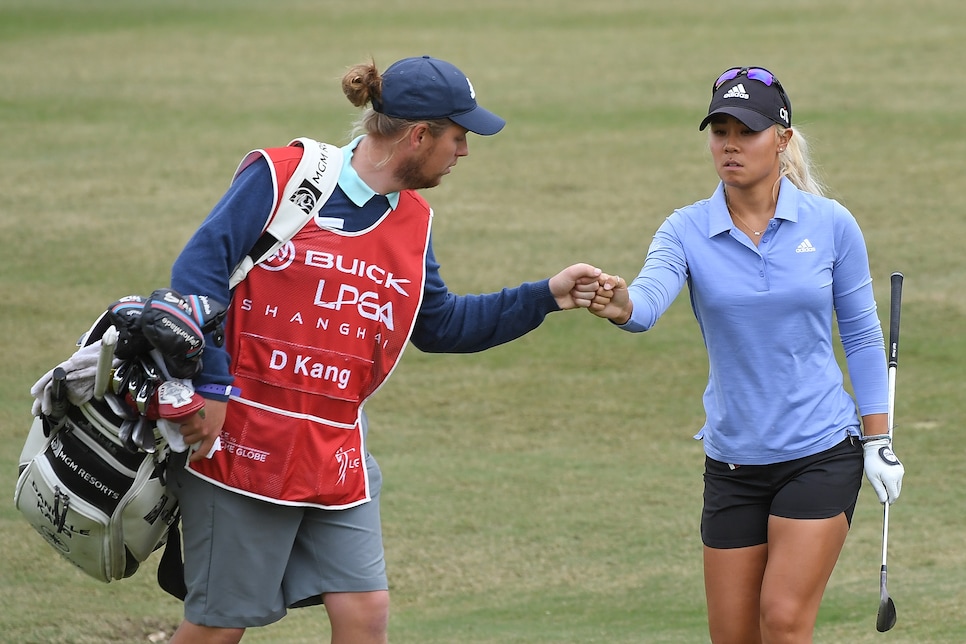 At the end of her press conference after winning the Buick LPGA Shanghai by two strokes on Sunday, her second career tour victory, Danielle Kang was asked a simple but somewhat uncomfortable question: Why haven't you won more?
It's a question Kang probably wasn't too surprised by, one that must be lurking in her own competitive mind, too. Kang qualified and played in the 2007 U.S. Women's Open as a 14-year-old, just a year and a half after picking up golf. She's one of the four players to win back-to-back U.S. Women's Amateur titles since World War II, doing so in 2010 and 2011. Her first LPGA win was a major, the 2017 KPMG Women's PGA Championship. She's competitive, tough, loves the spotlight, is athletic and powerful. So why, after joining the tour in 2011, is this just LPGA title No. 2?
Simple questions don't always have simple answers. But Kang took the question face-on.
"I had to go through swing changes. I had the swing yips, the putting yips, to everything possibly you could think of," Kang said. "Overcoming the mentality of the anxiety you feel over the shots, it's so much that golf does to you. And the things that I had to deal with over the course of time that I've been on tour. You know, I'm just so happy to be where I'm at today. I'm just happy that I won."
For this win in Shanghai, two big factors were her coach and her caddie.
Kang began the final round in a tie for third, one shot off of Carlotta Cigana and Sei Young Kim's lead. After making the turn with a one-over 37, Kang needed a total reset. Her caddie, Ollie Brett, stopped her after the ninth hole, pulling her aside for a chat.
"He told me, Whatever you need to do to let your anger out and restart and refresh, you need to do that now," Kang said. "I told him, Cameras are everywhere. I just want to hit the bag really hard. He said, Here's a wedge. Just smash it. Honestly, I thank him for that. He told there are a lot birdies out there. I regrouped and we pretended we started the round brand new on the 10th hole."
The strategy worked. Kang shot four under on the back for a closing 69, leaving her with a 13-under 275 total at Qizhong Garden Golf Club, two shots ahead of seven players tied for second. Included in that tie were five players who have won on the LPGA Tour in 2018.
When Kang, who turned 26 on Saturday, last won on tour in June 2017, she was working with David Leadbetter. Recently, she's started working with swing coach Butch Harmon.
"I was actually very frustrated even yesterday," Kang said on Sunday after the round. "Things just weren't going my way. The biggest thing that Butch tells me is to stay out of my own way. I just couldn't do that. If I had a short putt I just kept doubting myself. I couldn't putt freely."
That line about getting out of her own way, that's something that Kang has been working on a lot. She talks about feeling anxious on the golf course. Obviously, that's a difficult place to play from mentally. It's also not an overnight fix. She's been battling it this season and even struggled with it during the front nine of the final round.
"The front nine was a little bit rough," Kang admitted. "For me, it wasn't about the result; it was more so about what I was feeling on the inside and how I was dealing with things. I just needed to overcome all my insecurities and my anxiety."
For as complicated as all of that can be—the swing changes, the anxiousness—Kang was able to talk through it and boil it down to make the complicated simple in her last words to the press before leaving Shanghai:
"I'll win more. I'll play better."