Q&A
'I break down. I can't listen, I can't explain': Danielle Kang opens up about the impact of sleep deprivation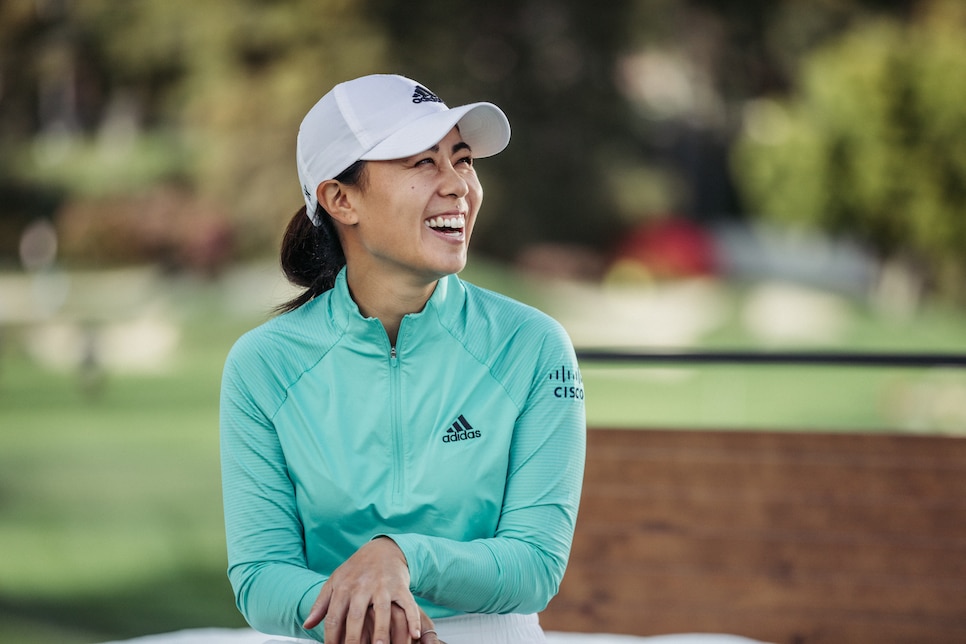 Danielle Kang is one of golf's most open and honest pros. So when she inked a deal with mattress company Zinus to become a brand ambassador, it wasn't a surprise when Kang was open about her struggles with sleepy quality and how that affects her wellbeing. The five-time LPGA Tour winner delved into how crucial sleep recovery is to tour players, self-care in general in golf, and much more in this Q&A with the No. 11-ranked player in the world.
RELATED: Danielle Kang explains why she's only recently started to love golf
Q: How important is a good night's sleep to you?
A: I truly believe that sleep is one of the main things that people can do to reduce stress. It helps with overall health, and people should take value in it. For me, sleep is super important. I actually plan my entire day and schedule around sleep. Nutrition, working out, practicing, those are all important aspects of becoming an elite athlete. But if we don't have rest, we're not going to be able to be as productive. There's no way around sleep.
What is your quality of sleep like?
I do have trouble sleeping quite a bit. I have a rule – actually, my family incorporated the rule "don't wake Danielle up." If I fall asleep it's with blackout curtains, nobody's going to bother me, no one rings my doorbell, no one calls me. I try to stay asleep as long as I can. If I get woken up in the middle of the night with noise, I'm up for the rest of the night, so hotels are a little bit harder. I have a whitenoise soundtrack that I turn on. It's pretty loud and covers up the outside noise.

But at home I have my Green Tea Luxe Zinus mattress. Honestly, they told me it was going to help me sleep better, and it has. I just go to sleep. I keep asking them what the green tea does, and it brings freshness.
When is it hardest for you to sleep?
When I've had a bad day. I'm the type of person that will repeat it in my head. I just sit there and kind of relive all the mistakes that I made and see how I could have done it better, and how I could have managed it better. That then gets my adrenaline going and keeps me awake.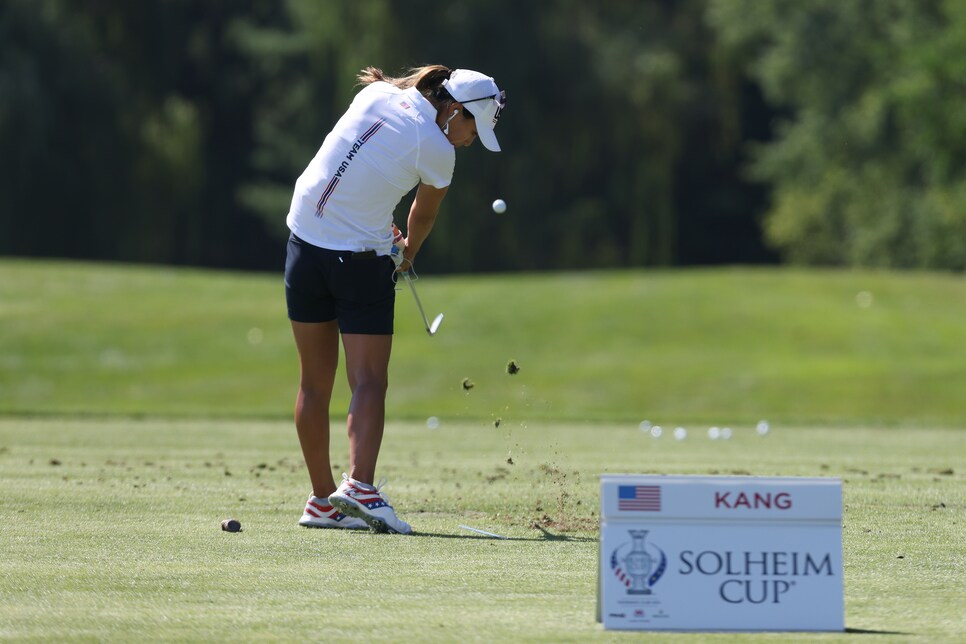 In addition to having a high-quality sleep setup, do you practice wellness or meditation at all?
I do meditation every day. I think a lot of people have a misconception of the word meditation. It's not just about breathing, it's actually just taking a moment to yourself. Sometimes I'm 'so busy' that I haven't had a minute to myself and I think that's really unfortunate.
How do you meditate?
I have an alarm clock that goes off twice a day, where I just veer off by myself for two minutes and sit there and do nothing. Do nothing, meaning, I try and feel the five senses that I have – I hear sounds, see the furthest thing that I see, smell, or taste, or whatever it may be. Before I go to sleep, I'll do five minute breathing exercises where I'll follow my breathing and that brings me back to the present. That's just good for overall health and daily life in general. We're so compact in our schedules that we all live in such a go-go-go lifestyle. When [life] is so rapid and nonstop, sometimes you just forget to reset. It's kind of like a cellphone. When you override it, you kind of just have to turn it off and turn it back on.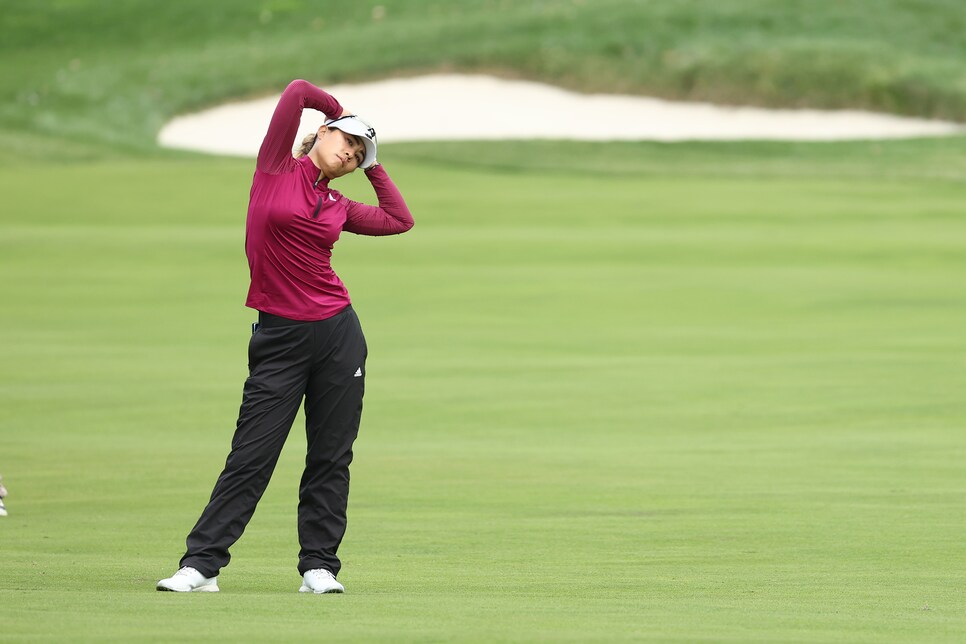 Andy Lyons/PGA of America
What does it feel like when you forget to reset?
I break down. I can't listen, I can't explain. When people ask me questions I have no idea what they're asking me. It could be a simple question. There were times before in my career [when I] pretended to be OK. But now I just go: 'I'm so sorry, I haven't listened to a word you have just said. Can you just explain it really slowly?' And I'm not trying to be rude, but I can't engage. I'm not there. I make really minor mistakes on the golf course, mistakes that I would never normally make. When I perform, play, execute, and compete I want to be able to do the best that I can. But when I'm having 'brain farts,' I get angry. I go 'what am I doing?' So that's why sleep, wellness, harmony, all those things, are really important to being able to perform at the highest level.
How impactful are things like wellness, good sleep habits, and self-care to golfers specifically?
I always say that golf is a lifestyle. When I say that, sometimes people laugh and chuckle, but it really is. I can't eat certain things before I have a morning tee time. I can't drink caffeine because of how my body reacts: My adrenaline is so high at the golf course that I lose feel. We have to keep building muscle and recovering because we play every day. You have to eat right, work out correctly, so that you don't deteriorate muscles over the course of a four-to-seven week period when you're competing. One day you'll have to wake up at 4 a.m., and the next day you can wake up at noon. Golf is one of the most inconsistent sports and games that way. Taking care of your body and understanding how you feel is really important.
Lastly, what is your nightly routine before a tournament round?
I always write out my next day's schedule. I send it to my friend Hilary every day. She's not a golfer, she just wants to know what I'm doing. [I write] when I have to wake up, what I have to do that day, how long it's going to take. Then I try to incorporate "Danielle time," where I can just go and do my own thing. That is my nightly ritual.

Then, I do "10 things that happened that day" with my other friend, Tina. I write it out every night before I go to bed and I send it to her. We don't have to respond to the 10 things, we just want to know what they did. It's someone to share the positive things about themselves with. Sometimes it's good to give self-positive reinforcements. Like, 'Hey I did this today, and it was awesome.'