PGA Tour
Daniel Berger forges five-shot lead on Honda course that can humble leaders in an instant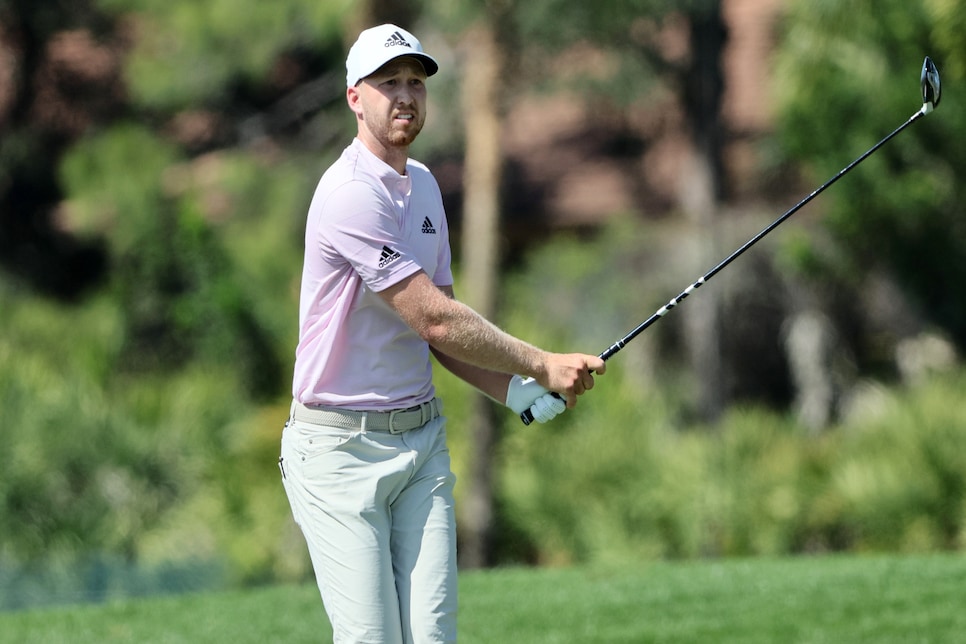 Daniel Berger plays a shot during the third round of the Honda Classic.
Andy Lyons
PALM BEACH GARDENS, Fla.—Daniel Berger is one of just six top-25 players in the world at this year's Honda Classic, and if that fact represents a kind of opportunity, he has seized it with both hands. Following a pair of 65s that propelled him to a 36-hole lead, consistency was the name of his game for the majority of a punishing third round.
On a day when 77s or worse (five) were more common than 67s or better (one), Berger's one-under 69 was practically superlative—a remorseless procession of low, cutting drives, approaches living in the sweet spot between safe and aggressive, and superb putting that held for 17 holes on another brutal Saturday at PGA National's Champion Course. He is, in fact, in position to attain the rare statistical feat of finishing inside the top 20 in strokes gained for all four major categories.
The fruit of all this labor is that he'll enter Sunday's final round with a five-shot lead, tied for the largest 54-hole margin in tournament history. At an event known for its difficult conditions, where it's particularly difficult for any player to distance himself from the field, Berger's performance has been both exceptional. Still, he knows that the tallest climb is still to come.
"It's going to be a challenge tomorrow," he said. "The greens are going to be, I expect, a little firmer and faster and I just have to continue to do the same thing I did today and hit fairways and greens and make some putts."
Berger made just two birdies on Saturday. The first came at the par-3 fifth, where a superb 203-yard tee shot set him up for a seven-foot birdie putt. And the other came at another par-3, 15, with a putt of near identical distance.
In between, he managed to save par the few times he got in trouble, including on the 10th, when he re-learned the valuable lesson that sometimes it's better to be lucky than good:
That kept his momentum moving in the right direction, and it wasn't until the 18th, when a weak approach on the par-5 forced him to give one back to the course and miss out recording the fourth bogey-free round of his career in the Honda.
Shane Lowry was the only player to reach 67 on Saturday, and that effort propelled him to six-under par and a tie for second place. He called the conditions "weirdly enjoyable," despite the evident difficulty.
"I was checking the scoring this morning as I was sitting at home and normally on a Saturday morning on the PGA Tour, somebody shoots five, six under and makes a move up the leader board," he said. "But nobody was doing that this morning and I said to myself coming to the course it's going to be difficult today."
Lowry put himself in the mindset that he was going to have to "take it on the chin," but with just one bogey in his round he earned a spot in the final round with Berger—which is exactly what he wanted.
"I was trying to make birdie on the last to try and get into the final group," he said. "Maybe if I did get off to a hot start or something just to try and put a little bit of pressure on him and keep an eye on him."
He knows that he'll have company in that pursuit, but while you might expect Berger and Lowry to stand atop the leader board, there are some massive surprises in the top 10. Martin Contini, an Argentine who used Monday qualifying to earn entry into the field, shot a second consecutive 70 to be tied for seventh. On the 18th hole, he sat in the stands with fans after an errant shot ... just before saving par.
Other relative longshots abound. Canadian Adam Svensson sits in solo sixth, and with surprising names such as Kurt Kitayama (T-2) and Lee Hodges (T-7) hovering near the lead, nine players in the top 12 currently sit outside the top 100 in the World Ranking. Even if Berger runs away with the title, there's plenty of potential for career-altering rounds on Sunday.
One of the fascinating early stories on Sunday belonged to Andrew Kozan, the 23-year-old currently ranked 1,326th in the world and playing in his first PGA Tour event. The West Palm Beach native lives just 25 minutes from the course and made the field on a sponsor's exemption—which he only learned on Sunday night, via a text from Jack Nicklaus.
Everything looked rosy after a Thursday 67, but on Friday afternoon, a triple bogey on 17 put him on the cut line. Darkness fell after his tee shot on 18, forcing Kozan to come back early Saturday morning—we're talking 4:30 a.m. wakeup call—to play his final hole of the second round. He made par and the cut, and by 7:35 a.m. he was back out as a single to start his third round. He was done before 11 a.m., shooting a 68 that would see him finish the day at T-18, and guarantee him the biggest paycheck of his young career, regardless of what happens Sunday.
"I still had a lot of energy, surprisingly," Kozan said. "After the finish yesterday [I] kind of went into ... a little more aggressive mode today. Nothing to lose, pars aren't going to do too much, just got to make some birdies, see if you can get some birdies and kind of slowly move up that leaderboard going into tomorrow."
Kozan spent his childhood playing at the Champion Course and watching the Honda Classic, and despite its fearsome reputation he's seen plenty of low rounds and felt confident he could shoot a good score. If he pulls it off again Sunday, he could go from no-name to a top-10 finish on the PGA Tour.