News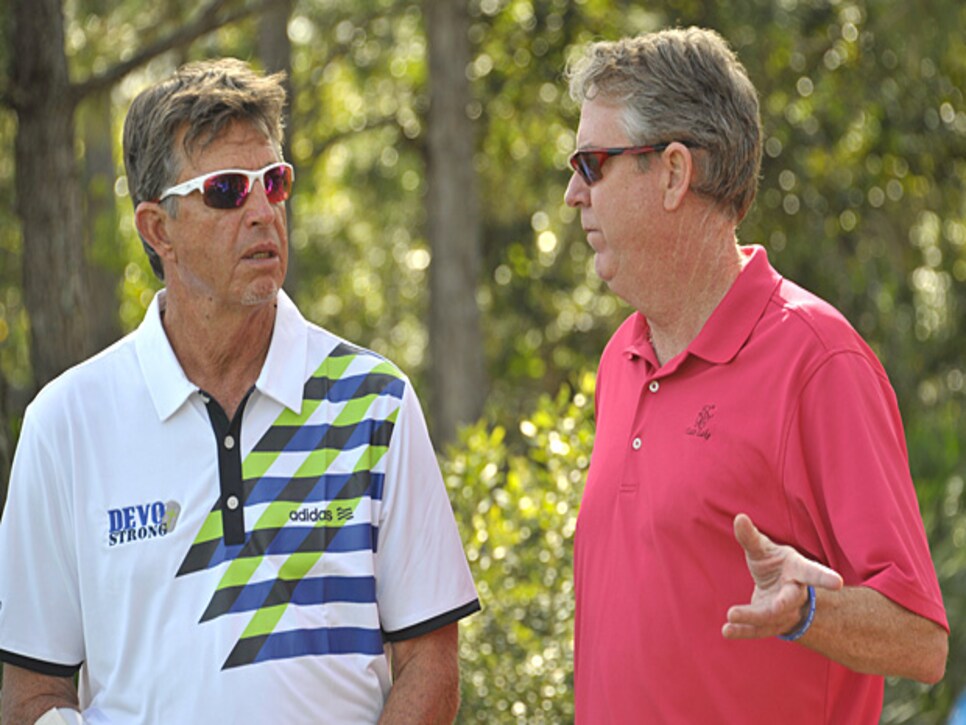 Dana Quigley (left) and Craig Dolch talk at a benefit event at The Floridian.
PALM CITY, Fla. -- I knew it would be an emotional moment Sunday when I saw Dana Quigley for the first time at his son Devon's benefit at The Floridian.
"How ya doing?" I said as we embraced on the 16th tee.
"Well," he said softly, "you know."
When you share the despair of watching your son -- so alive and carefree one moment, then suddenly clinging to life with an ominous future -- words aren't needed for communication and compassion.
Our sons may have arrived at their current states by vastly different means -- my then-14-year-old boy Eric suffered an acquired-brain injury when he contracted encephalitis in 2005, and Devon was 27 when he suffered a traumatic brain injury (TBI) in a car accident 15 months ago -- but the results are the same.
A life-changing moment, not only for our boys, but for our families and close friends.
And as much as money might seem less important during these tragedies the first few months and years, it takes a lot of cash to deal with the after-effects. The hospitalizations. The therapies. The doctor visits. The medications. The nursing. The remodeling of the house. The wheelchairs and the vans.
That's why I was thrilled to see Devon's event become such a success. Organizer Hollis Cavner, who runs numerous tournaments on the Champions Tour, said more than $1 million was raised to help with Devon's medical expenses. It didn't hurt, of course, that Devon's event attracted a who's-who of golfing legends such as Arnold Palmer, Jack Nicklaus, Gary Player, Lee Trevino, Raymond Floyd and a half-dozen other Hall of Famers.
Nobody has to remind me of how the golf community comes together when one of its own is in need. Who was first pro golfer to call me and ask about Eric a few days after he was hospitalized?
We had become friends because I was the golf writer at the Palm Beach Post when Dana rose from club pro obscurity to become an 11-time winner of ironman status on the Champions Tour. Not only do we share the same town (Quigley lives at Bear Lakes Country Club in West Palm Beach) but, for a while, the same church, United Methodist Church of the Palm Beaches.
The church's parsonage is next door to our house and I will always remember how the former minister, Rev. David McEntire, kept asking me in late 2005 how Dana had done in the previous week's Champions Tour event. Rev. McEntire didn't know the difference between a birdie and a bunker, but Quigley had already promised he would donate a percentage of his Charles Schwab Cup winnings to the church. Quigley settled for second place in the Cup when Tom Watson shot 64 on the tour's final day of competition to edge him for the top spot, but Rev. McEntire was ecstatic about Quigley's generosity. "Dana turned me into a golf fan," Rev. McEntire said.
Earlier that summer, Quigley had called several days into Eric's hospitalization to ask about Eric. I told him things didn't look good. He encouraged me to stay strong and let him know if there was anything he could do to help.
Who knew, more than six years later, we would be having the same conversation about his son? About that paralyzing worst fear of every parent? At the same hospital?
I have tried to offer advice to Dana, not only about his son's future, but about his own present. A doctor early on told me, "Your friends will tell you they understand what you're going through, but they don't," he said. "And it's not their fault. You can only understand something like this if you go through it yourself."
In that sense, Dana and I will always have a bond that was extended last year to 2010 PGA Teacher of the Year Todd Anderson, whose 18-year-old son Tucker also suffered a TBI in a car accident. Anderson also has a local link, serving as the Director of Instruction at the Breakers in Palm Beach before moving to his current job at Sea Island.
I was honored in 2006 when Dana asked me to introduce him at a ceremony at Bear Lakes to receive the Jack Nicklaus Award as Player of the Year on the Champions Tour. Dana, who was 58, remains the oldest player to win that award.
In our business, you're supposed to root for stories, not players. On this occasion, I make an exception.