Ranking the worst years for majors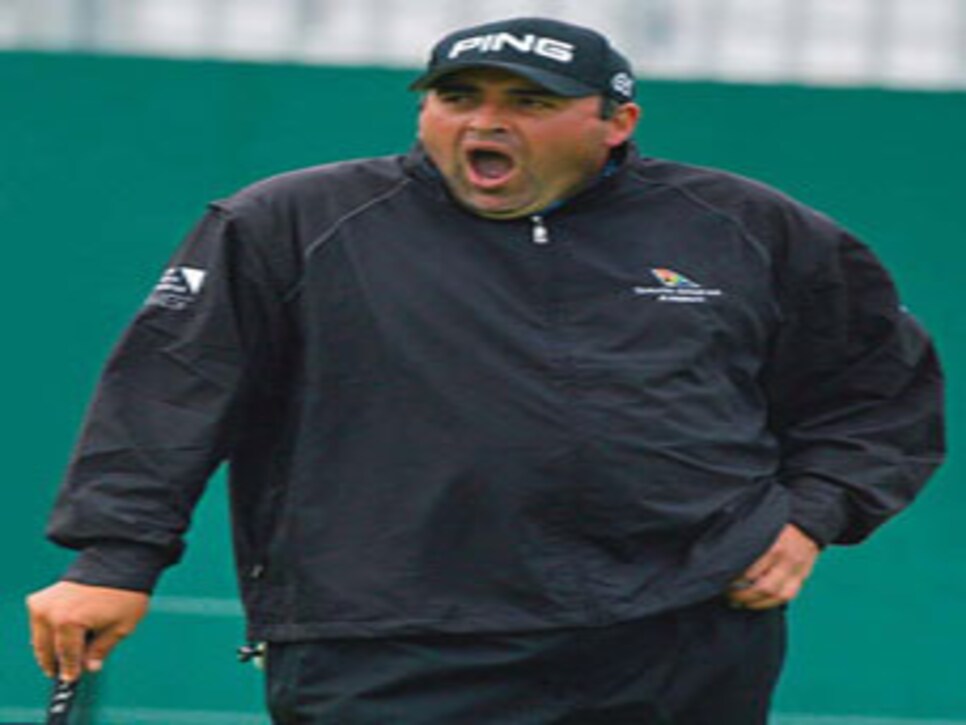 How dull were Masters champ Angel Cabrera and the major class of '09?
It's an absolute fact that all of us long-tortured print guys lean heavily toward marquee names in golf tournaments, so nominations are now in order for the Dreariest Year in Majors. Maybe it wasn't 2009, after all, although many in the lodge have already made it the leader in the clubhouse.
Cabrera, Glover, Cink and Yang.
Does have a certain ring to it.
Here's how to judge the deal properly: Pretend you're a golf writer sitting at your laptop on Sunday deadline, and ask yourself what possible winner of this major championship can you make the most sense of.
Wouldn't you have preferred Ryder Cup hero Kenny Perry over Angel Cabrera at Augusta, sentimental choice Phil Mickelson or comeback kid David Duval over Lucas Glover at Bethpage, Tom Watson in his sunset years over Stewart Cink in his lime shirt at Turnberry, and the wealthy immortalist Tiger Woods over Y.E. Yang at Hazeltine?
Not only would such winners have created bigger headlines, more space and more readers, they wouldn't have defied logic.
You're rooting for journalism here, not against humans.
I've been having this discussion with myself for many years, and curious winners always encourage me to recall a conversation with my old friend Sandy Tatum, a former president of the USGA.
It was 22 years ago, after San Francisco's Olympic Club had made my job more difficult again. I was grumbling to Sandy about it, saying I was rooting for an earthquake to take out the golf course. Because the Olympic's U.S. Opens had now given me Jack Fleck over Ben Hogan -- still the greatest upset and worst result in sports history -- Billy Casper over Arnold Palmer, and Scott Simpson over Watson.
Sandy only smiled politely, and said, "Oh, but Dan, look who Olympic has given us for second."
Good point. Which is why I called off the earthquake.
It's also why I'm giving 2009 a pass. Look who was second -- Perry, Mickelson, Watson, Tiger. We did get a second major for the waddling Argentine, the first major for an Asian guy, after others had come close, and Glover and Cink are both Americans and nice people, which helps compensate for the atrocities they committed.
So let's get on with the other nominees for dreariest year and see if we can find a winner.
There are those who fancy 1985. Bernhard Langer, Andy North, Sandy Lyle, Hubert Green. If this one had a ring to it, I didn't hear it. I do know the Bavarian shot down the established Seve Ballesteros, North did his Open thing and denied us the comedy of T.C. Chen, the intellectual Lyle outlasted Payne Stewart, and Hubert prevented Lee Trevino from winning a seventh major.
Although 1985 loomed large, it was soon challenged by 1987. Here was a year that gave us Larry Mize, Scott Simpson, Nick Faldo and Larry Nelson.
It was like watching a four-month long black-and-white movie. Mize came out of nowhere to edge Ballesteros and Greg Norman, Simpson tops Watson, the unheralded Faldo -- at the time -- held off Paul Azinger and Ben Crenshaw, and the invisible Nelson beat the highly visible Lanny Wadkins.
You could reach back to 1957 and find a pretty good candidate. That year gave the world Doug Ford, Dick Mayer, Bobby Locke and Lionel Hebert. Sure, Locke was winning his fourth British Open, but he beat only Harry Bradshaw or somebody four times. And the best you could say of Lionel was that he could play a nice trumpet in the evening hours.
Several associates point to 1996 with a certain amount of glee. They will always recall watching Norman serve up the Masters on a platter to Faldo, trying to explain the inexplicable victory of Steve Jones over Davis Love III in the U.S. Open, the shock of seeing Ernie Els fritter away the British Open to Tom Lehman, and the dull PGA playoff where the quoteless Mark Brooks won over Kentucky's Kenny Perry.
But I have a winner. You can't top 2003. Nobody will ever top 2003. Talk about a year that will live in infamy. It's not just the winners -- all of them one-hit wonders so far -- it's the losers, too. We were double-dipped.
There was Mike Weir nosing out Len Mattiace at Augusta, Jim Furyk whipping somebody named Stephen Leaney in the Open at Olympia Fields, Ben (who he?) Curtis accepting the claret jug from Thomas (who him?) Bjorn in the British at Sandwich, and Shaun Micheel, a total stranger, nipping Chad Campbell, another total stranger, in the PGA at Oak Hill.
To paraphrase Winston Churchill, never had so many laptops done so little for so many readers.