Dan Jenkins: Tweets from the Ancient Twitterer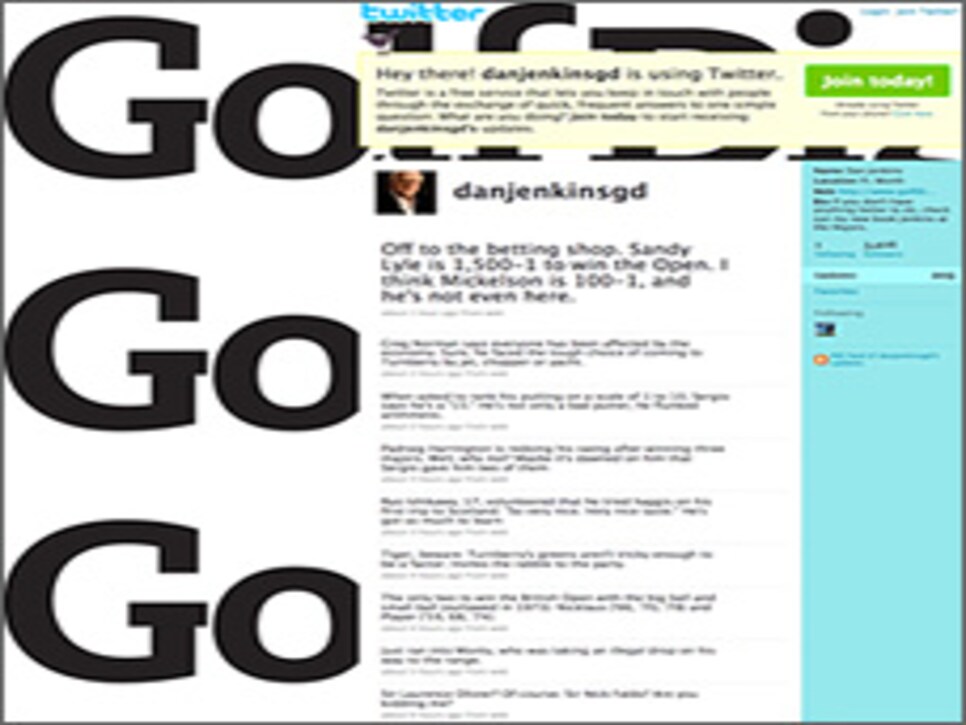 TURNBERRY, Scotland--Golf Digest Writer-at-Large Dan Jenkins is back on Twitter (twitter.com/danjenkinsgd) for his 201st major championship. Some fourth-round highlights from Jenkins, 79, dubbed The Ancient Twitterer for his tweets (limited to 140 characters):
I was at dinner at Troon in '73 when Jack told Weiskopf: "Tom, don't play Miller; play the golf course."
Women say men don't know what labor is like. Ross Fisher, whose wife is due any moment, just gave birth to an 8. They'll call the child Quad
Chris Wood, contending after tying for fifth last year at 20, was a soccer player before he blew out a knee. Now he's blown out his hair.
Watson trails by one after 10. The writers, pulling for Watson before, are now praying.
Chris Wood birdied the 17th to get within a stroke of the lead, but he still looks like a guitar player who lost the rest of his band
Stray thought: Watson was born in 1949, along with Meryl Streep, John Belushi, Billy Joel and Bruce Springsteen. Now back to the golf.
Here's Stewart Cink creeping up, within a stroke of the lead, wearing the tasteful green cap of a softball team.
Westwood bogeys the 16th. Tom Watson leads the British Open with three to play. Three holes from being the champion geezer of the century.
Cink birdies 18 to tie Watson for the lead. Does that lime-green hat of his glow in the dark?
Watson birdies 17 to go up by a stroke, with Westwood in a fairway bunker at 18. Watson's a par away from doing it.
Tentative prod by Watson from eight to 10 feet on what could have won it after Westwood's three-jack. Watson and Cink in a playoff.
Watson's giving Cink 23 years in the four-hole playoff.
If he wins the playoff against Watson, Cink has a chance to become the most hated man in the world.
Quick history lesson: Watson won his first British Open (1975), in an 18-hole playoff with Jack Newton at Carnoustie.
Bogey by Watson at the fifth (first playoff hole), par by Cink. On to the par-3 sixth, followed by the par-5 17th and par-4 18th.
Watson just hit it off the face of the earth. Shows you what happens when you make a 59-year-old guy work overtime.
Watson gets up and down at 6, but Cink two-putts for par and keeps a one-stroke lead. Why do I have that Jack Fleck kind of feeling?
Cink in the fairway at 17; Watson hooks it into the long grass and leaves it there with his second. Get me rewrite.
Cink birdies 16 after a Watson three-putt double; the lead's 4 entering the final hole of the playoff. I've been to more uplifting funerals.
It's time to think about the worst year for majors. With the PGA to go, we've got Cabrera, Glover and Cink. Goes along with a recession.
Cink birdie at 18 and a bogey by Watson for a six-stroke victory. Four tired hooks in four holes will usually get you beat.
In the press room, we had a suspicion we weren't good enough people to deserve Watson winning.
This is the Ancient Twitterer signing off from Turnberry. Stay tuned for more tweets (and probably more lurkers in contention) at the PGA.