Tweets From The U.S. Open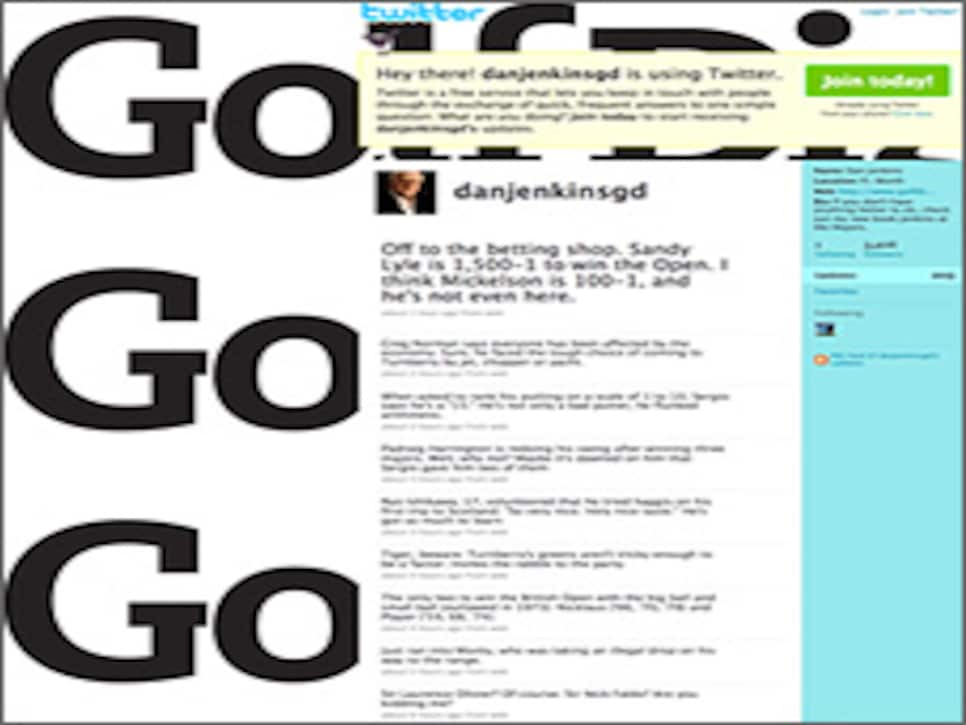 First I thought Twitter was some kind of hybrid car being developed by Government Motors. Then I thought it was a new bite-size snack combining what's best of the Frito and the Cheeto. Then I found out it was me. On a laptop. At the U.S. Open. Having fun. Even scooping up new readers. Here are some of those tweets as selected by a panel of classical literature professors at the University of Golf Digest.
This will be my 56th U.S. Open. After my 100th, maybe the USGA will finally give me a parking space.
The portable toilet outside the media center has signs with tips on putting and hitting drives, irons and sand shots. Nothing on the grip.
Another writer just dropped by and said, "I never thought I'd see the day: Dan Jenkins on Twitter." I told him, "Bob, it's a new world."
Favorites from my 199 majors: Masters ('54, Snead), U.S. Open ('51, Hogan), British ('70, Nicklaus) and PGA ('65, my buddy Dave Marr).
Least favorite majors: Masters ('73, Tommy Aaron), U.S. Open ('96, Steve Jones), British ('91, Ian Baker-Finch), PGA ('61, Jerry Barber).
I'd rather see the USGA keep the players here until August before allowing them to play lift, clean and cheat.
Tiger Woods just made his second double bogey of the first round. Golf is dead.
With all the rain delays, we're going to have to change the old saying to: A major doesn't really begin until the back nine . . . on Wednesday.
Easy to root for Phil; still hard to root for those shirts.
Are you seeing the dark sky here right now? If this was Fort Worth, I'd be looking for the basement.
So far there have been two 64s, three 65s, five 66s, six 67s and five 68s. Is this the U.S. Open or the Hope pro-am?
A birdie by David Duval, who has 15 of them so far this week, matching what he made from 2002 to 2008.
Bogey by Tiger at 10, despite the announcers pulling so hard for him they've developed hernias.
Tiger, take that putter and drag it out of the back end of the limo on the drive to the airport. Trust me, you'll feel better.
I'm curious how many people are reading this at the moment instead of getting any meaningful work done at the office.
The USGA had only one silver medal on hand for the three runners-up, and Phil told Barnes and Duval, "I've got four; I'm plenty good."
You've got to appreciate a U.S. Open champion who says "Yes sir" and apologizes when he forgets part of your question. I like Lucas Glover.
This is the Ancient Twitterer signing off from Bethpage. Thanks for being with me. Let's do it again.