News
Even In The Swelter, The PGA Has Thrills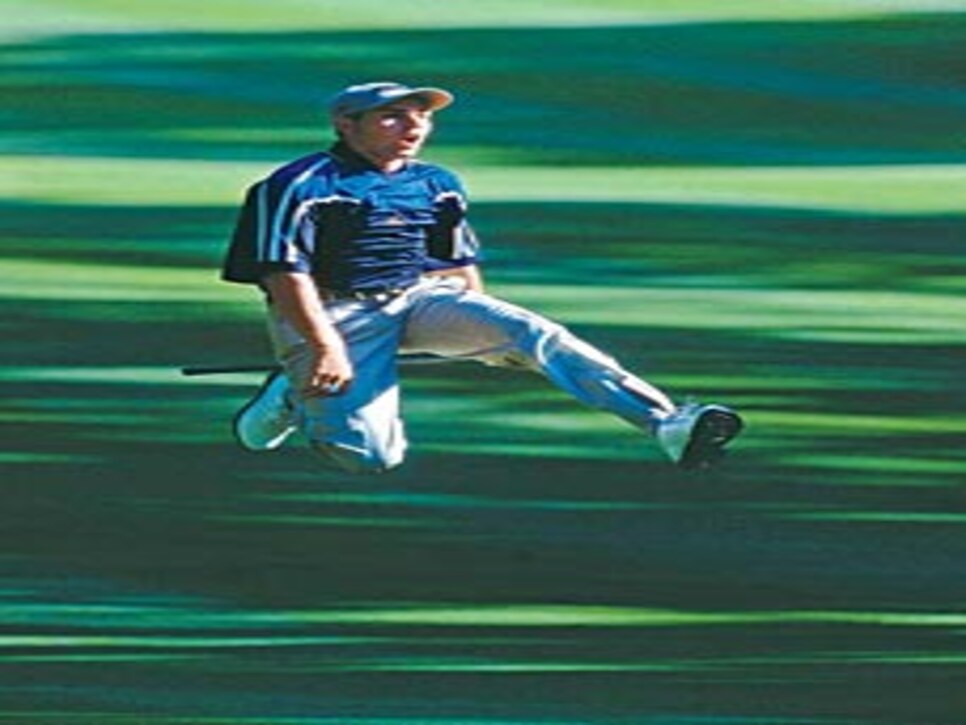 What if Sergio had beaten Tiger at Medinah 10 years ago?
The PGA Championship, last of the majors each year, might well be accustomed to having fun poked at it by the print press for being mired in August, but this isn't fair.
I therefore want to apologize for my part in it. Because the tournament has been played in hot, muggy conditions for nearly 40 years, I've become used to getting turned into a strip of fried bacon every time I venture out of the air-conditioned media center.
Which is why I pack twice as many golf shirts for the PGA as I do for the other majors.
I learned a long time ago that by the end of the week half of my shirts will be drenched and smelling like somebody's cooking cabbage and won't make the trip home.
Meanwhile, many of my writer friends have surrendered to the wretched dreariness of August and turned themselves into I-don't-go-to-the-PGA kind of people.
This is unfortunate because they're missing out on all sorts of historic, pivotal, game-changing events. The PGA might be the fourth major of the year, but that doesn't make it cat food. Every major is historic and important, even when the winner turns out to be Whom Shall I Say Is Asking?
Of course, the PGA was more historic and important when Walter Hagen, Gene Sarazen, Ben Hogan, Sam Snead and Byron Nelson were winning it in the old match-play days, and it has been more historic and important in these stroke-play days when Jack Nicklaus, Gary Player, Lee Trevino and Tiger Woods were winning it.
I might add that some of the most tragically memorable PGA moments for me -- and I dare say others -- were the times Arnold Palmer didn't win it. He was second three times, and like Snead in the U.S. Open, this major escaped him.
As for Tiger, he was involved in what has slowly dawned on me as one of those historic, pivotal, game-changing moments. I refer to the 1999 PGA on the rugged No. 3 course at Medinah Country Club somewhere in the vicinity of Chicago.
Consider the situation. The two leading characters in the drama were the youngest in the field, Tiger Woods and Sergio Garcia. It was a brave new world of golf.
Tiger was 23 and had won the 1997 Masters at 21, but he hadn't done much since then. In fact, he'd gone hitless in his next 10 majors. The last three of '97, all four in '98 and the first three of '99.
And here was Sergio Garcia, "El Nino," the 19-year-old phenom from Spain. He had won the British Amateur at 18, was now a pro, had already won a tournament in Ireland, and was rumored to be the next Seve Ballesteros-Jose Maria Olazabal-Generalissimo Franco-Luis Miguel Dominguin.
Something along those lines.
Sergio cut ears and tail in the first round with a six-under 66 and led the field. From that point on, Sergio and Tiger were the story of the week, and they carried it to the thrilling end. Through 11 holes in Sunday's final round, Tiger had soared to a five-stroke lead, but that's when the real fun began. In just two more holes Tiger's lead was down to one.
Tiger bogeyed the 12th after Sergio parred, and there was a stunning three-stroke swing at the next hole. This was the old dangerous, historically significant par-3 17th, where a couple of U.S. Opens had been decided, but for some reason it had been stupidly changed to the 13th hole.
Anyhow, Sergio birdied it with a 219-yard 4-iron shot over the water and a 15-foot putt. Moments later Tiger double-bogeyed it with a 6-iron beyond the green into the deep rough from where he took four more to get down. The lead was now cut to one stroke, five holes to go.
Sergio bogeyed the 15th after driving into the trees, but he got back to one behind with his miraculous par at 16, where Tiger bogeyed. This was where Sergio hit that memorable circus shot, the blind, tree-root, death-defying 6-iron 189 yards that sliced 30 yards and reached the green while he went leaping about like a ballet dancer.
Sergio missed birdie putts on the last two holes, and it was on the new 17th where Tiger clinched victory by holing an eight-foot putt to save par.
One has to wonder what would have happened in future years if Sergio had won that PGA. He and Tiger would then have collected one major each, and the momentum would have swung to Garcia.
Well, as we say in sports, what could have happened, did. And since that afternoon, Tiger has won 12 more majors, and Sergio is still "the best player never to have won a major."
Defining moments come and go. This has been one of them.