News
The First Meeting of the U.S. Ryder Cup Task Force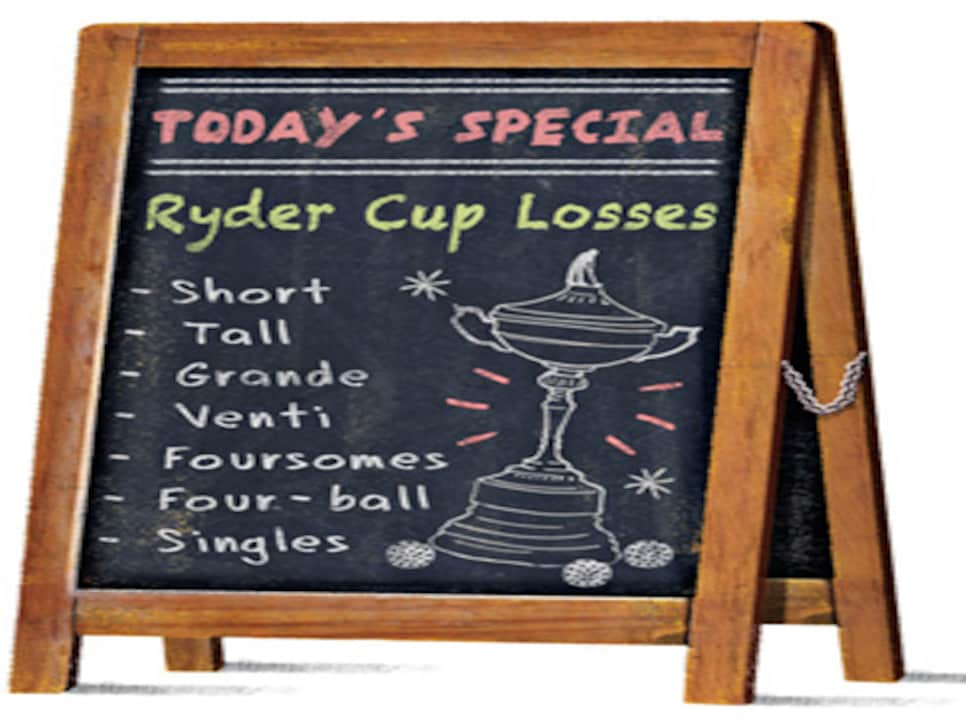 Editor's Note: Our man's on a roll recently. First he scores the Tiger interview, now this (this, too, is complete fiction).
Always ready to tackle an important assignment in journalism, I cleverly managed to bug the room where the U.S. Ryder Cup Task Force was holding its first secret meeting.
The announced role of this Task Force, as I understand it, is to figure out why our country has lost eight of the past 10 Ryder Cup competitions, and how our teams can compete better over the next 20 years without sinking more putts and shooting lower scores than the Europeans.
My friend Phil Mickelson, a member of the newly formed group, tipped me off as to where the 11-member Task Force was gathering in West Palm. It was in a vacant, boarded-up Starbucks café situated between a thriving Starbucks café on its left and a thriving Starbucks café on its right. Another get-rich quick scheme gone bad for somebody, I assumed.
Anyhow, here are the highlights from the meeting.
Phil: Before we get started, I want to ask, who are you three guys at the end of the table?
Voice: Well, I'm Derek Sprague, the new president of the PGA of America. This is Pete Bevacqua, our CEO, and this is Paul Levy, our vice president.
Pete: I believe I should have answered the question, Derek. You took it upon yourself to design the officers' new blazers. Yours is not the only voice in this organization, I would remind you. And speaking of the blazers, how did you come up with purple?
Derek: Our blazers are not purple, Pete. They're mauve.
Pete: Mauve? Mauve sounds like something Ian Poulter might wear.
Derek: I won't let that get out of this room, Pete.
Phil: I know Mauve. I won a Skins Game on St. Mauve. It's down there near a bunch of Antiguas and Arubas.
Derek: We need our own look, Pete. The USGA and the R&A wear dark-blue blazers. The Masters people wear green. Red was out. The last time we wore red blazers, we got laughed at. I haven't forgotten what that guy wrote in Golf Digest—that when we stood around in groups we looked like a brass band getting ready to strike up "76 Trombones."
Tiger Woods: Why are we talking about blazers? I thought we came here to figure out how to keep losing Ryder Cups.
Derek: That's a rather dismal attitude, Tiger. Unless you're trying to be funny.
Tiger: I'd never try to be funny in this organization. Ted Bishop tried to be funny, and look what happened to him.
Derek: I don't recognize the name. Pete, do you know a Ted Bishop?
Pete: Never heard of him. Paul?
Tiger: To get back to why we're here, I've studied the makeup of this Task Force. It's loaded with losers. Phil and I have been butchered plenty in Ryder Cup matches. My record is 13-17-3. Phil's is 16-19-6. Jim Furyk has won 10 but lost 20 and tied 4. Steve Stricker is 3-7-1, and Rickie Fowler is 0-for-win in two Ryder Cups. Then you guys managed to put three losing captains on this committee: Raymond Floyd, Tom Lehman and DL III.
Pete: You've obviously done the research. I thought I read where you're only concerned with your "glutes and abs."
Tiger: I haven't overlooked me. I'm as concerned about me as the rest of the world is.
Phil: For once I agree with Tiger. You PGA officials could have filled up the whole Task Force with losing captains. You could have added Lanny Wadkins, Curtis Strange, Hal Sutton, Corey Pavin and Tom Kite to the other three.
Raymond: My team didn't lose; we tied in '89 at The Belfry.
Tiger: But the tie let Europe keep the Cup. That's a loss.
__Phil:__Is that somebody banging on the front door?
__Derek:__It's Tom Watson again. He was up on the roof earlier. He's been trying to get in here all morning.
P__hil:__ I'm sure he wants to remind us he's the only golfer who knows anything about anything.
Tiger: It could be Paul Azinger. Phil's already made him our captain for 2016.
Phil: All I did was put his name out there. We won in '08 with Zinger. He listened to what the players had to say, unlike a recent captain I could mention. As a matter of fact, we could get rid of this Task Force today. Let the players choose the captain and handle the golf. The PGA of America can preside over the cocktail parties. All in favor?