Dan Jenkins: An Even Sixty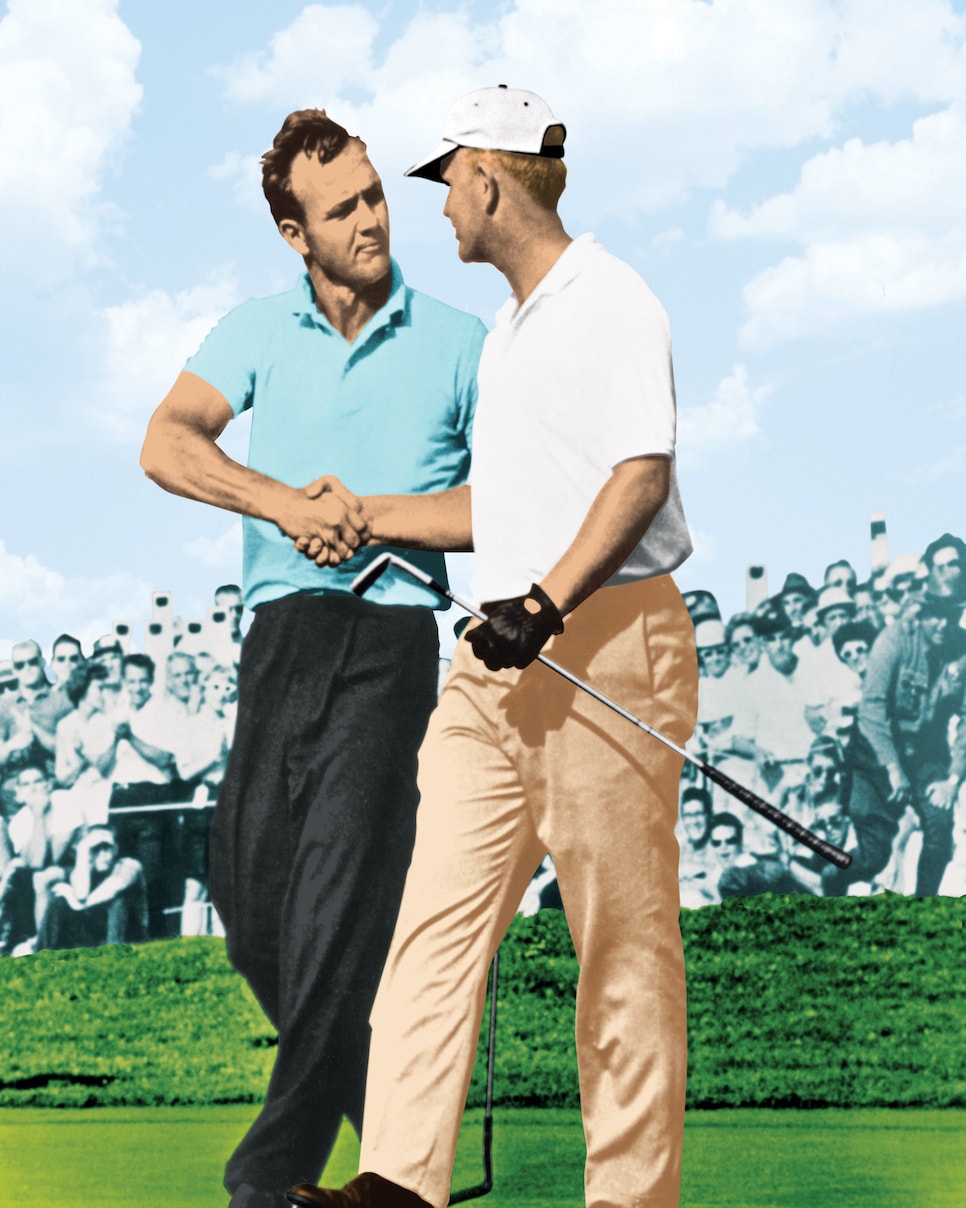 Illustrations by John Ritter/Photo: USGA Archives
The U.S. Open at Merion will be my 60th, and in what you might consider an upset, these thoughts and memories from covering our national championship and dipping into its history will not concern themselves entirely with Ben Hogan. Well, almost.
In any case, I invite you to de-anchor yourself and your putter and come along with me now if for no other reason than the curiosity of it all as I de-anchor my mind.
BEST OPEN COURSE
All in all, Oakmont, over Pebble Beach. Oakmont has given us the best list of winners: Hogan (1953), Jack Nicklaus (1962), Tommy Armour (1927), Johnny Miller (1973), Ernie Els (1994), Larry Nelson (1983) and Angel Cabrera (2007), not to mention Bobby Jones (1925 U.S. Amateur), Gene Sarazen (1922 PGA) and Sam Snead (1951 PGA). All that makes up for Sam Parks Jr. winning the 1935 Open.
MY 10 FAVORITE COURSES THAT HAVE NEVER HAD THE OPEN (AND CAN'T, WON'T OR NEVER WILL)
Pine Valley, Cypress Point, Seminole, National Golf Links, Bel-Air, Brook Hollow, San Francisco Golf, Maidstone, Shady Oaks, Winged Foot East.
BEST FIRST-TEE ATMOSPHERE, BEST FLAGSTICKS, BEST QUARRY HOLES
Merion, Merion and Merion.
BEST QUESTION
Nicklaus, to the USGA's P.J. Boatwright at the 1972 Open at Pebble Beach: "What did you do with all the grass?"
FIRST CROSS-HANDED PUTTER TO WIN
Orville Moody at Champions in 1969. Old Sarge also had the longest commute to win, from a motel on the highway an hour's drive from Champions.
BEST PREDICTION
Arnold Palmer, after losing a playoff to Jack Nicklaus at Oakmont in 1962, giving Jack his first victory on tour: "Now that the big guy's out of the cage, everybody better run for cover."
BIGGEST DISTRACTION
At Oakmont in 1994, Ernie Els was halfway toward winning his first U.S. Open while the rest of us were watching the O.J. Bronco chase.
BIGGEST RALLY
Lou Graham came from 11 back after 36 to win at Medinah in 1975, but the biggest comeback in Open history is me having to write Fleck over Hogan in '55.
BEST FATHER'S DAY PRESENT
The Open traditionally ends on Father's Day. My daughter, Sally, who also types for a living, gets me the best present a father could ever ask for: a cheeseburger.
UNLUCKIEST SPECTATOR
During the second round at Oakland Hills in 1996, a spectator got hit in the head twice, by the approach shots of Steve Lowery and Payne Stewart. As Ken Burger of the Charleston Post and Courier said, "The odds of that happening are greater than they'd be on Lou Gehrig dying of Lou Gehrig's disease."
BEST FINISHING HOLE
The 18th at Winged Foot. Hardly a photo op, but this par 4 makes things happen: Bobby Jones' 12-foot putt to tie Al Espinosa in 1929, Billy Casper's clutch putts for pars in 1959, Hale Irwin's 2-iron in 1974, Fuzzy Zoeller's white-towel-waving at Greg Norman in 1984, and Phil Mickelson's bewildering gift to Geoff Ogilvy in 2006. One way or another, a finishing hole that has had something to say about the winner in every Open at Winged Foot.
WORST FINISHING HOLE
There's a reason no one has written a poem about Lucas Glover playing Bethpage's 72nd hole with a 6-iron and a 9-iron in 2009. It's not Hogan posing at Merion, is it?
THE TROUBLE WITH PEBBLE'S 17TH
The truth is, other than two shots — Nicklaus' 1-iron in 1972 and Tom Watson's holed chip in 1982 — the 17th at Pebble has always been long, hard and dull.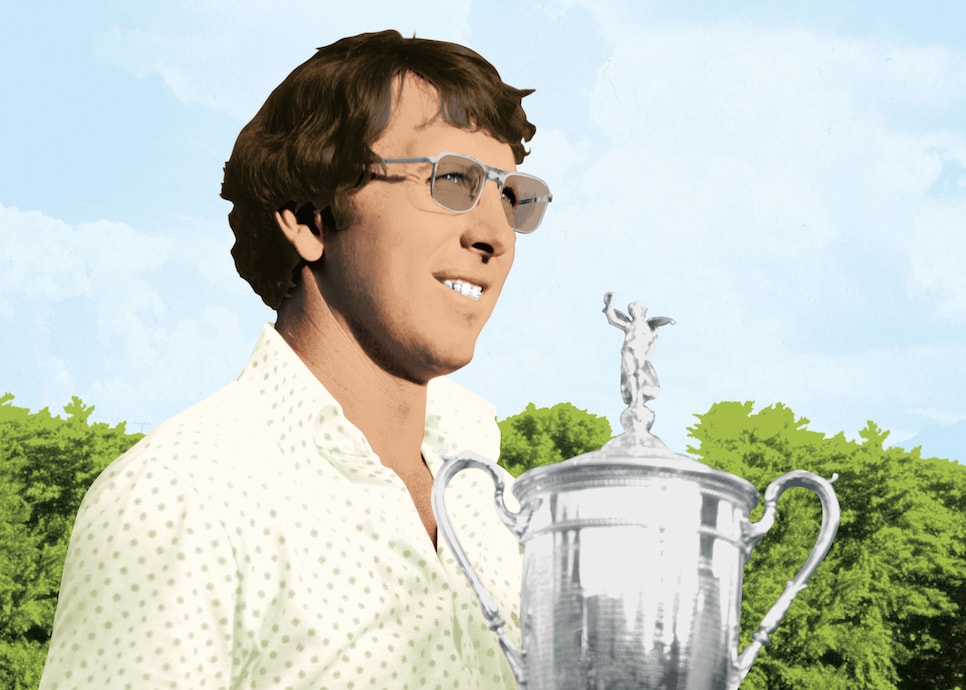 Photo: Brian Morgan/Getty Images
Hale Irwin won in glasses (Winged Foot), in braces (Inverness) and in contacts (Medinah). Triple Crown.
BEST PRACTICE BUNKER
The one at Winged Foot's seventh hole, where Johnny Miller took four shots to escape in 1974.
BEST CONSTRUCTIVE CRITICISM
In the final round of the 1981 Open at Merion, George Burns ran a birdie putt eight feet past the hole, then made the comebacker. Someone at greenside remarked "Nice putt" to the USGA's Harry Easterly. "Yeah," Easterly replied, "but the first one was AW-ful." Burns, who tied for second, overheard the comment and replied, "Harry, you're a s---head, you always were a s----head, you'll always be a s---head!"
THE ONLY GUY WHO WAS NEVER SCARED TO HIT HIS DRIVER IN THE OPEN
Calvin Peete, because he hit it straighter than most people hit a cocktail glass with an ice cube.
FASTEST GREENS
Merion, Oakmont, Oakland Hills, Winged Foot, Shinnecock. There are members at Oakland Hills who say if they pick the pin positions and the starting point for your ball on the greens, you couldn't break 72 — as in 72 putts. In 1974, Nicklaus said the experience at Winged Foot was like "playing miniature golf without sideboards." Added Homero Blancas: "I had some uphill putts — after each of my downhill putts."
BEST (OR WORST) ROUGH
Olympic in 1955. Damp, clinging and halfway up everyone's calves. Followed by Oakland Hills in 1951, when Sam Snead called the fairways so narrow "you have to walk sideways to keep from snagging your pants."
BEST REACTION WHEN NICKLAUS WON HIS FOURTH OPEN (AT AGE 40)
Lee Trevino, watching a locker-room TV as Jack finished at Baltusrol in 1980: "Get away and let the big dog eat!"
BEST GAMESMANSHIP
Lew Worsham interrupting Sam Snead on the 18th green of the 1947 Open playoff in St. Louis by saying, "Are you sure you're away?" Snead was indeed away — 30½ inches to 29½ — but missed a par putt. Worsham made his to win by a stroke.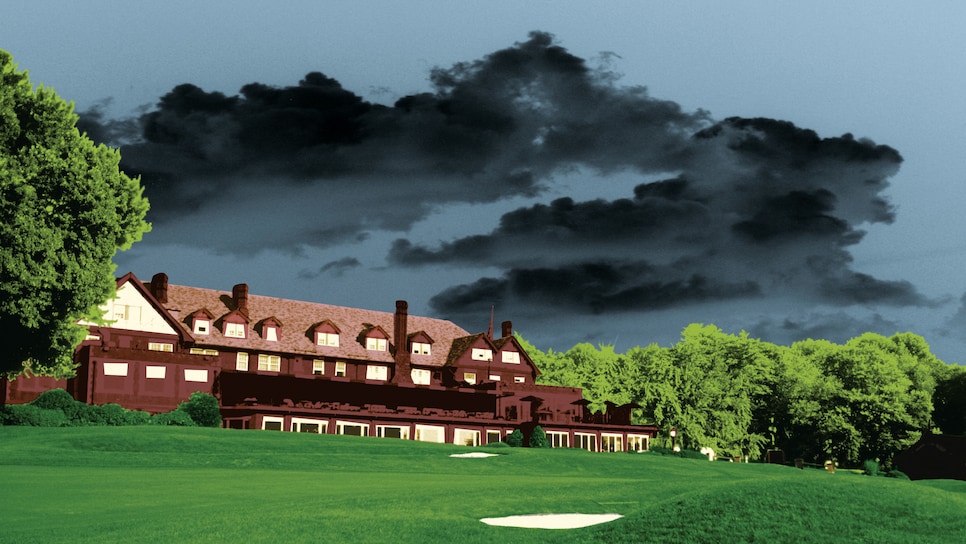 Photo: PGA Of America via Getty Images
CLUBHOUSE THAT LOOKS MOST HAUNTED?
That would be Baltusrol.
BEST SHOT I WISH I'D SEEN
Byron Nelson's 1-iron from 210 yards for an eagle deuce at the fourth hole in his 1939 playoff with Craig Wood at Spring Mill.
MOST COLORFUL QUADRUPLE BOGEY
T.C. Chen was leading by four in the final round at Oakland Hills in 1985 before making a quadruple-bogey 8 — the legendary "snowman"— at the fifth hole. Mr. Chen carried three wedges in his bag: one for sand, one for pitch shots, and now we know what the third one was for: hitting the ball twice in one swing. T.C. — forever known as Two Chips — finished only a stroke behind winner Andy North.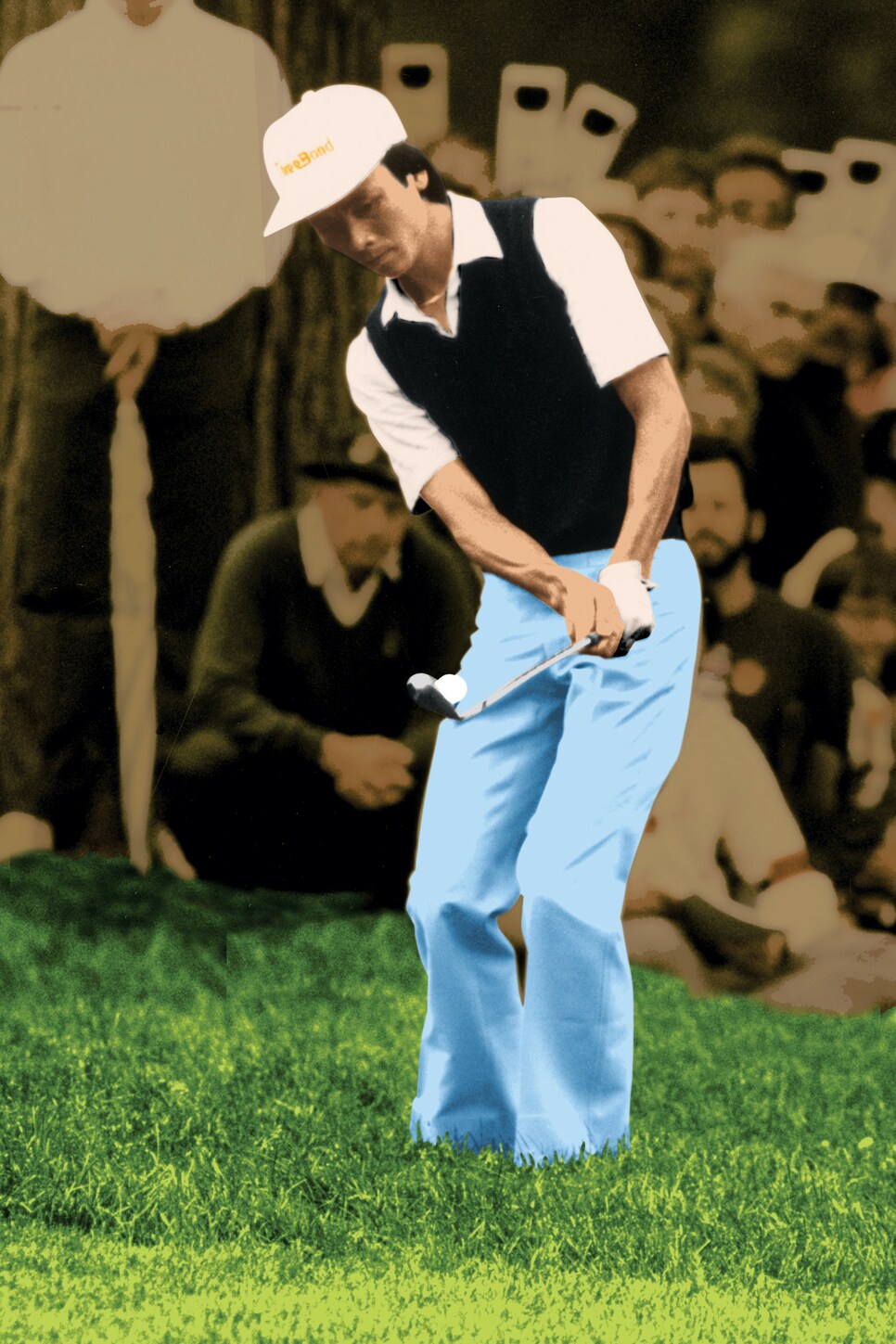 BEST PLAYERS WHO NEVER WON THE OPEN
Sam Snead, Phil Mickelson, Jimmy Demaret, Seve Ballesteros, Greg Norman, Nick Faldo, Macdonald Smith, Ben Crenshaw, Tom Weiskopf, Lanny Wadkins, Henry Picard, Paul Runyan, Horton Smith, Harry Cooper, Denny Shute.
CORNERING THE SILVER MARKET
Nicklaus won 18 professional majors, but he was second 19 times, including four U.S. Opens. At least Jack won it four times. Phil Mickelson is still looking for his first Open win but has been second a record five times: 1999 (Payne Stewart at Pinehurst), 2002 (Tiger Woods at Bethpage), 2004 (Retief Goosen at Shinnecock Hills), 2006 (Geoff Ogilvy at Winged Foot) and 2009 (Lucas Glover at Bethpage). Sam Snead, Bobby Jones and Arnold Palmer also were second four times, but Arnold's the only player to collect three of his silver medals in playoffs. I remember running into him at breakfast before the 2010 Open at Pebble. Phil was 40, still hoping to win an Open. Arnold was 80, still thinking he could win another Open.
BEST QUESTION, HINDSIGHT DIVISION
I wrote this after Tiger Woods' playoff victory over Rocco Mediate in 2008 at Torrey Pines: "Now at the age of 32 in his pursuit of Nicklaus' major record, Tiger's closing in on Jack, but the knee thing is an obvious concern. He ended the year playing just six events, winning four and finishing second in the Masters. Here's the question: Have we seen the best of Tiger Woods?"
BEST BUS RIDE
The drivers of the shuttles who transported us from our hotels to Bethpage and back every day in 2002 were brought in from a firm in Oklahoma. One afternoon the young lady behind the wheel said, "Well, I got my wish on this trip: I wanted to see Chinatown, and I did. Boy, I'll tell you what, they've got bars, restaurants, stores, buildings, everywhere. We don't have any Chinatown back home, and where I come from we don't have too many hills and trees like this — but we do have the world's third-tallest grain elevator."
SLOW START, GREAT FINISH
Craig Wood double bogeyed the first hole, bogeyed the second and then tried to quit at Colonial in 1941, but playing partner Tommy Armour talked him out of it, and Wood went on to win. On the way back to the hotel, tour impresario Fred Corcoran talked Wood into stopping at a driving range. Corcoran called the newspapers, and the photo was a hit across the country the next day. Imagine that happening today.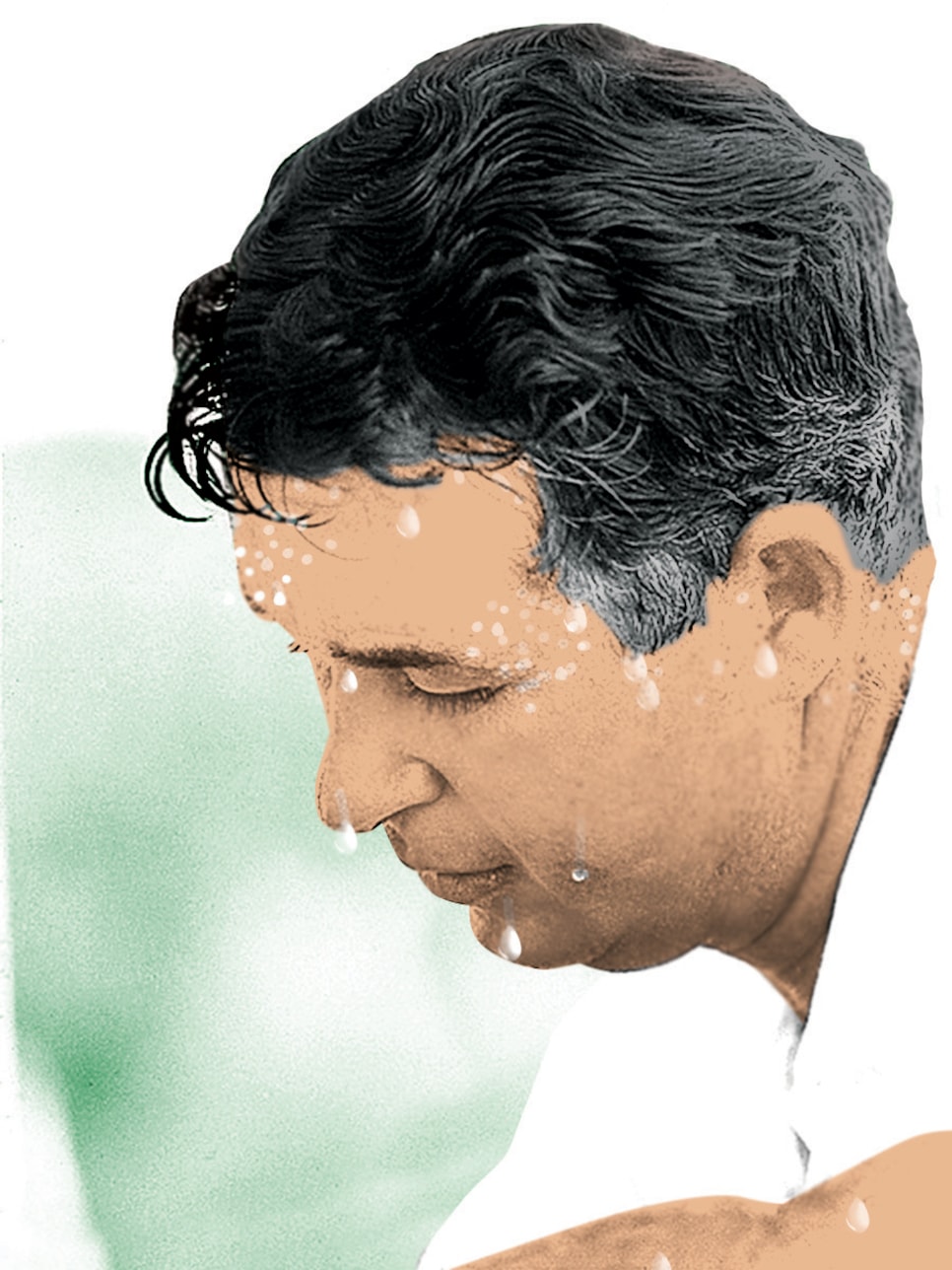 Photo by Walter Iooss Jr./Getty Images
FIRST AND ONLY PLAYER TO CHOOSE WINNING THE OPEN OVER DEATH BY DEHYDRATION
Ken Venturi at Congressional in 1964.
TOUGHEST PENALTIES
1.) Byron Nelson found a unique way to lose in 1946 at Canterbury. First, he got a penalty stroke when his caddie accidentally kicked his ball while ducking under the gallery ropes in the morning round. Then with a two-stroke lead and only two to play, Byron bogeyed the 71st and 72nd holes to wind up in a 36-hole playoff that Lloyd Mangrum won by a shot. Radio announcer Bill Stern was doing the broadcast, sponsored by a razor-blade company. "Bill," Byron said, "just give me one of those things you're advertising, and I'll cut my throat."
2.) Bobby Jones called a penalty stroke on himself in the opening round in 1925 at Worcester when he claimed his ball moved in the rough, as if that were possible. Even so, Jones tied Willie Macfarlane after 72 holes but threw away a three-stroke lead over the last six holes of the playoff.
WEATHER AND THE RULES
The day before the 1996 Open at Oakland Hills, the entire sky growled, turned the color of charcoal and dumped 2 inches of rain in two hours, collapsing the wall of a greenside bunker at the 18th hole. The bunker was rebuilt overnight and play proceeded, although the USGA would not allow it to be contested at the law firm of Lift, Clean & Place — or as the USGA calls it, "lift, clean and cheat."
GAMES THAT LAST FOR THE LONG HAUL
Nicklaus has the longest span between first and last U.S. Open victories (1962-'80). If Ernie Els had won last year at Olympic, he would have tied it (1994-2012).
ONLY PLAYER WITH MULTIPLE OPEN VICTORIES ALL COMING ON PUBLIC COURSES
Tiger Woods, at Pebble Beach, Bethpage and Torrey Pines.
BEST GOLF INSTRUCTION
The portable toilet outside the media center at Bethpage in 2009 had signs with tips on putting and hitting drives, irons and sand shots. Nothing on the grip.
MOST SURPRISING WINNERS OF TWO OPENS
1.) Andy North, at Cherry Hills in 1978 and Oakland Hills in 1985. "It was an awful Open," Andy said in 1985. "Jack didn't win."
2.) Lee Janzen, at Baltusrol in 1993 and Olympic in 1998.
BEST-DRESSED WINNERS
Hogan in his day. Tiger in his day.
BEST GROOMED
As Ralph Guldahl was about to win the first of his two consecutive Opens, in 1937 at Oakland Hills, he paused to comb his hair before putting out on the 72nd hole. "Why shouldn't I have?" Guldahl said later. "I had a two-shot lead [over Sam Snead, making his Open debut]. I was only 15 feet from the hole. And I knew the photographers were going to take my picture." Guldahl wore a tie in that Open, the last winner so attired.
WHEN DID MESOPOTAMIA GET THE OPEN?
The clubhouse at Medinah still looks like the Babylon Marriott.
BEST QUOTES
1.) Ben Hogan, after his final-round 67 at Oakland Hills in 1951: "I'm glad I was finally able to bring this course — this monster — to its knees."
2.) Arnold Palmer, to Bob Drum and me at Cherry Hills in 1960 after we'd hustled out to the golf course to witness the rest of his final-round charge (before the round we'd told him that seven strokes were too many to make up): "Fancy seeing you here. Who's winning the Open?" 3.) Tom Weiskopf, laughing after Johnny Miller's 63 at Oakmont in 1973: "Johnny Miller? I didn't even know Miller made the cut."
4.) Cary Middlecoff: "Nobody wins the Open; it wins you."
5.) Jerry Pate, after winning at Atlanta Athletic Club in 1976: "I've got a 5-iron from the rough on the last hole, but all I did was hit it stiff and make a birdie to win the Open. How about that, sports fans?"
6.) Tommy Bolt, the winner at Southern Hills in 1958, claiming to be 39 (he was 42), after hearing an explanation that a Tulsa World story listing him as 49 was a typographical error: "Typographical error, my assit was a perfect 4 and a perfect 9."
7.) Lee Trevino, at Oak Hill in 1968 after being asked what he was going to do with the $30,000 first-place money: "Buy the Alamo and give it back to the Mexicans."
8.) Hubert Green, at Southern Hills in 1977 after being notified that a woman had called in a death threat against him: "S---, you don't suppose that it's somebody I've been taking out, do you?"
9.) The USGA's Joe Dey, when confronted with a complaint: "You play the course the way you find it."
10.) Bobby Jones: "Nobody ever wins the National Open. Somebody else just loses it."
WORST GIVEAWAYS
1.) Sam Snead's 8 on the last hole on the Spring Mill course at Philadelphia Country Club in 1939 when a par 5 would have won. Said Sam: "If I'd known what I had to do, I'd have played the hole with three 7-irons."
2.) Arnold Palmer to Billy Casper at Olympic in 1966 after holding a seven-stroke lead with nine to play.
BEST OPEN
Hard to go up against that confluence of Hogan, Palmer and Nicklaus battling down the stretch at Cherry Hills in 1960. Edges Hogan's stunning 67 in the final round at Oakland Hills in 1951.
DULLEST OPEN
Jim Furyk cruised to victory on the USGA's easiest course, Olympia Fields in 2003. Somebody named Stephen Leaney was second.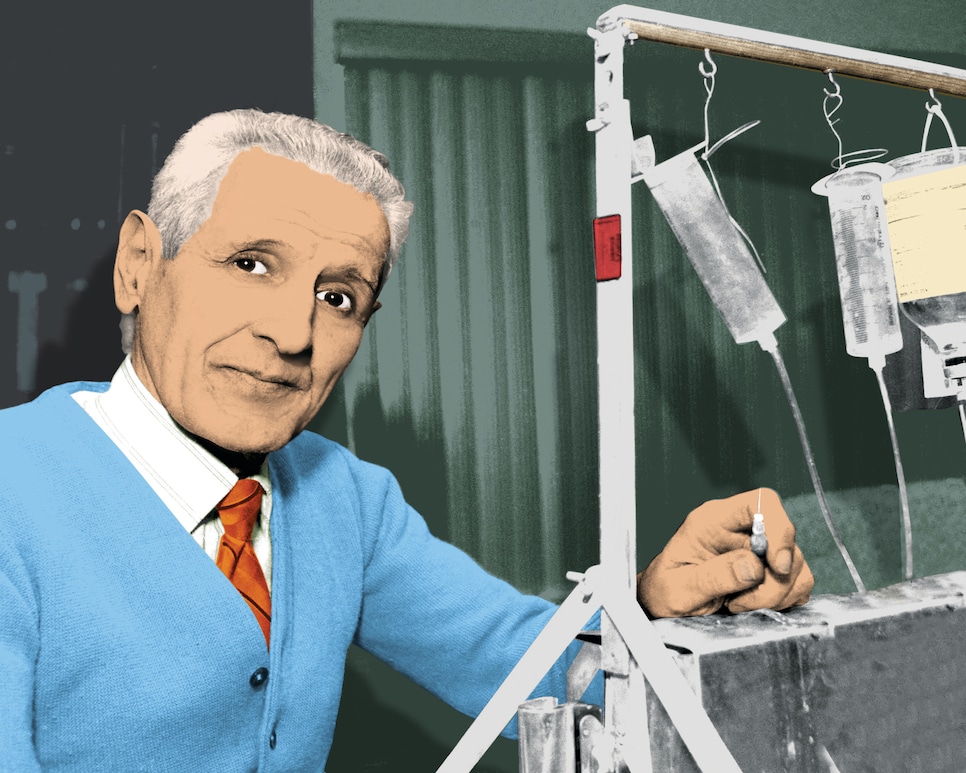 AP Photo/Illustration by John Ritter
SCARIEST SPECTATOR?
I'll go with Dr. Death.
'I'm going to walk up to Jack Nicklaus and tell him, "If you don't win, I'm here."' —Jack Kevorkian, at Oakland Hills in 1996
GREATEST LAST ROUND
Tie among Hogan's 67 at Oakland Hills in 1951, Palmer's 65 at Cherry Hills in 1960 and Johnny Miller's 63 at Oakmont in 1973.
GREATEST SINGLE ROUND
Hogan's 10-under 62 in the second round at Ridgemoor in the Hale America "Wartime" National Open of 1942. It's unofficial to everybody but me and Ben.
BEST SHOTS
1.) Hogan's 1-, 2-, or 3-iron (depending on his memory) to the last green at Merion in 1950 to secure the par that tied Lloyd Mangrum and George Fazio.
2.) Palmer's 346-yard drive onto the first green in the final round at Cherry Hills in 1960. Fifty years later, I asked Arnold if that hole would be a par 5 for him today. "No," he told me, "but it's three shots."
3.) Nicklaus' 1-iron stiff to the 71st at Pebble Beach in 1972.
4.) Tom Watson's chip-in at the 71st at Pebble Beach in 1982.
5.) Jerry Pate's 5-iron to the 72nd at Atlanta Athletic Club in 1976.
BEST PUTTS I'VE SEEN
1.) Hogan's 18-foot birdie on the last green to top off his 67 at Oakland Hills in 1951 to win by two.
2.) Payne Stewart's 15-footer for par on the last hole at Pinehurst No. 2 in 1999 to win by a stroke.
3.) Larry Nelson's 60-foot birdie at Oakmont's 16th hole Monday in the weather-delayed 1983 Open. Nelson sank the putt and Tom Watson. 4.) Hale Irwin's 45-foot putt on the 72nd hole at Medinah in 1990 to earn a spot in a playoff with Mike Donald.
BEST ADVICE IN 60-PLUS YEARS OF FACING DEADLINES AT THE OPEN AND ELSEWHERE
As my first boss, Blackie Sherrod, enjoyed saying, "Stop feelin' up that story, and get the damn thing in here." This U.S. Open will be the 215th major championship that I've attended, including the 1941 Open at Colonial when I was 11. That's four years of my life. Some people waste theirs. But all I ever wanted to be was a sportswriter.