The Loop
Damian Lillard has surpassed the English language's ability to describe him (but let's try anyway)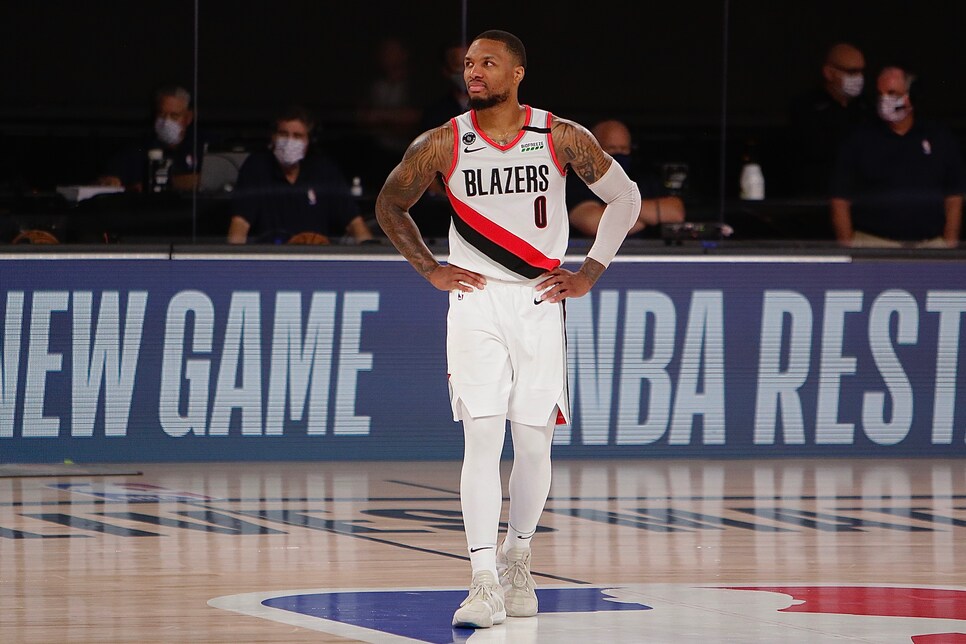 I mean . . . where to begin with this guy? Let's start early in the fourth quarter last night, Blazers vs. Nets, with Portland needing the win to earn a spot in the western conference play-in game that leads to the playoffs. Trailing by seven, Damian Lillard barely—I'm saying barely—crossed half-court before he did this:
Now, okay...let's recognize that for what it is. A massive display of cojones, and skill, and defiance, and even leadership for the confidence it instilled in his team. But for me, what's even more impressive is how the Nets responded on the very next Portland possession. Did they say, "okay, fine, if this guy wants to shoot from half-court, have at it, we'll take that all night"? Nope!
They trapped him BEFORE half-court! They trapped the dude—stay with me here—to prevent him from shooting another half-court shot. We have been exposed to a whole lot of shooting madness in the Steph Curry era, but this goes beyond. The amount of respect shown for the man just says it all; the only solution is to get the ball out of his hands by any means necessary. Lillard is a force of nature, and it's better to show open fear than to let him unleash his rare brand of basketball madness on your team. And, hell, Kobe knew. Why should we be surprised? Even Brooklyn wasn't! Before the game, Garrett Temple warned about this exact scenario:
Well, maybe we're still surprised because no matter how many times he does it, it still seems to defy physics and common sense. Lillard has been a heat-seeking missile in the bubble, even better than T.J. Warren, and his team has needed every bit of it. Check out this nugget, from ESPN and Elias:
Lillard became the first player in NBA history to score at least 40 points in three consecutive games his team won by three or fewer points, according to Elias Sports Bureau data.
In other words, he's going off on a nightly basis, and he's doing it under immense pressure. Against the Nets, his 12 fourth-quarter points led the Blazers to a one-point win in what was a do-or-die scenario, and it was the same against the Mavericks, and the 76ers. It's not just the crazy threes, either; it's the defensive effort, it's the complete exhaustion when he finishes the job. This is an historic stretch, even if the Blazers are bound to lose before long. (Oh, and speaking of history...after he dropped 61 on the Mavs earlier this week, he became the second player in NBA history to score 60 points three times in a season. The first one? Wilt Chamberlain, who was basically playing with a height cheat code.)
Anyway, Lillard and the Blazers will face Memphis on Saturday at 2:30 in the play-in game, and the Blazers will only have to win one of two in order to advance to face the Lakers in round one. At this point, I'm almost willing to believe that Lillard can will his team to a massive upset against the struggling Lakers, but one way or another, the man is the living embodiment of appointment television.