Statistical analytics play an increasingly vital role in sports. Take golf—the PGA Tour tracks hundreds of stats across all areas of the game, from strokes gained/off the tee to three-putt avoidance to everything in between. For the players, it's another metric—along with video, launch monitors, force plates, etc.—to help identify weaknesses, sharpen skills and optimize efforts to improve.
Using the tour's massive stockpile of performance-related player data, Golf Digest has done an analysis to identify the very best this past season in the game's most critical areas—from driving to putting. As a longtime golf instructor, I've been enlisted to share what you can learn from these "stat champs." I'll explain what makes Rory McIlroy such a magnificent driver of the ball and how Justin Thomas is able to stop his wedges by the flagstick, and then I'll give you some advice on how to apply their techniques to your game. Even small improvements could make a big difference in your scores, and perhaps lead to this being your breakthrough season. —With Dave Allen
BEST ALL-AROUND: Rory McIlroy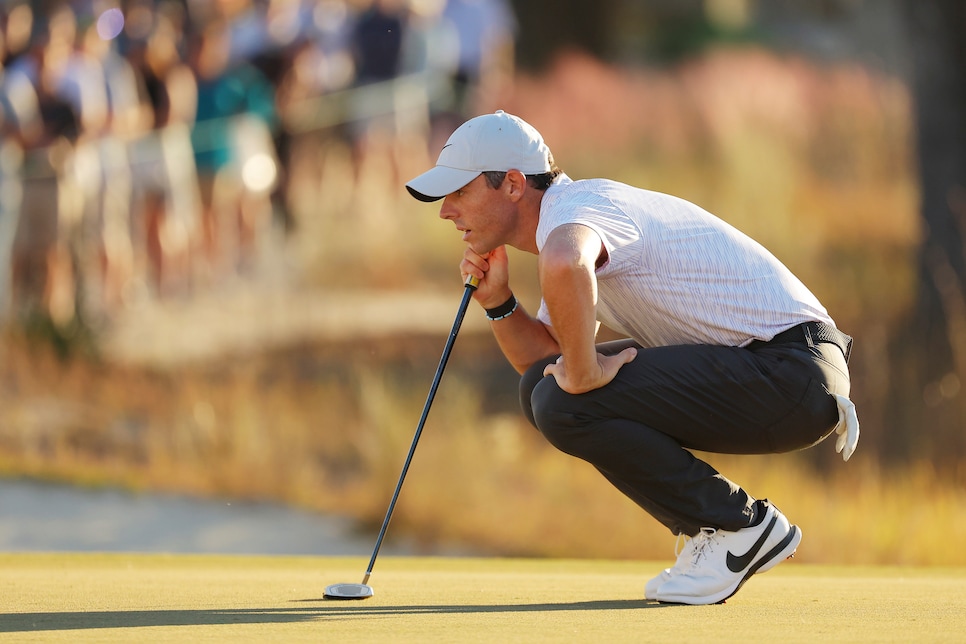 STROKES GAINED/TOTAL (1ST); SG/TEE TO GREEN (2ND);
GREENS IN REGULATION PERCENTAGE (12TH); SG/PUTTING (16TH)
What you can learn: TRAIN IT, THEN TRUST IT
Statistically, it should come as no surprise that Rory McIlroy regained the top spot in the World Golf Ranking in October, as he was in the top 16 on tour in nearly every significant strokes-gained category last year. Always known as an exceptional driver of the ball, Rory made huge strides with his wedge play and putting. After the Masters, McIlroy's proximity from the hole on approaches from 50 to 125 yards improved a staggering 10 feet, leaving the ball on average only 14 feet from the hole. And when there was a putt to be made, he made it. In the final round of the Tour Championship, McIlroy made more than 115 feet of putts and gained 3.92 strokes on the field, fueling a six-shot comeback win against Scottie Scheffler and the rest of the field.
With his putting, the thing I notice is how much freer his stroke is now. This can be attributed to the work he has done with Brad Faxon on the technical side and Dr. Bob Rotella on the mental side. One of the core elements of Rotella's philosophy is that a golfer must train his or her swing and then trust it. In other words, there's a time for conscious thought like focusing on mechanics when you practice, but when it comes time to play, you need to perform in a subconscious state. You need to trust your ability and let it go. That's what Rory is doing—he's not over-controlling his stroke. One other thing he's doing extremely well is that he's not getting into a tizzy if he misses a putt. He shows very little emotion. He confirms whether he missed because of a misread or mis-hit and makes no negative judgments. That's a great playing tip throughout the bag for you—analyze what you can do better and move on.
Player to watch: Xander Schauffele nearly unseated McIlroy for best all-around. He was second in sand saves, third in total driving, seventh in strokes gained/approach the green, eighth in putting average and won three times.
BEST DRIVER: Rory McIlroy
STROKES GAINED/TEE TO GREEN (2ND); SG OFF THE TEE (3RD)
In terms of distance and direction, there are few better drivers in the history of the game than McIlroy. Since strokes gained/off the tee was introduced in 2016, Rory has finished no worse than sixth in this stat, including third last season. In that same six-year stretch, he was first or second in driving distance five times, peaking at 321.3 yards off the tee last year.
With Rory's swing, it's all about three things— timing, tension and tempo. The timing comes from the proper sequence of movement from the hips, shoulders, arms and club on the downswing. Tempo relates to the time it takes to swing the club to the top and then back down into the ball. From studying video, Rory and all the other best drivers of the ball have a ratio of 3-to-1 (three units swinging back to one unit coming down). Most amateurs are closer to 4-to-1 or 5-to-1, so the downswing becomes disproportionately faster than the backswing, upsetting the alignment of the clubface at impact.
I've spent a good amount of time with Rory the past few years, and what I found most surprising about his driver swing relates to tension and what he does to free up his swing when he really wants to crank one. Rory has always favored a slight draw, but he doesn't change his aim, ball position or body alignment to create that shape. Instead, he deliberately tries to relax his right arm and shoulder during the transition from backswing to downswing. He says this helps him drop the club inside to create the necessary in-to-out swing path to produce a slight draw off the tee. Loose muscles are faster than tight ones, so the takeaway here is to stay relaxed if you want to hit it farther.
Player to watch: Cameron Young, the tour's rookie of the year, was super long (third in driving distance at 319.3 yards) and clutch. Who can forget Young driving the green on the 72nd hole of the Open at St. Andrews, then making an eagle to temporarily tie for the lead before losing by one to Cameron Smith.
BEST IRON PLAYER: Will Zalatoris
STROKES GAINED/APPROACH THE GREEN (1ST);
SG/TEE TO GREEN (1ST); GREENS IN REGULATION (8TH)
My mentor, legendary teacher John Jacobs, said that all great ball-strikers share two common traits— their hips are "out of the way" and their shoulders are "underneath" on the downswing.
No player today better exemplifies this move than Will Zalatoris, who was the only one on tour last season to pick up more than a stroke per round on the field with his approach game. As Zalatoris swings down into the ball, his hips are clearing hard to the left on a fairly level plane, and his right shoulder is moving underneath his left and rotating on a much steeper plane. Picture the shoulders turning like a Ferris wheel and the hips rotating more like a merry-go-round, and that's what you see from Zalatoris and most great iron players.
Why is this move so important? For one, turning the hips out of the way helps quiet the hands and stabilize the clubface through impact. There's no rolling or flipping of the wrists. Secondly, by keeping the right shoulder underneath and the shoulders tilted, the club is able to remain on the desired path into the ball. Most poor ball-strikers tilt their hips and shoulders too much, which causes the clubhead to hit the ground before the ball, or they turn them level and cut across the ball.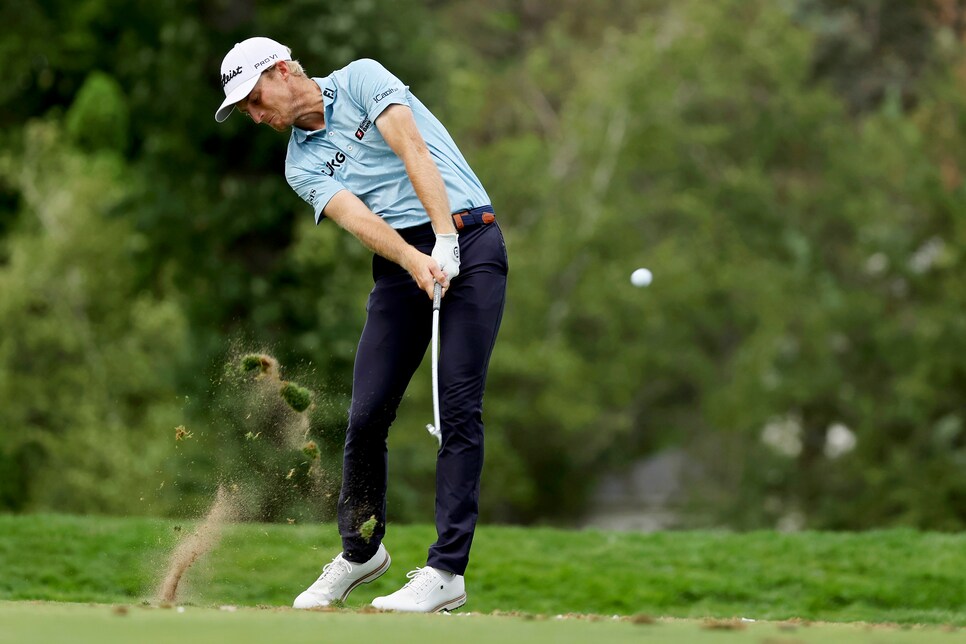 To train these moves, stand an iron so the shaft is straight up and rest your lead hand on top of it. Now take your normal address posture, and then toss a ball underhand with your trail hand so it moves under your lead arm. While tossing, rotate your hips so your belt buckle faces the target as you finish. Groove this move, and you'll get the right balance between the planes your hips and shoulders need to move on to strike it pure.
Player to watch: Tom Kim sparked the International team by earning two points at the 2022 Presidents Cup. He also won the PGA Tour's Shriners Children's Open without making a bogey or worse over four rounds. Kim is a great ballstriker and ranked sixth in strokes gained/approach the green and tee to green at the start of this season.
BEST WEDGE PLAYER: Justin Thomas
APPROACHES FROM 50-125 YARDS (1ST);
APPROACHES FROM 75-100 YARDS (1ST);
APPROACHES FROM 100-125 YARDS (1ST)
Justin Thomas has enough length to get to most par 5s in two, but when he doesn't reach, it's sure nice to have his wedge game. He ranked fourth in par-5 scoring average last season (4.47).
What makes him a great wedge player? It starts on the backswing, where he allows his lead forearm to rotate, so the club points up. From there, he drags the slightly open face through impact with a bowed lead wrist. I've seen 3-D data of Thomas' wedge swing, and his lead wrist is probably more flexed on the downswing than any other pro. This gives him fantastic face control just before and after impact because it prevents the face from closing at the bottom of the swing.
He has no fear of the ball going left from a shut face, so he can take on tight pins that someone who draws the ball can't—and that's a big advantage.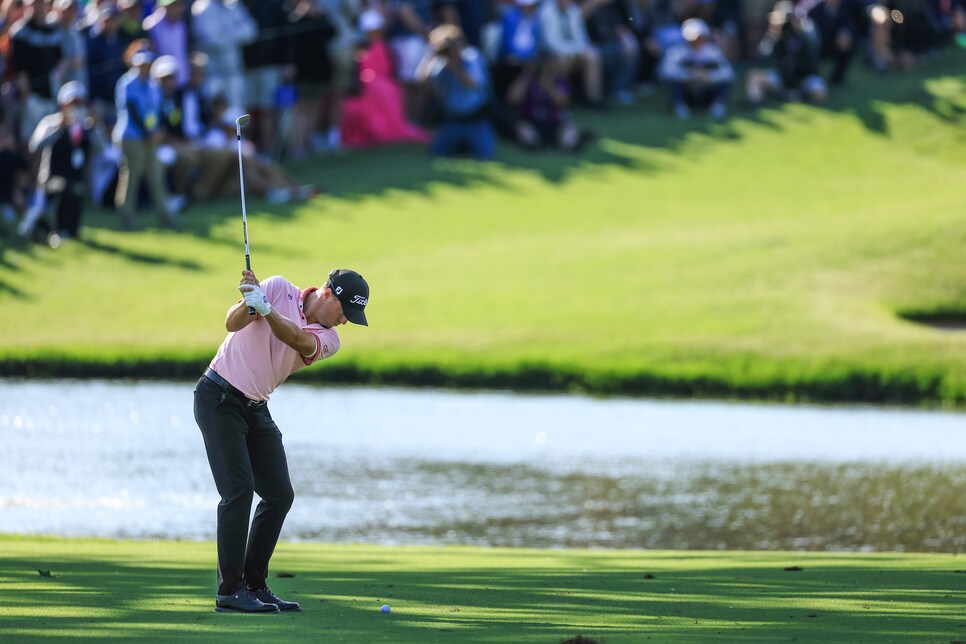 The other benefit to having the lead wrist slightly bowed is that it produces the optimal ball-turf impact conditions. With your body weight and hand positions slightly more forward of the ball at impact than at address, you can strike it pure and get your wedge shots to check. As a drill, see how low you can hit your 56-degree wedge without putting the ball back in your stance to do it. This will force you to keep your lead wrist bowed while shifting your hands and weight slightly forward.
Player to watch: Russell Henley was third on tour in fairway approaches from 50 to 125 yards. He also was No. 1 from that distance from the rough and second in strokes gained/approach the green.
BEST SHORT GAME: Matthew Fitzpatrick
SCRAMBLING (1ST); SCRAMBLING FROM THE ROUGH (1ST);
SAND SAVES (6TH); SG/AROUND THE GREEN (7TH)
Most people point to Matthew Fitzpatrick's power surge for his success last season, including winning the U.S. Open. He's 15 yards longer off the tee than he was three years ago, but you don't win that tournament without a great short game. Fitzpatrick picked up 5.65 strokes on the field around the greens at The Country Club.
When I look at my fellow native of England, I see a player who's able to strike the ground in the same spot on his short-game shots. He has magnificent control over that spot, which enables him to hit the center of the clubface consistently. Hit it solid and you can control distance around the greens.
The setup plays a big role in your ability to hit the turf in the same spot. With Fitzpatrick, my impression is that he's looking at the front edge of the ball, not the back of it. I say this because his left eye is slightly lower than his right, and his weight favors his front side. I call this "LEDFOB" (lead eye down, front of the ball). When chipping, he sets up cross-handed or left-hand low, which also lowers the lead eye and shoulder. This allows him to hit down on the ball a few degrees with a consistent low spot after impact. Nobody who's any good with their wedges hits up on the ball, so try this forward-looking approach for better contact.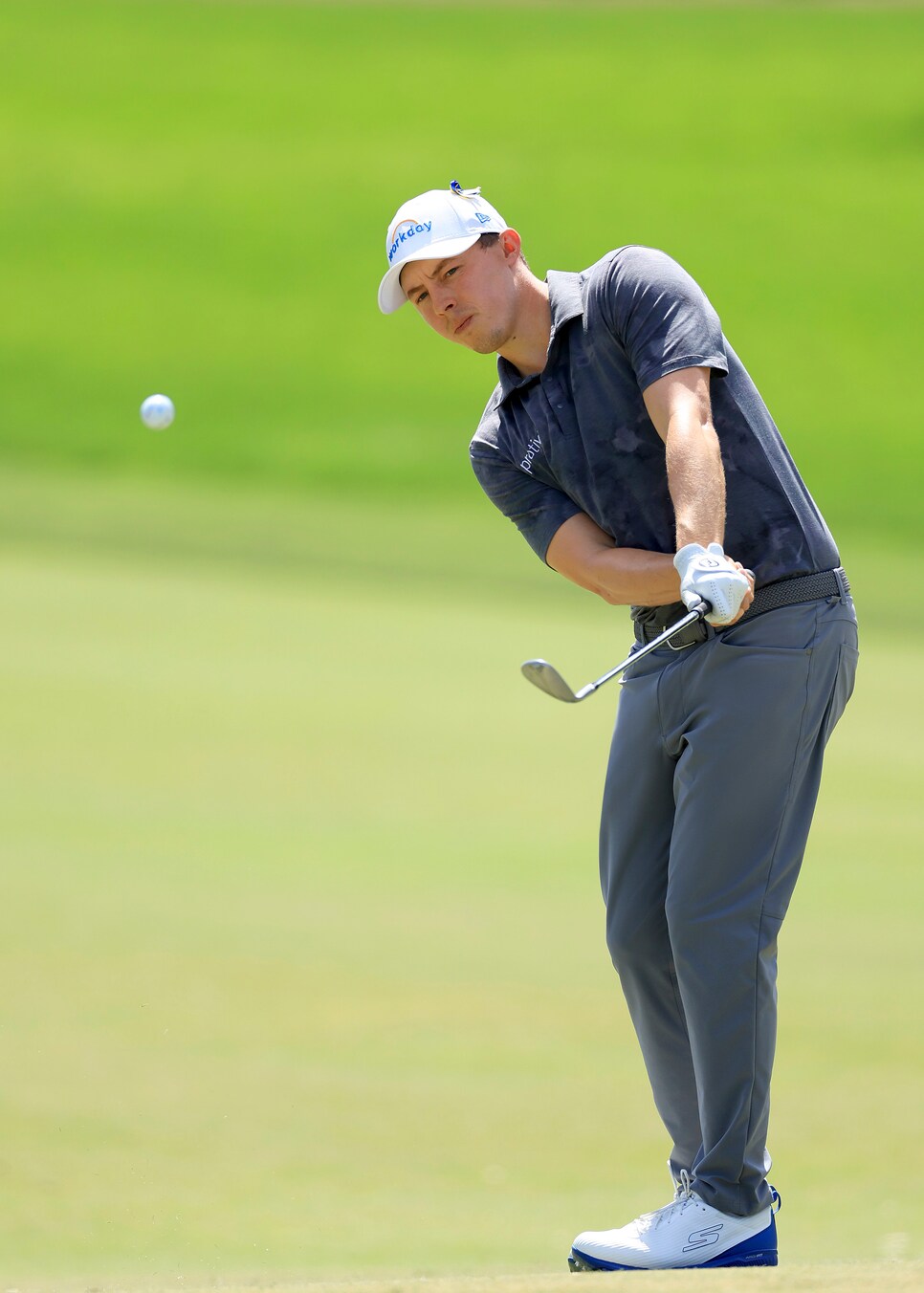 Player to watch: Shane Lowry, the 2019 Open Champion, has finished in the top 25 in six of his past eight majors largely because of his short game. He was No. 1 in sand saves and proximity from the sand last season and third in scrambling.
BEST PUTTER: Lucas Herbert
STROKES GAINED/PUTTING (1ST); PUTTING INSIDE 10 FEET (1ST);
ONE-PUTT PERCENTAGE (1ST); THREE PUTT AVOIDANCE (5TH)
This award winner might surprise you, but Lucas Herbert has a putting stroke that many pros would like to steal. In watching video of him, including in his win at the Butterfield Bermuda Championship last season, it appears that his grip pressure is very light because the pace of his stroke is so slow and easy. The Aussie's putter just collects the ball— meaning he's letting the putter run into it rather than smashing into it. It reminds me of an image Jack Nicklaus would use to help keep his hands soft through the stroke. He would picture the putter shaft being made out of delicate glass. If he gripped the putter too tight or changed directions too abruptly, he would shatter the glass. That's not a bad thought to have when putting on fast greens or if your rhythm is off.
Another thing I like about Herbert's stroke is its tempo. Like most great putters I've studied, he has a consistent stroke ratio of 2-to-1—like thinking the words one thousand going back and one moving into the ball. His follow-through also is about a third longer than his backswing—or 40 percent going back, 60 percent coming through. It's what the best putters do. Nicklaus' follow-through was always longer than his backstroke—same as Tiger Woods—which is good enough for me. You don't want to have any deceleration in your stroke, and a longer follow-through is good evidence of that.
Player to watch: Sam Burns, a three-time winner on the PGA Tour last season, was making putts from seemingly everywhere at the Presidents Cup. He ranked fifth in putting average in 2022 and was 10th in strokes gained/putting.
BEST SCORER: Scottie Scheffler
BIRDIE AVERAGE (2ND); SUB-PAR ROUNDS (2ND);
ROUNDS IN THE 60S (3RD); SCORING AVERAGE (4TH)
Between the WM Phoenix Open and the Masters last year, Scheffler won four times in six events with 10 rounds in the 60s. A big reason he's so successful is his ability to hit the ball higher than most. It allows him to get at pins that a lot of players can't access.
To hit it high, first check your address position. I like my students to have the feeling that their left ear is behind the ball with their weight evenly distributed. Then you need to generate a fair amount of clubhead speed to hoist the ball up, which requires a full backswing and a lot of wrist hinge. You won't see Scheffler playing a lot of halfswing, touchy-feely knockdown shots because nearly everything with him is intended to produce a high ball flight.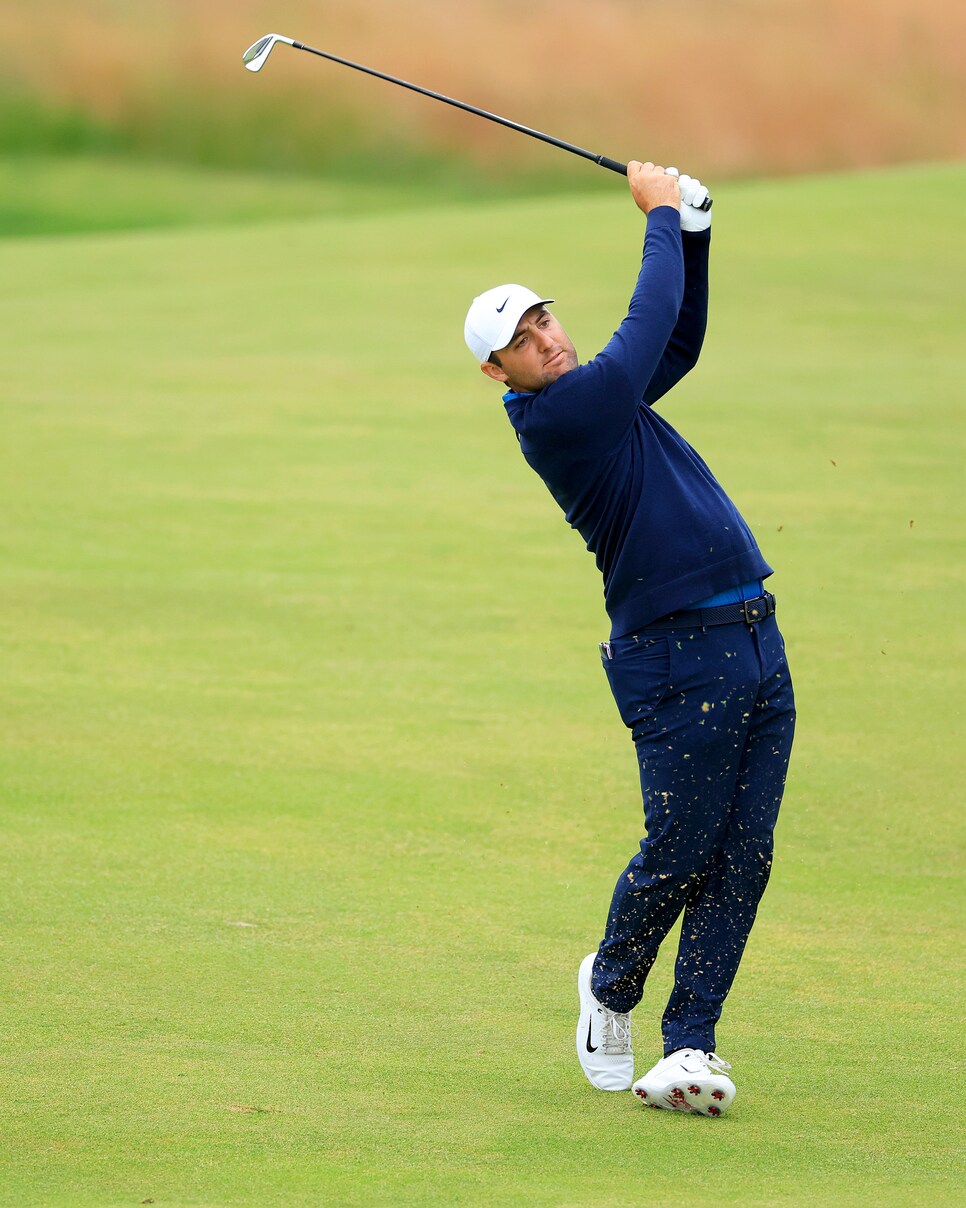 The finish is just as important to hitting it high as the backswing. You want to feel like you're almost wrapping your hands behind your neck. You can't hit it high with an abbreviated follow-through. Your hands must finish high. It's also a mistake to think that you need to hit down on the ball to make it go way up. That just increases your chance of a mis-hit. Instead, set up more behind the ball and complete your backswing and follow-through with a high-hands finish.
Player to watch: Tony Finau posted scores in the 60s in 23 of 28 rounds late last season, including 13 in a row. He was 43 under par in consecutive wins at the 3M Open and Rocket Mortgage Classic.
Martin Hall is one of Golf Digest's 50 Best Teachers in America. He is the director of instruction at The Club at Ibis in West Palm Beach, Fla., and host of "School of Golf" on GolfPass and Golf Channel.