Cracking The Code Of Equipment's Most Enduring Urban Legends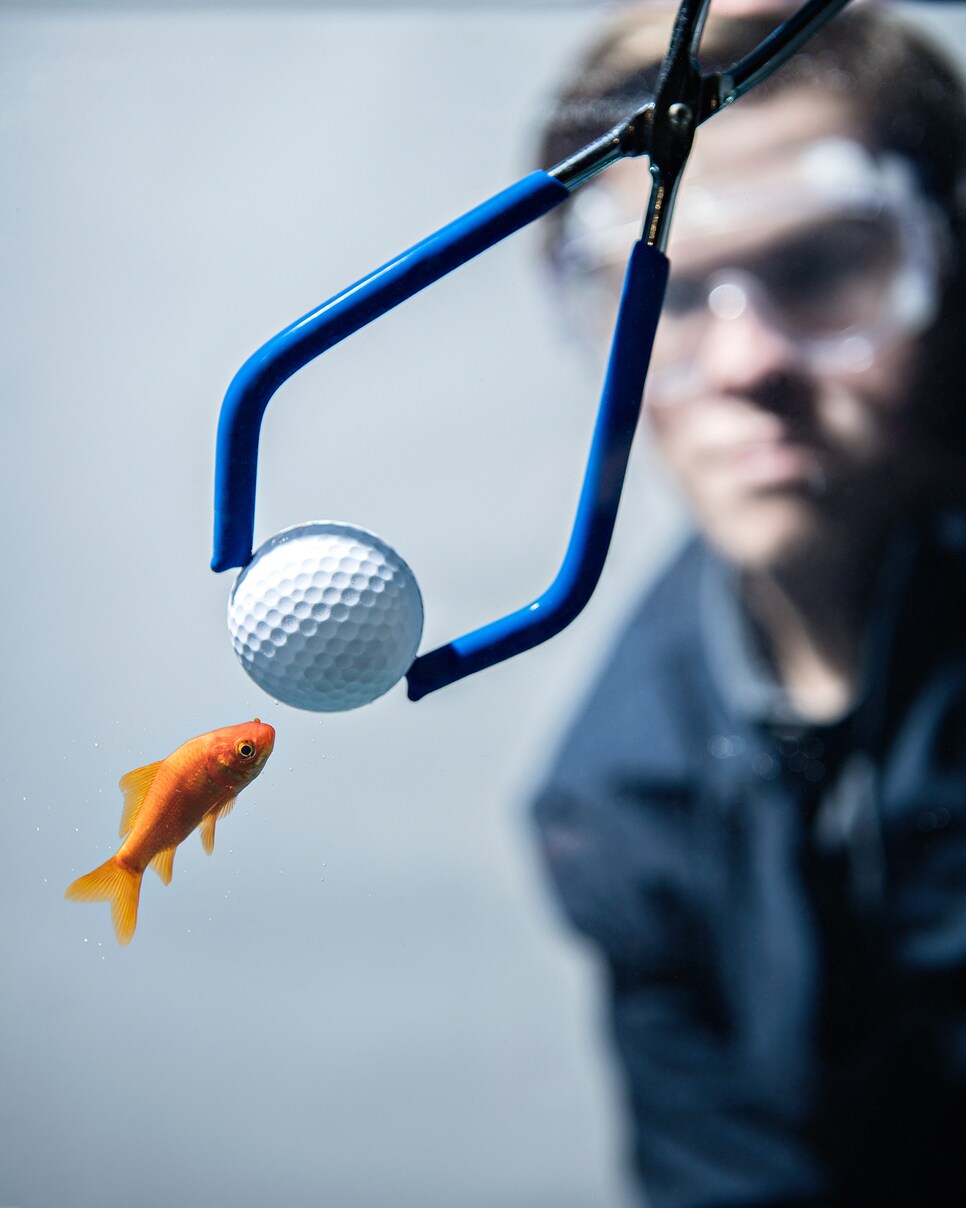 The 19th hole is a playground filled with legends, tall tales and myths about equipment, from the basic (Is the ball I found in the pond still good?) to the prosaic (What happens if I put Vaseline on the face of my driver?). We asked various experts to address some of the most interesting and enduring. Consider your myths busted.
1) HOW LONG WILL A GOLF BALL LAST IF I DON'T LOSE IT?
Most balls don't stick around long enough for it to matter, but what would happen if you played with the same one for 10 rounds? Would the scuffs and hundreds of whacks make it perform worse? Dean Snell, a former golf-ball designer at Titleist and TaylorMade who now runs Snell Golf, says you'd have to hit a premium ball at least 100 times with a driver—at tour-level swing speeds—to see any cover cracking. Most balls, he says, will survive more than 250 hits before any deterioration. Scuffs aren't even a big deal if they haven't chopped up the dimples. Temperature and water are bigger enemies. Below freezing and above 100, the polymers that make up the various layers stiffen or soften, both of which impact ball speed and spin rate. Playing balls you find in the water isn't a great idea, either: "Water can seep into the core, and that costs you distance and speed," Snell says. "Velocity slows after 48 hours in the water, but the ball really loses speed after two to three weeks in the water." The perfect conditions for ball performance? Think San Diego, dry and 70 degrees.
2) HOW DOES THE HEAT/COLD/ALTITUDE AFFECT MY DISTANCE?
If you aren't playing on a calm, 70-degree day, you're probably losing or gaining something from your "stock" distances. The folks at TrackMan have used their radar system to measure thousands of shots in various conditions. Temperature plays more tricks on your game than you think. The average 6-iron travels eight more yards in 100-degree weather than it does at 40. As for altitude, players with average swing speeds see about a 6-percent gain at 5,000 feet—a bit less with lower-trajectory clubs like a fairway wood or hybrid. Which means you should pretty much take one less club in Denver.
3) DO CLUBS WEAR OUT?
Unless you're a tour player hitting thousands of balls in the same spot on your iron faces, advances in technology will occur before the average player can beat most clubs into submission. "If you're playing with stainless-steel cast irons, it'll take forever to wear those faces out," says Kirk Oguri of Pete's Golf Shop in Mineola, N.Y., a Golf Digest 100 Best Clubfitter. "Metalwoods can crack in rare cases, but they don't wear out or weaken." Two places you might see deterioration are in your shafts and wedges. "Steel shafts can bend over time from heavy use, especially when hitting off mats," Oguri says. "And practicing a lot with your wedges will wear out the grooves. You'll want to replace those every two years." One more thing: Cold weather won't hurt your clubs, but excessive heat—like in your trunk during the summer—can weaken the epoxy holding the heads and shafts together.
4) HOW DO RANGE BALLS COMPARE TO THE BALLS I TYPICALLY PLAY?
You just made a career swing with your 7-iron and carried the 150 sign at the range. How proud should you be? Well, it depends on which ball you picked from the bucket. In a 2014 test, we sampled 20 balls from different ranges and compared them to a batch of Titleist Pro V1s using a swing robot. At an average amateur's 7-iron swing speed of 80 miles per hour, the Pro V1s flew 147 to 152 yards. The range balls had a much greater distance variance—139 to 168 yards. The moral of the story? Using range balls to calibrate your distances is a bad idea.
5) HOW MUCH DISTANCE AM I LOSING WHEN I MISS THE CENTER OF THE FACE?
Millions of lessons have been given about how to increase clubhead speed, but focusing on speed ignores a gigantic piece of the distance puzzle: hitting the sweet spot. We asked golf scientist (and retired Bell Labs engineer) Dave Tutelman to calculate the impact of off-center hits. His answer hinges on "smash factor"—the ball's relative performance, depending on where on the face you've hit it. A tour player hits the sweet spot a lot, and his smash factor (ball speed divided by clubhead speed) approaches 1.48, but a 20-handicapper makes contact all over the face—and is usually under 1.30. If that 20-handicapper swings the driver 100 mph, that 1.30 smash factor could cost him or her up to 40 yards. Another way to look at it: Hitting the sweet spot is the equivalent of gaining more than 12 mph of clubhead speed.
6) DOES THE OLD VASELINE-ON-THE-DRIVER TRICK REALLY WORK?
Short answer? Yes. Any kind of grease on the face (Vaseline, sunscreen, ChapStick, etc.) will reduce the sidespin you create with a bad swing—which means the ball won't curve as much. You also lose backspin, which can help or hurt depending on your launch characteristics. It's also super illegal to do it, so keep your petroleum products to yourself.