The Loop
Couples survives tough conditions with girlfriend's help
SAN FRANCISCO -- A glorious Wednesday turned into a gloomy Thursday at the Charles Schwab Cup Championship, with spitting rain and chilly temperatures most of the afternoon at TPC Harding Park.
"Thirty degrees and 30 yards," said Michael Allen, asked to describe the difference a day made. "Other than, not too much."
The conditions didn't bother Allen, a native of the Bay Area, too much. He shot a two-under 69 to trail Jay Haas and Fred Couples by a shot after the first round. Compared to last year, when Harding Park's fairways didn't have much grass and mudballs caused lift, clean and place rules, the course is in great shape.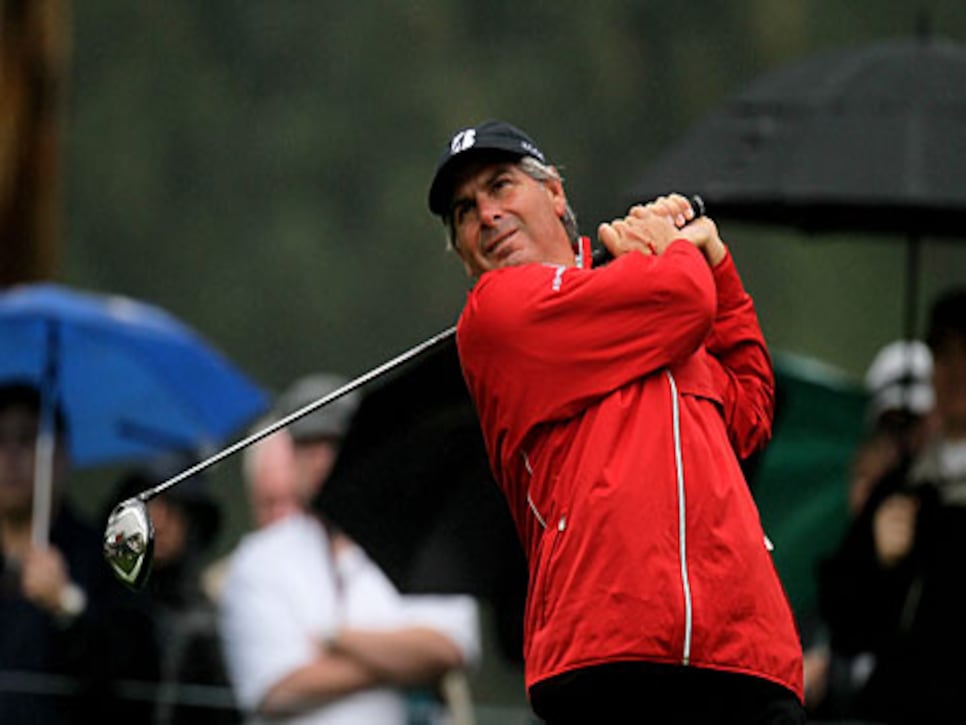 Photo: Stephen Dunn/Getty Images
For Allen, the gray day brought back memories of his youth, including a 1970s city amateur match at Harding Park. "I think we had 13 or 14 temporary greens," Allen recalled, "just a mud bowl, and it rained the whole way. The course is so much nicer now -- nothing like that. But it kind of brought back memories of [being] cold and wet, getting your rainsuit on and playing."
Couples, who was short of the green in two on the 473-yard, par-4 sixth hole after a driver and 3-wood, put his rainsuit on, too, but as usual played without a glove -- something he began doing as a boy growing up in Seattle.
"When I was 9, 10, 11 up in Seattle on days like this, [I'd wear one]," Couples said. "But then you would try and dry your gloves out, but my Mom would not give me -- I think it was like seven bucks for a glove every other week in the winter time. So finally I just stopped wearing them."
Couples' girlfriend, Midge Trammell, is caddieing for him this week, and according to Couples, she earned her caddie stripes in the trying conditions. "She's done a great job," Couples said. "She does not club me, she doesn't read putts, but every time I turn around she's right there. The umbrella hit us in the head a couple of times. I'm trying to keep the towels dry. But Midge was phenomenal today."