The Loop
Couples, fresh off win, downplays Masters chances
HUMBLE, Texas -- Fred Couples is cool. Not news. Fred Couples is intimidating. Now there's a surprise.
On the eve of the Shell Houston Open -- a day when the reigning Masters champion Charl Schwartzel and 2010 US Open champion Graeme McDowell found time to visit with the press -- the apparently threatening aura emitted by the now-former Presidents Cup captain so cowed PGA Tour officials that they were reportedly "afraid" to ask him to make the two-minute trip from clubhouse to media center. So it was that Couples fulfilled one of the most important aspects of his job as a professional golfer standing rather incongruously in the middle of range at the Redstone Golf Club.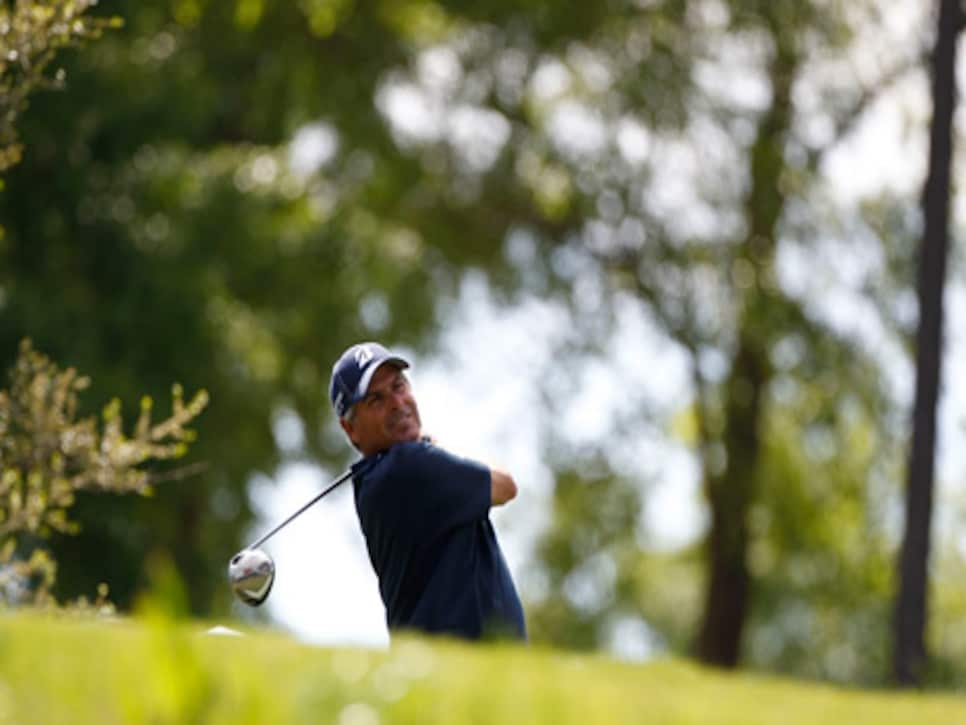 The strange thing was, he didn't look or sound either frightening or aggressive. He was, as ever, just Fred -- calm, friendly, charming and clearly perfectly happy to be back in the city where he played his college golf. What can those tour personnel have been thinking? Is one of golf's nicest people really possessed of a split personality?
If he is, he hides it well. The 1992 Masters champion, in fact, was in fine fettle and oozing realism. Despite being fresh from victory at the Mississippi Gulf Resort Classic on the Champions Tour, the 53-year old Seattle-native was quick to play down his chances at what will be his 28th Masters next week. He knows the difference between "geezers golf" and the real thing.
"I have a lot of confidence because I just won," he said. "But this a different ballgame. If I play really, really well here I maybe can finish in the top-20 or 25. So my goal is just to play well and hit the ball well.
"I have a different mindset when I'm out here (on the PGA Tour). There are good courses and good holes on the Champions Tour. There are still a lot of hazards and deep bunkers and all the rest, but when the holes are 50-yards longer it makes things a little harder.
"I hit the ball a long way compared to most of the guys on the Champions Tour. If there's a hole with water all the way down the left side, I can kind of play round it with a 3-wood and still have only a 7-iron to the green. Out here though, I can't do that. Take the 18th hole here. I have to hit a great drive and a really good second shot just to think about making par. That is basically what I try to do."
Inevitably, talk turned to Augusta National, a place where Couples has a proud record. In 27 visits to the year's first major, he has missed the cut only twice. Only 12 months ago, of course, he was good enough to finish T-15 and in 2010 his opening 66 saw him leading into the second round. Most impressively, however, Couples' scoring average of 71.90 is the best of all those who have completed 100 or more Masters rounds. Better even than Jack Nicklaus (71.98).
Realistically -- there's that word again -- Couples doesn't see himself as a challenger for a second green jacket, citing an inability to find a higher gear as the biggest difference between himself and the likes of Tiger Woods, Rory McIlroy and Phil Mickelson.
"I have played fairly well at Augusta over the last few years," he continued. "But when I have a shot to work my way up the board, I don't continue to do it. I'm not like the young guys. I don't go on streaks of four or five birdies in, say, six or seven holes. So while I'm consistent in my scores, I don't shoot 66 or 67 like Rory, Tiger or Phil. Those are incredible scores on that course. For me, a really good score is 70 or 71. But if I shoot four of them, I'll be in a great spot by the end of the week."
There followed a bit of chat about Fred's former caddie, Joe LaCava, who now works for Woods, a nod to the organizers of the Houston Open for offering him an invitation to an event he clearly holds in great affection and an assurance that his perennially-aching back was "in good shape." And through it all, this popular individual never once seemed impatient or stressed by the questions coming his way.
Memo to the PGA Tour: next time, just ask him to come see us. It's a safe bet he will agree without any fuss.