From the Magazine
Why so many country clubs are undertaking massive capital-improvement projects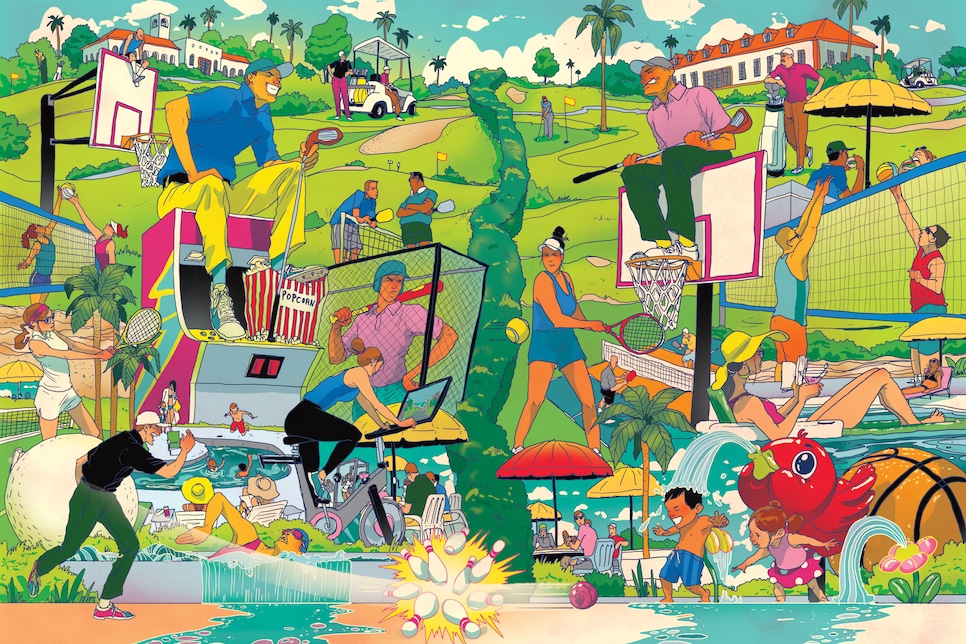 There's beach volleyball, a soccer field, basketball courts, batting cages, tennis (obviously), pickleball, bocce, a pool with a "splash zone" for kids, a pool with an island in the middle, and two lap pools so that you can swim without interruption while listening to music through the underwater speakers. There's an AMF bowling alley with arcade games like air hockey and pinball. Around the corner there's a wall-to-wall Lego area and a "dream room" where overstimulated kids are snoozing, a 23-seat movie theater with a fully stocked snack bar, steam rooms, TV rooms and wine cellars for storing and sampling.
"When you look at most country clubs, they do have a lot of amenities these days," says Mike Orosco, general manager of Santa Barbara's Montecito Club, which has all of those activities as well as a Jack Nicklaus-designed golf course overlooking the Pacific Ocean. "But we've really taken it to the nth degree here."
The price tag: just shy of $120 million, financed by Ty Warner, the Beanie Baby entrepreneur who bought the club in 2004.
Over the top? Perhaps. But the Montecito Club, which charges a $275,000 initiation fee, is far from alone in spending big money on capital-improvement projects these days. All over the country, clubs are shelling out unprecedented sums. In some markets it feels like an arms race, with clubs needing to spend more or risk annihilation. Industry insiders say Myers Park Country Club in Charlotte is spending $27 million on its clubhouse. They say Bel-Air Country Club in Los Angeles budgeted just under $50 million for a clubhouse makeover, and Houston Country Club is planning $100 million of structural improvements. These clubs had no comment or didn't return calls seeking a comment.
"We've been doing this for 35-plus years, and I don't think there's ever been a period like this," says Frank Vain, president of the McMahon Group, a consulting firm that helps private clubs figure out how and when to invest their capital.
PERHAPS THE SINGLE BIGGEST REASON FOR THE SPLURGE? A LOT OF CLUBS HAVE REALIZED YOU NEED TO SPEND MONEY TO MAKE MONEY.
The spending spree can be attributed to a handful of reasons, starting with historically low interest rates. "What's interesting is the availability of capital," Vain says. "It used to be you could borrow money for three to five years at these rates, subject to a reset. We're seeing clubs secure up to 10-year-fixed-rate loan commitments in the 4-percent range on notes of $10 million or more. This is certainly different than other periods."
The COVID pandemic, too, has energized a lot of clubs. Not only are people playing a lot more golf than they did pre-pandemic, they're joining more clubs. Based on data from 300 clubs it considers representative of the U.S. market, the research firm Club Benchmarking shows that 25 percent of U.S. country clubs had full memberships before the pandemic. That number is pushing 50 percent today and climbing. Clubs are "sitting on a boatload of cash," says Steve Graves, founder of Creative Golf Marketing, a consulting firm that works with clubs to find new members. "If not now, when?"
Still, this might be the single biggest reason for the splurge: A lot of clubs have realized you need to spend money to make money. One of the main reasons for that is Ray Cronin, co-founder of Club Benchmarking, who has gained a guru-like following throughout the country-club industry in recent years.
A former board member at Thorny Lea Golf Club outside Boston, Cronin started Club Benchmarking in 2009 "because I didn't have any data, and we were making decisions by the seat of our pants." The company collects and analyzes financial information from roughly 1,000 North American clubs. "We've studied it for 12 years now," Cronin says. "We really understand it. We've kind of cracked the code of sustainable financial success based on that work. It's all about capital investment, believe it or not."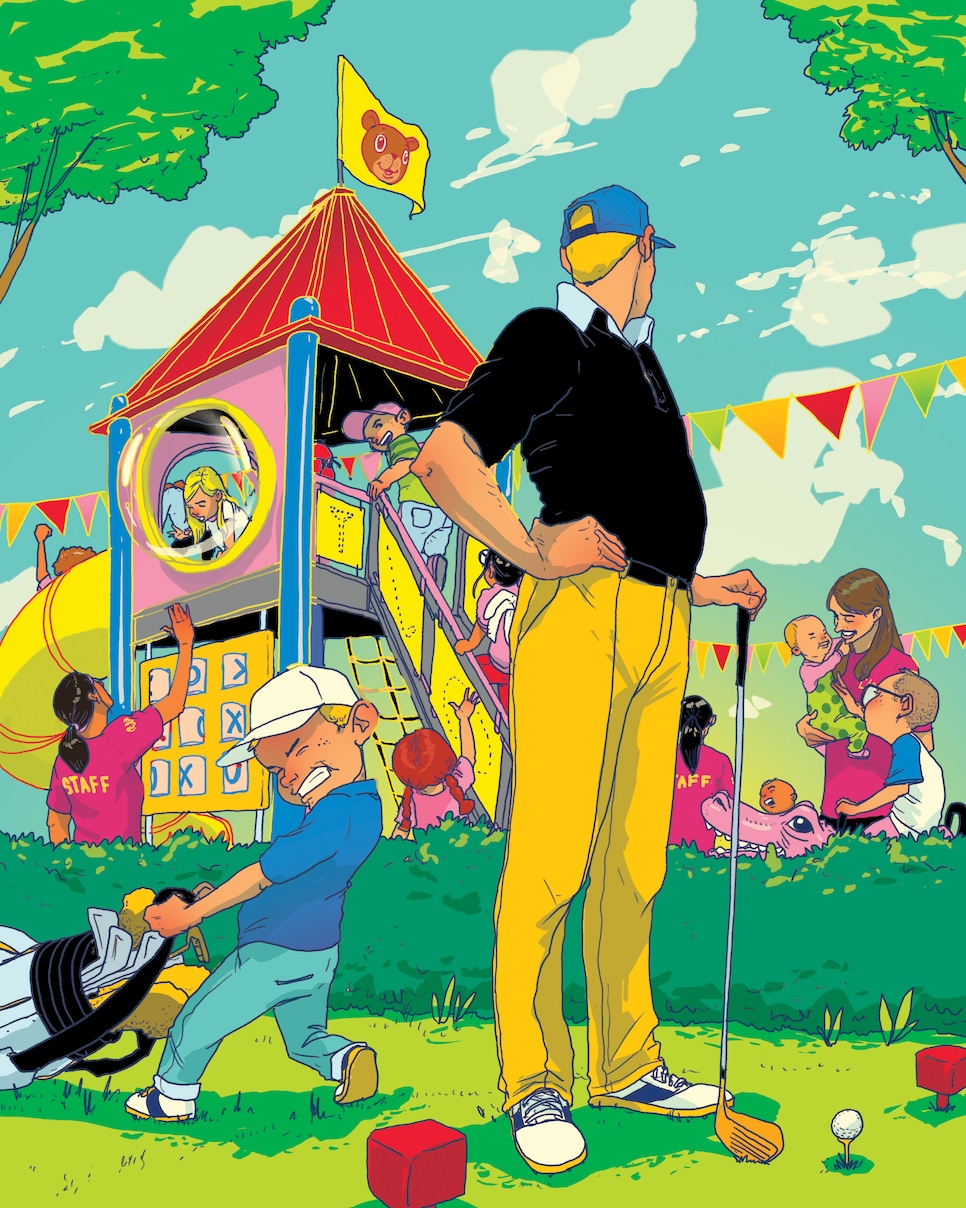 Illustrations by Michael Byers
Club Benchmarking splits the country-club market into three "buckets": red, yellow and green. "About a quarter of all clubs, the red bucket clubs, are in what we would categorize as severe financial distress," Cronin says. "They don't have enough members; they haven't invested in the past 20 years. These are clubs that have dropped or cut their initiation fees and are trying to compete on price. They're kind of worn down. You can see it when you enter the parking lot, with the potholes and the lack of painted stripes."
At other end of the spectrum are a quarter of the clubs in the green bucket. "These are the ones that have invested consistently for the past 20 years, particularly since the 2008-'09 economic meltdown," he says. "They have really strong balance sheets, wait lists for members and initiation fees north of $50,000." The yellow bucket clubs, in the middle, represent half the industry. His company's goal is to help red- and yellow-bucket clubs move toward the green bucket.
When Cronin presents his findings at industry gatherings or to individual clubs, he shows hundreds of slides. One of his favorites shows that clubs that invest in themselves—which you can identify by their higher-valued property, plant and equipment—have significantly higher initiation fees.
"That's the whole story right there," Cronin says. "The most objective measure of a club's value proposition is the initiation fee. It's literally the market's assessment of supply and demand. The clubs that have low initiation fees have a lot of slots for members. It's classic economics. The clubs with the wait lists, they're not going to give it away. People get on a waiting list, and they're willing to pay 60 grand to get in."
At most clubs, the area that demands the most capital investment over time is the golf course, representing about 40 percent of the average club's spending, Cronin says. "But in this age now, when the arms race is occurring, it's less about the golf course and more about the non-golf amenities and services."
Golfers who shudder at that view can take some comfort in this: "The clubs that spend more on those other things are also the ones that spend more per 18-hole equivalent on maintaining their golf course," Cronin says, "because they have more money."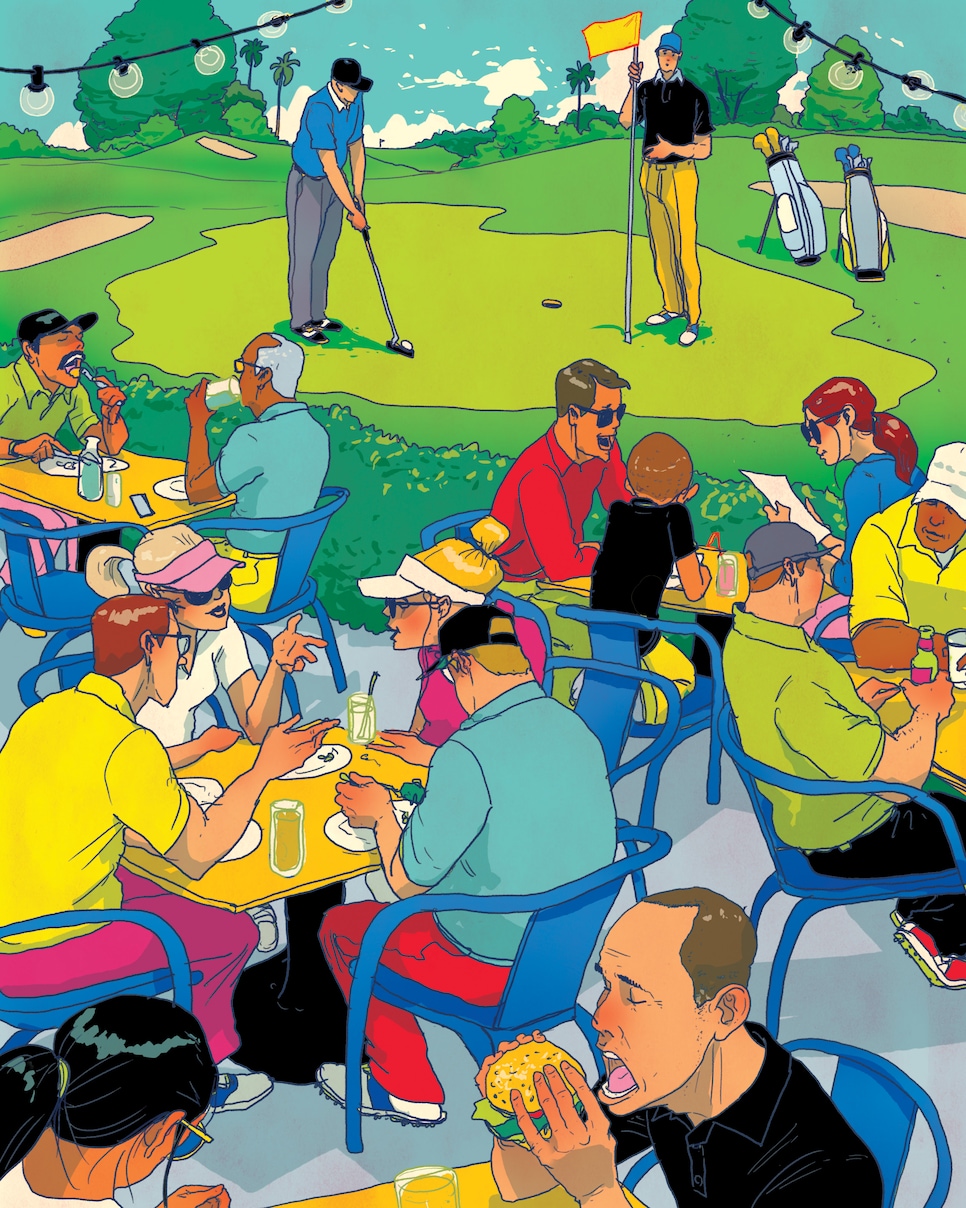 Investing in the golf course "is about retention," Vain says. "That's about catering to your core members. It appeals to the 55-and-over group that plays more golf. It's important to do; it should be done. But that's about perpetuating tradition and maintaining your historic business. Investment in lifestyle is about growth."
His data shows that the average country-club joiners are a 42-year-old couple. "You need to put your marketing hat on and think about, How do I attract 42-year-old couples?" The answers, in his view, are reinvented dining facilities, dazzling pools and aquatic centers, and top-of-the-line fitness centers, in that order.
The big trends in country-club dining these days are outdoor seating and "fast casual" menus. Carmel Country Club in Charlotte, known as a pacesetter in capital investments during the past couple of decades, completed a $21-million dining makeover in early 2021, paid for with bank debt. The club added a downstairs kitchen, adjacent to its newly expanded fitness center, that serves fast casual fare. "Its menu is built as if we are Shake Shack, with pizza, wings and salads like you can get at Chopt," says John Schultz, general manager. "You stand in line, go up to the counter, and we'll bring you your food, indoors or out. The response has been overwhelming."
THE BIG TRENDS IN COUNTRY-CLUB DINING THESE DAYS ARE OUTDOOR SEATING AND 'FAST CASUAL' MENUS.
How much of that enthusiasm is COVID-related or simply newness, Schultz isn't sure. But he knows that it's addressing a previously underserved segment of his membership. "Before, probably half of the traffic in the downstairs part of the club was either tennis ladies coming in after a match, fitness groups coming in, or kids and families that just got done with soccer practice. None of these groups would have gone inside to eat upstairs in the fancier dining place—even though we say it's casual. Because this new kitchen is uber-casual, it attracts all of this group."
Next to the restaurant, the club added a Starbucks shop. Members pop in for coffee, smoothies, Gatorades or beer as they head to the course. Others hang out and use their laptops on the coffee shop's Wi-Fi. "It's really just another reason to come use the club," Schultz says.
With 1,000 full members, Carmel Country Club now has an approximately four-year wait list for the first time in years. Its initiation fee: $90,000.
Similarly, Country Club of Detroit has a waiting list for golf members—something that would have seemed unlikely just a few years ago. At its peak in the 1980s the club had 1,200 members, but by the late 2000s, coming out of the financial meltdown, it had declined to around 800. General manager Craig Cutler credits the club's focus on family-oriented features, starting with a makeover of its pool area, for the turnaround.
"We are really concentrated on the summer amenities," Cutler says. "We doubled the size of the pool deck and replaced an old snack bar with a stand-alone restaurant geared toward outdoor service." The club also added a "souped-up toddler pool" with splashing fountains. The $10-million project's second phase resulted in an all-new bowling alley and a 5,000-square-foot fitness center with high ceilings, with areas for sport-specific training and massage rooms along with the usual workout equipment. Country Club of Detroit paid for the project with borrowed funds and charged members a $100-a-month "capital fee" to pay down the debt.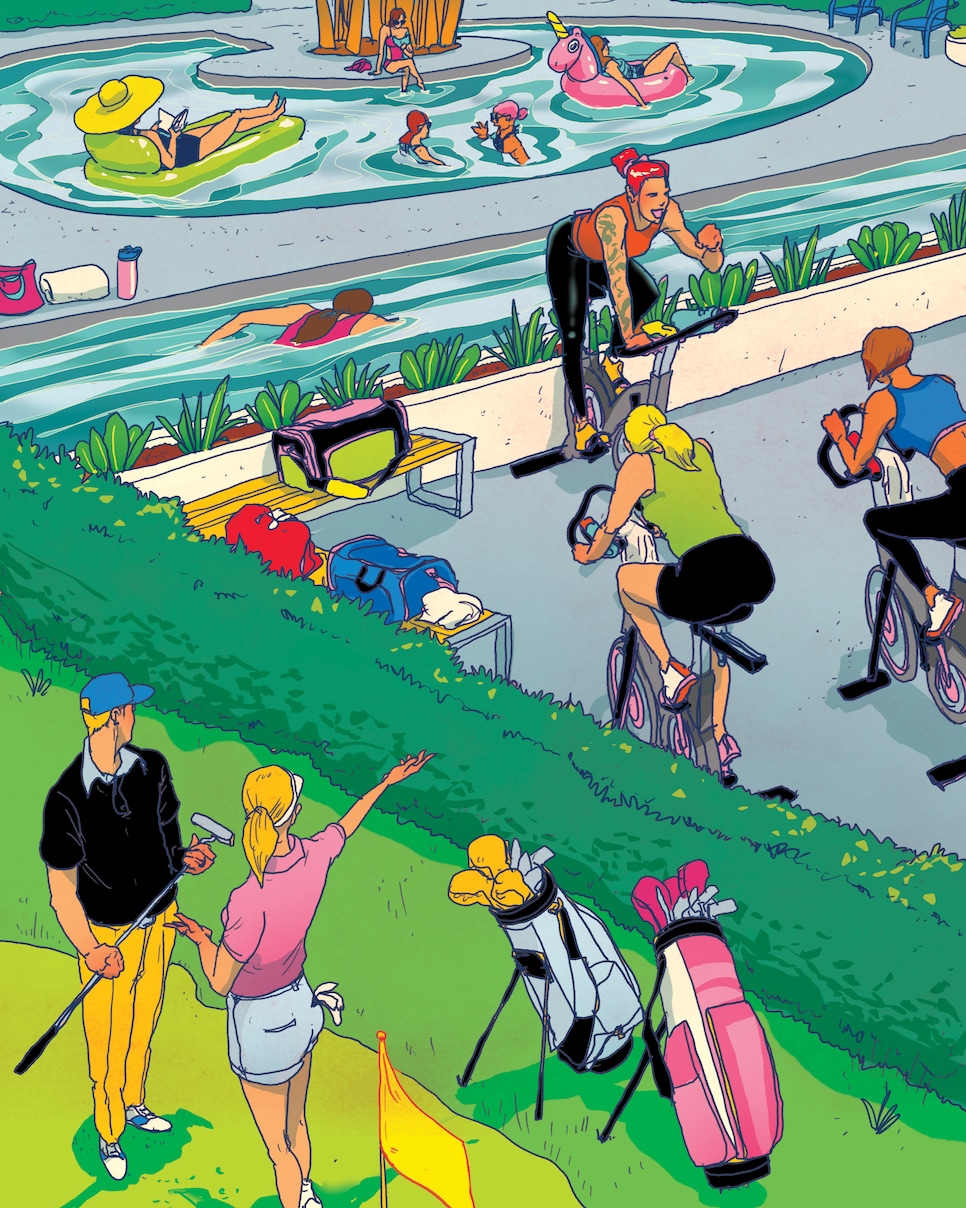 Membership increased by roughly 200 after the improvements. The members are using the club a lot. "We went from being an $8-million club (in gross revenue) to a $13.5-million club in about six years," Cutler says. One of his newest challenges is managing the tee sheet. "Golfers had gotten used to just walking up to play, and they can't do that anymore."
At North Ranch Country Club outside Los Angeles, dwindling interest in new memberships led the club to drop its initiation fee from a high of $75,000 in the early 2000s to a low of $18,000. The way the club was set up, members could quit only when there was someone new to take their place—and new members were hard to come by. It seemed destined to become one of Ray Cronin's financially distressed "red bucket" clubs.
But now it's working on a turnaround. Taking on roughly $11 million in bank debt to build a new "lifestyle center," it is marketing itself not just to golfers but the whole family. The 13,000-square-foot lifestyle center is under construction and will be complete in October. It includes a gym, massage rooms, a kid's pool, a main pool and a hot tub, a new, more casual restaurant with indoor/outdoor dining and a sports bar. There's also a childcare center.
SPENDING ON THE GOLF COURSE KEEPS THE CORE MEMBERS HAPPY, BUT FOR GROWTH, YOU NEED TO INVEST IN NON-GOLF AMENITIES.
The club has 27 holes of golf. "They're awesome, and we're lucky to have them and our practice area," says general manager Jenny Duce, "but we did a couple of member surveys, and the overwhelming things they said we needed were a pool and a childcare center. The golf course and the main clubhouse were secondary." The goal is to be "more relevant and marketable" in the club's family-heavy neighborhood, she says, and so far it seems to be working. In 2021, the club brought in more than 100 new families. The initiation fee was $25,000 with various incentives for most of 2021 and climbed to $35,000 in December.
Before any multimillion-dollar undertaking, the board at most clubs will put the issue to a vote of the membership. "Our goal has been to not do major projects with less than 59 percent member support," says Vain of the McMahon Group. "We want to have a mandate, and historically support in the 60s has felt like that's a pretty good win." Lately, he says, members have been more eager to spend. "We've worked on a half-a-dozen capital plans at the $7-million, $10-million, $15-million level, and the membership support has been extraordinary—in the range of 75 percent to 80 percent. People are using their clubs, loving their clubs, just really engaged."
He argues that clubs could be entering a "golden age" as millennials "finally reach the point where they can join a country club." He adds: "If they're leaving the city, working remotely, going out to the suburbs where the clubs are, then it's the perfect time to get them in."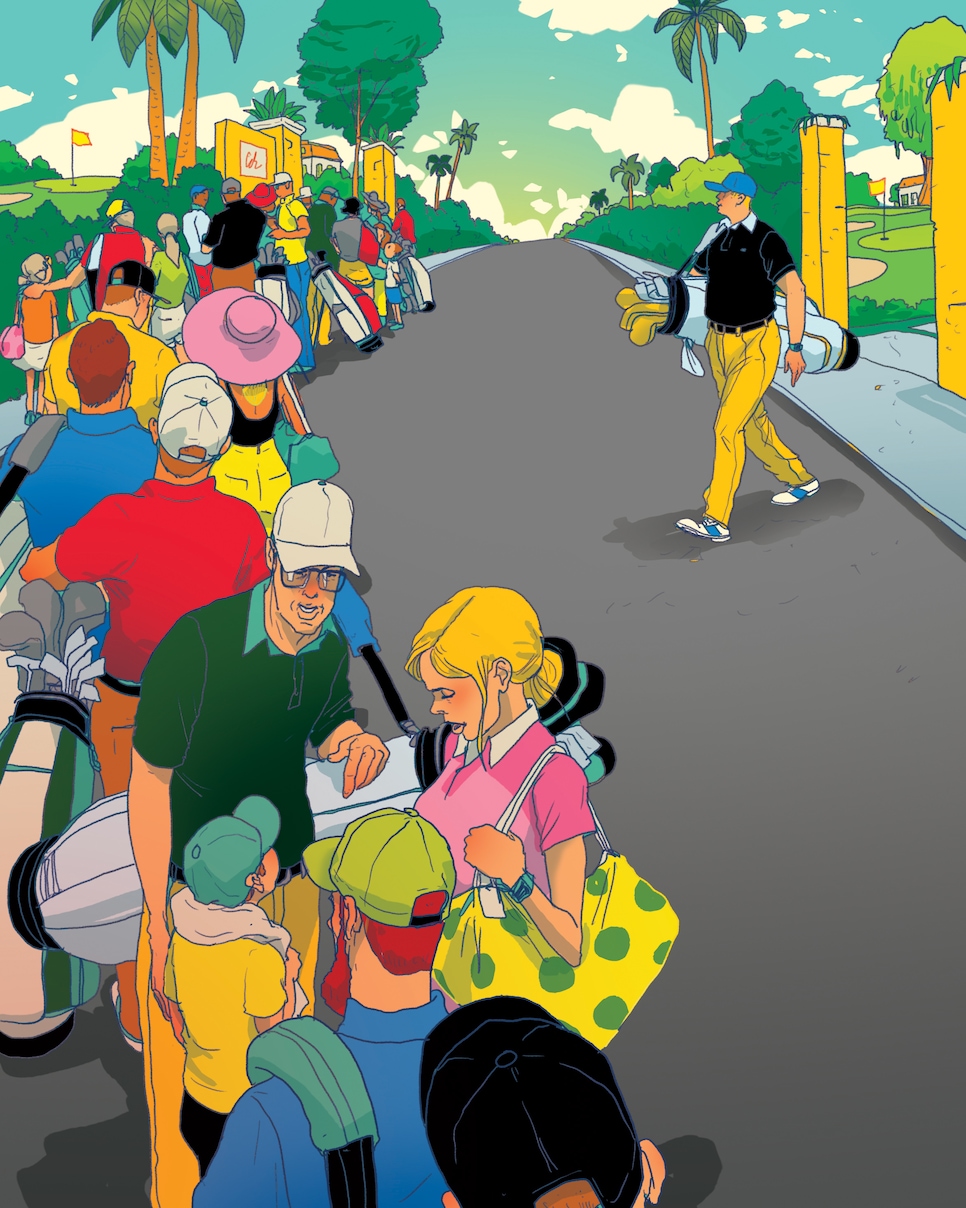 Cronin sees it the same way. The peak year for Baby Boomers turning 42 was back in 1999. Tiger Woods had turned pro three years before. The stock market was booming, and golf was hot. Then the market crashed, and the number of American 42-year-olds began to decline, dropping by 30 percent over the next 20 years. In 2020, though, the number of 42-year-olds started increasing again and will peak in 2032. "We believe the next 15 years will be really good for clubs that have invested and kept the place fresh and up to date," Cronin says.
Who's going to be guiding these clubs into the future? "In my experience, the next generation of volunteer leaders in the private-club boardroom are more realistic and realize that we need almost CEO-like leadership," says executive recruiter Kurt Kuebler, whose firm Kopplin Kuebler & Wallace specializes in private clubs. "Relying on an ever-rotating volunteer leadership doing a lot of heavy lifting on operational matters is probably a thing of the past. We need competent leaders."
CLUBS COULD BE ENTERING A 'GOLDEN AGE' AS MILLENNIALS 'FINALLY REACH THE POINT WHERE THEY CAN JOIN A COUNTRY CLUB.'
Club boards have to focus on the big picture: strategic plans, building the club's net worth, he says. "Too many times board meetings turn into operational-complaint centers, talking about whether to leave rakes in or out of bunkers or 'We didn't like our burger.' The trend now is, 'Let's hire people who understand, who are experts. We don't have to be lay operators.' "
Perhaps most important, "We're starting to see board members think more like owners rather than customers," Kuebler says. "When you're a member of a club, you've got to be thinking about whether you need a new roof on the clubhouse just as much as the experience you have when you're playing golf out there. Club members are slowly becoming more educated that they have this responsibility, that they need to have a reinvestment plan in place for reoccurring capital needs and what I would call more aspirational capital plans. None of us knew five years ago we'd need pickleball courts, but we do. We need to be saving money for the next new activity or fad out there. We've just got to be more thoughtful."
Yes, there's a definitely an element of keeping up with the Joneses, but "member expectations continue to rise," Kuebler says. "They get a lot more exposure to high-end resorts and other things they would compare to their club. So capital improvement isn't just to attract new members. It's to make sure that it's still relevant to the existing members."
The family-friendly, amenities-heavy club is "the wave of the future," says Orosco of the Montecito Club. It just completed the largest membership-sales year in its history, bringing its total to 570 members. "This may change, right? You never know what the next generation might want," he concedes. "But right now, you see the smiles and happiness of members when they're here, the amount of people lining up to join. It truly is a great experience. You're going to see more clubs go through the same type of thing. Maybe not quite at the level of this club. But you'll have more clubs trying to get to that level."