Giving Back
C.C. of North Carolina gets creative with membership program for local military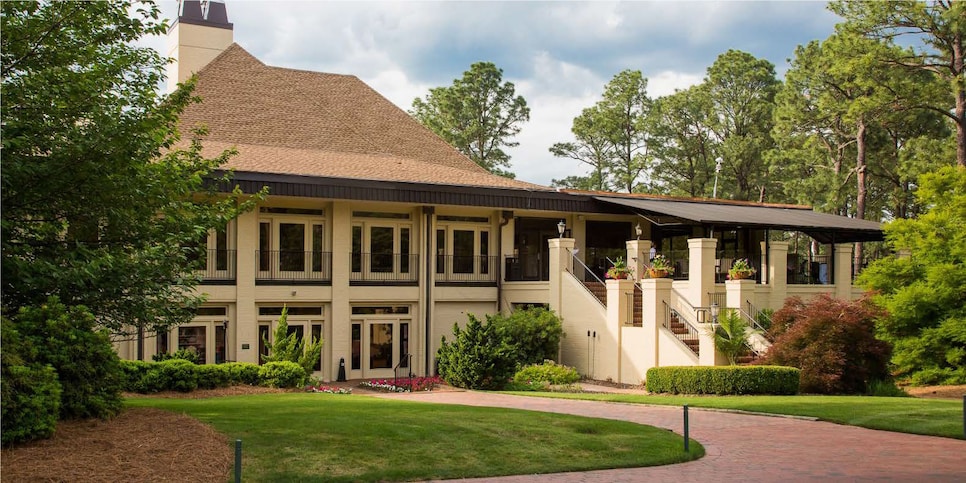 The clubhouse at the Country Club of North Carolina.
There are many ways to say "thank you for your service," and the Country Club of North Carolina, host of last week's U.S. Junior Amateur, might have found one of the most unique ... and one of the most welcome.
The Patriots Program, started a decade ago at CCNC, is the Pinehurst, N.C. club's way of giving back to the active military community, which is particularly robust in the Sandhills region of North Carolina given the close proximity of Fort Bragg in Fayetteville, one of the largest military bases in the world and home to roughly 54,000 active military personnel. The program makes memberships available to service members and their families at a steeply discounted rate (both in monthly dues and the annual fee). In 2021, CCNC boasts 25 military members that have come through the Patriots Program.
Major Ryan Allred is the Chief Dental Officer for the 44th Medical Brigade at Fort Bragg, and a native of Hickory, N.C. His dad first got him interested in golf at age 3, and by middle school he was addicted, playing daily and winning conference player of the year during his senior season in high school. After joining the army, Allred won the All-Army Golf Championship in 2016 and has represented the service in various international competitions. Today, he plays to a +.09 handicap index.
As is typical of an itinerant army life, Allred, 34, has moved his family four times in the past eight years, and decided to take advantage of the Patriots Program when he moved back to North Carolina in 2019. "Part of the reason that we wanted to join a country club is that built-in community," Allred said. "And it's really been nice, especially for my wife, because we didn't have any friends in this new area."
After a brief interview, Allred and his family, including two young children, were granted membership, and today his 3-year-old son enjoys using the driving range or looking for fish in the ponds while his dad plays a few holes.
Allred had looked into a similar program at another nearby club, but would still have had to pay a $25,000 initiation fee to qualify. For someone who likely won't be in the area very long before he's required to move again, it's hard to justify a cost so steep, and CCNC's Patriot Program payment structure eliminated that worry.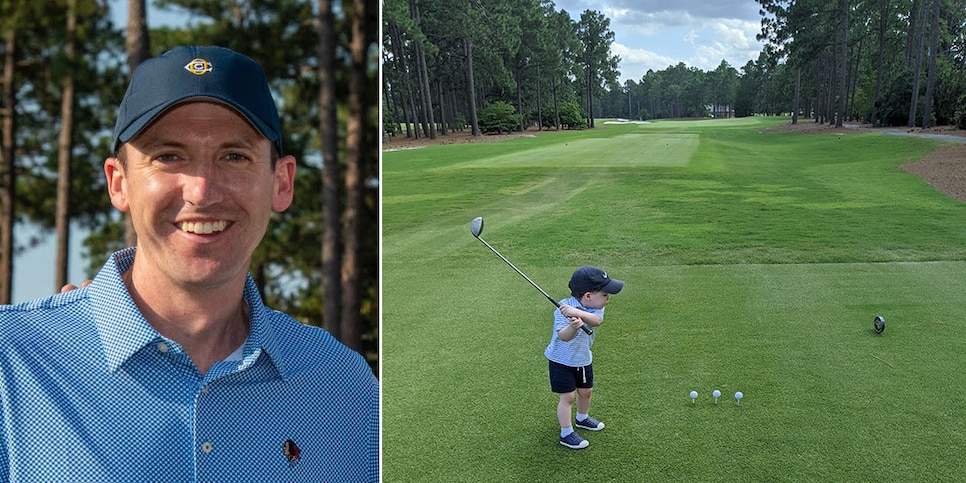 Ryan Allred (left) joined CCNC under the Patriots Program in 2019 and has begun getting his young son, Bobby, into the game. (Photos courtesy of Ryan Allred)
"I think it would be great if other golf courses, especially such high-level places like CCNC and especially around some of the bases, could do something like this," Allred said. "Maybe these other places can understand, these are great opportunities for people."
Dr. Kindel Kaelke is a Coast Guard dentist who has been in residency at Fort Bragg for about two years and found out about the program through Allred. Kaelke is a new golfer and has mostly taken lessons, used the range and played the Cardinal Course since joining CCNC last October. Along with golf, Kaelke uses the tennis facilities and said that she particularly enjoys the social aspects of the club. She grew up in a military family, and while she claims Kansas City as her hometown, the truth is that she moved around a lot as a kid and does the same today; she'll leave the Sandhills next year. In the meantime, she echoed Allred that having access to CCNC has made her feel a sense of community even during a temporary stay.
"We're not in one place for very long, so this is a good place for me," Kaelke said. "I'm a very beginning golfer and I don't feel intimidated there at all. Traditional memberships to clubs are very binding and require a lot more time than I could possibly give with my assignment requirements, but to have a home base to go to, and one that understands that my job puts me in a different situation has been great. They'll work with you so you can utilize the membership here."
Kaelke and Allred are examples of what the Patriots Program is trying to achieve: A quiet show of gratitude for service members who might not otherwise be able to afford a membership, and who may not be able to stay in the area for very long or commit the hours that might be required of a typical member while they're around. Instead, they gain access to championship golf courses and other amenities in a low-stress atmosphere that works with, rather than against, the serious commitments they maintain in military life. For the 25 members who have been admitted, along with their families, the Patriots Program is a tangible way for CCNC to do more than say "thank you"—it's a way for them to show it.