Equipment
Could A Toe-Hang Mallet Solve Your Putting Woes?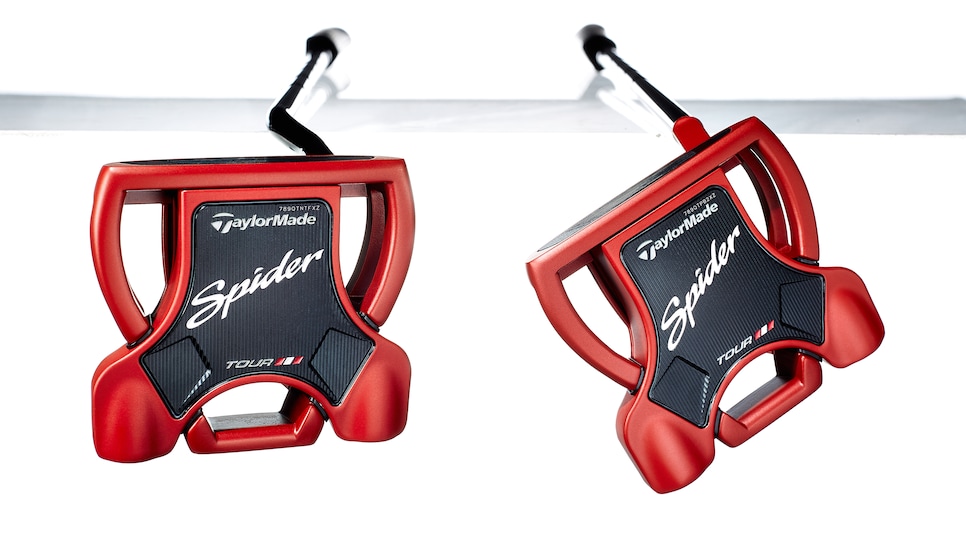 Mallets, known for being stable and forgiving, have long been the putter of choice for golfers in need of help, while sleek blade putters have defined the best players. Then Jason Day won the 2015 PGA Championship and rose to No. 1 using a TaylorMade Spider Tour prototype. Suddenly, mallets were cool. Players using mallets have won four of the past nine men's majors. Besides forgiveness, many now have blade-like heel weighting (known as toe-hang, above right). The buzz got us wondering: Is the toe-hang mallet the putter we've all been waiting for? Scroll down for an analysis.
FOUR OF THE PAST NINE MEN'S MAJORS HAVE BEEN WON BY PLAYERS USING MALLET PUTTERS.
More than half of the top-50 players in the world use mallets, many of which feature heel-shafted, toe-hang weighting. Toe-hang mallets encourage an arcing stroke, the kind of motion that usually matches only with blade putters.
"One of my theories is that putters have been getting heavier and heavier, and people have lost the feel," said Austie Rollinson, chief designer at Odyssey, the top-selling putter brand in the world. More than 70 percent of Odyssey's sales are mallets. "A heel shaft gets you to feel where that face is a little more."
What makes the current atmosphere different is that more of these mallets that swing like blades also offer the off-center-hit forgiveness usually reserved for oversize, face-balanced shapes designed for a pendulum stroke. Of course, with mallets and blades seemingly interchangeable these days—particularly some of the new wide-sole blade models—what's the average golfer to do? Well, don't just buy the first putter in the golf shop after you make a few 10-footers, or worse, the one you just saw on TV. "It's a fact that certain putt-er shapes and toe-hang models marry with certain strokes to roll the ball the best," says Nick Sherburne, master fitter for national clubfitting chain Club Champion, a Golf Digest 100 Best Clubfitter. "Toe-hang mallets filled a gap that wasn't available for that kind of stroke type before. But it's not necessarily the best of both worlds."
Getting fit for a putter is no less important than being fit for a driver, especially with putting launch monitors more widely available. And in terms of saving strokes, a putter-fitting might just be twice as valuable. Toe-hang mallets can help "because most golfers rotate along their path, and mallets are more forgiving on mis-hits," says Ken Johns of 100 Best Clubfitter Miles of Golf. "If you aren't making any putts, you're in the wrong putter." — Mike Stachura
A HEEL SHAFT HELPS YOU TO FEEL WHERE THAT FACE IS DURING THE STROKE.

Photos by Jeffrey Westbrook
TOE-ING THE LINE: MALLETS THAT FEEL LIKE BLADES
ODYSSEY TOULON DESIGN ATLANTA
Thanks to multiple hosel choices, this mid-mallet comes in face-balanced and toe-hang versions. The head is made from milled stainless steel with an aluminum soleplate.
PRICE: $400
ODYSSEY O-WORKS RED MARXMAN S
Once only face-balanced, the familiar Marxman shape now gets a slant-neck hosel to give it toe hang. It's still got the classic mallet aiming line and perimeter weighting for extra forgiveness.
PRICE: $200
PING SIGMA G TYNE H
The parallel arms frame the ball at address and offer stability. The offset, Anser-style hosel fits a slightly arcing stroke, and the milled face pattern provides consistent speed on mis-hits.
PRICE: $200
TAYLORMADE TP COLLECTION ARDMORE 2 L
There are five of these "Ardmore" mid-size mallets to match different stroke types, including varying degrees of toe hang. All include a grooved face insert for quicker roll.
PRICE: $220
SEEMORE MINI GIANT FGP
The center of gravity is designed to keep the putterface square to your path. The wide-sole blade uses four copper heel and toe weights for forgiveness.
PRICE: $400
PATH FINDER: HOW A TOE-HANG MALLET MATCHES YOUR STROKE
The long-held theory about face-balanced mallets is that they are designed for a straight-back, straight-through putting stroke (above, bottom row). But those who advocate toe-hang mallets suggest that a pendulum-style stroke really isn't possible without forcing the hands to manipulate the putter on a straight line. Because the shaft is at an angle (not straight up and down like a croquet mallet), a toe-hang mallet's weighting and offset hosel can make it easier to feel the putter work in that plane (top row). "There's no magic as to why mallets are face-balanced in the first place," says Paul Wood, Ping's vice president of engineering. "Our research has shown that not all mallets should be face-balanced. If you have some arc in your stroke—and most people do—you tend to putt better with a putter with some toe hang."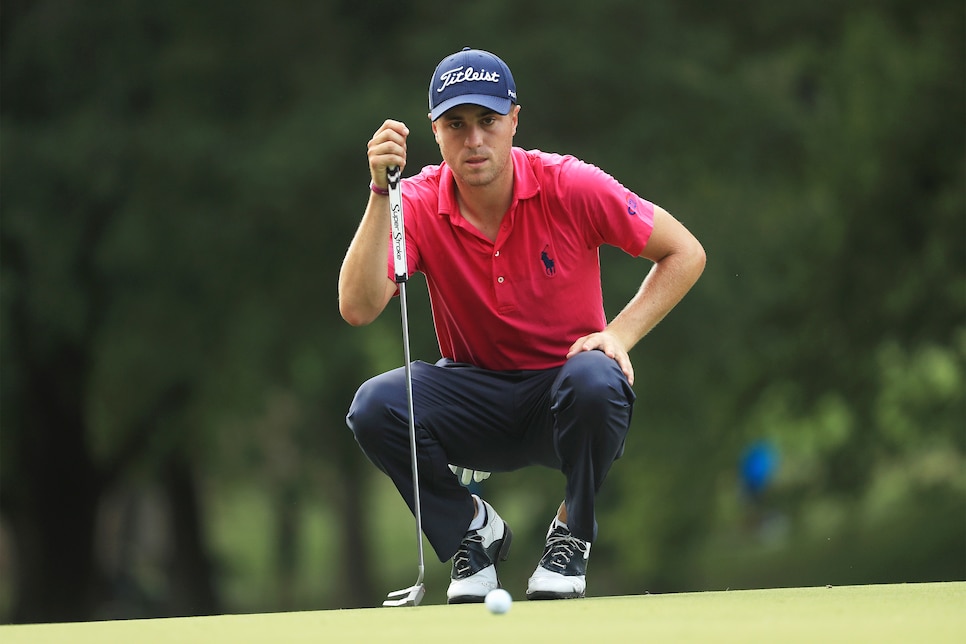 Photo by Mike Ehrmann/Getty Images
TRENDS: THE HOTTEST CLUB ON TOUR
In some ways, PGA Tour players are like everyday golfers. That's particularly true when paying attention to a club that has enjoyed success. Over the past two years, few clubs captured the imagination as much as toe-hang mallets.
Unlike face-balanced mallets, toe-hang mallets are a good match for those with an arc in their stroke. Although Jason Day's use of a mallet might have started the conversation, Dustin Johnson followed, going from a blade to a TaylorMade Spider Tour toe-hang mallet, and becoming No. 1 in the world. Jon Rahm also uses a toe-hang mallet, as does Justin Thomas (above), making it the choice of three of the top four players in the world.
Scotty Cameron of Titleist says about 50 percent of his putters in play on tour are mallets. The reasons are multiple: success by others, availability of product, and the ability to see the benefits via technology. "When Justin won those tournaments, it increased interest," Cameron says. "And having the option of face-balanced along with toe hang led to an increase in usage on tour. But for tour players, seeing is believing. They get in the studio and see the numbers via the high-speed cameras. They convince themselves at that point." Cameron reminds people that toe-hang mallets are not new—he created one with the Red-X line 13 years ago. The benefits, however, remain the same: more forgiveness via larger, more stable heads and better alignment features. So, is this a fad or a trend? Cameron believes it's the latter: "It's showing no signs of slowing down." — E. Michael Johnson