Transplanted Aussie shines
How is a Scot contending at the Asia-Pacific Amateur? Connor McKinney can explain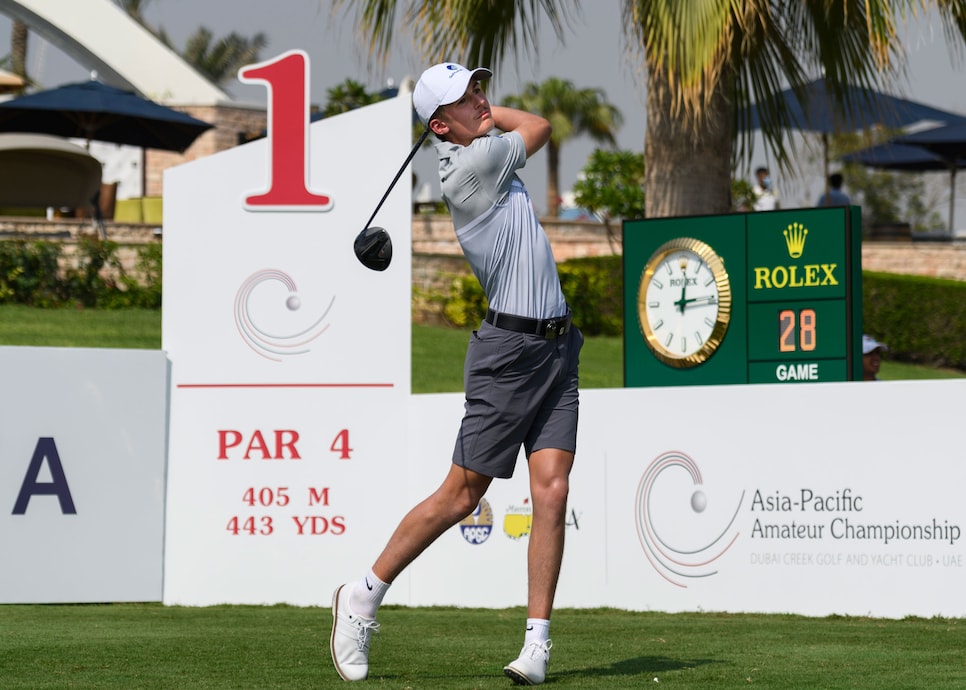 A second-round 65 has Australia's Connor McKinney one shot off the lead after 36 holes at the Asia-Pacific Amateur Championship.
Graham Uden
DUBAI, U.A.E. — They're everywhere. No matter where you go in the world of golf, there are Scots to be found in all manner of roles. Players. Caddies. Administrators. The media, both print and broadcasting. Wherever you look, those of a Caledonian persuasion are involved.
Even the Asia-Pacific Amateur Championship at Dubai Creek is not exempt. While Bo Jin of China, by way of Oklahoma State, is the halfway leader on eight-under-par 134, tucked in one-shot back alongside World No. 1 Keita Nakajima is a callow youth by the name of Connor McKinney. The 19-year-old is in Dubai representing Australia, where he has lived for the last six years, but there is nothing but blood of a tartan hue coursing through his veins.
Hailing from Dunfermline in Fife, McKinney joins a lengthy list of Aussies with Scottish antecedents, one that includes former LPGA champion Hannah Green, former German Open champion Steve Allan, two-time PGA Tour winner Craig Parry and Karis Davidson, who plays on the Japanese LPGA.
A frequent visitor to his homeland and his grandparents, McKinney played in both the Scottish Boys Championship and the national amateur championship in 2018. One year later, he was the leading qualifier for the match-play stages of the 2019 British Boys Championship in England. That notable feat led to him being selected for the Great Britain & Ireland Boys team that lost to the Continent of Europe in the annual match for the Jacques Leglise Trophy.
More recently, however, McKinney has moved onwards and upwards, performing with some distinction when competing against professionals in Scotland.
A year ago McKinney shot a seven-under-par 65 in driving wind and rain to win a one-day "Get Back to Golf" event at Duddingston in Edinburgh. Which is not to say he got too excited by that feat, one for which he received the following prizes: One dozen Titleist Pro-V1 golf balls, an overnight stay for two at the Piries Hotel in Edinburgh and a signed copy of the book Golfer's Bucket List of Scottish Golf Courses, donated by author Colin Ramsay.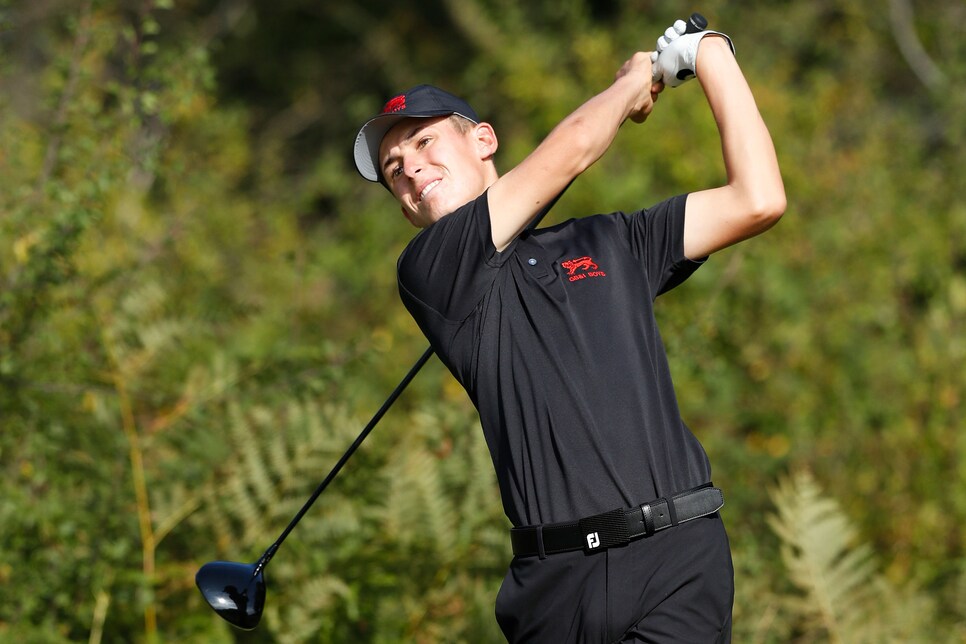 Connor McKinney's prowess in U.K. events in 2019 helped him earn a spot on the Great Britain and Ireland team at the Jacques Leglise Trophy that summer.
Luke Walker/R&A
Perhaps more impressive—if not more lucrative—last month McKinney shot six-under par over 36 holes (70-64) to finish T-4 in the Leven Links Classic, an event on former Open champion Paul Lawrie's Tartan Pro Tour. Had he been a professional, the Aussie/Scot's share of the purse would have been in the region of £1,000.
"It was great experience for me to play in Paul's event," McKinney says. "I learned a lot of little things just watching the pros play. Maybe the most striking thing is that only rarely do they go straight at the flag. They go for position most of the time and attack only when they get a great chance to do so. And finishing as high as I did was a big boost to my confidence."
McKinney's burgeoning pedigree promises much for his future and makes his Thursday six-under-par 65 over the 7,203-yard Dubai Creek lay-out, bettered only by the 64s shot by Jin and Puwit Anapansuebsai of Thailand, less of a surprise than it might be to those unfamiliar with his name.
Besides, it wasn't as if that seven-birdie/one-bogey effort resulted from the teenager's best ball-striking. Far from it. But those still-recent learning experiences came in useful. Out of position numerous times, McKinney was savvy enough to avoid the temptations offered by any "sucker pins."
"My game plan, especially when the wind started to kick up, was to play away from flags a bit more," he said. "I didn't want to get pulled into trying shots I wasn't sure about. And I did that well. Most time I was maybe 15-20 feet from the hole. I gave myself half-decent looks at birdie and almost guaranteed pars every time. The middle of the green is never bad."
There was one big break. After rescuing his worst drive of the day at the par-5 13th with a well-played lay-up short of the water fronting the green, McKinney holed-out a 103-yard wedge for a timely eagle. Not that he is getting too far ahead of himself. Preaching the all-too-common refrain of "staying in the present" and "one-shot at a time," McKinney is trying—not always successfully—to avoid thinking about the prizes on offer this week: a place in the 2022 Masters as well as a spot in the 150th Open at the Old Course, the equivalent of the classic "dream come true."
"I'd be lying if I said winning this week hasn't crossed my mind," he admits. "I'd love nothing more than being able to tee-up at St. Andrews."
Which leaves just one question: When people ask, is he Scottish or Australian?
"The answer depends on who I am talking to," he says with a smile. "But I'm representing Oz now, so I guess that answers the question once and for all. I've made my choice."