The Loop
Colorado golf club puts up "historical" marker for a marital dispute
Many golf courses have plaques on their property, commemorating holes-in-one, donations, or the passing of a regular at the club. (And, in some cases, events that never happened.) Saddleback G.C. in Firestone, Colo. took this ritual to another level.
The course, about 30 miles outside of Denver, installed a marker to pay tribute to quite the rarity: a man winning a marital dispute. According to 9 News, Josh Clay, the facilities manages at Saddleback, said a wife recently joined her husband for his usual game during "Old Turd Tuesday." Despite his objections, she decided to hop in the driver's seat and tried to maneuver past some other golf carts. One issue, according to Clay: "When she went to hit the brake, she accidentally hit the gas and confirmed her husband's suspicions that she was not a very good driver."
The woman proceeded to put the golf cart into a pond.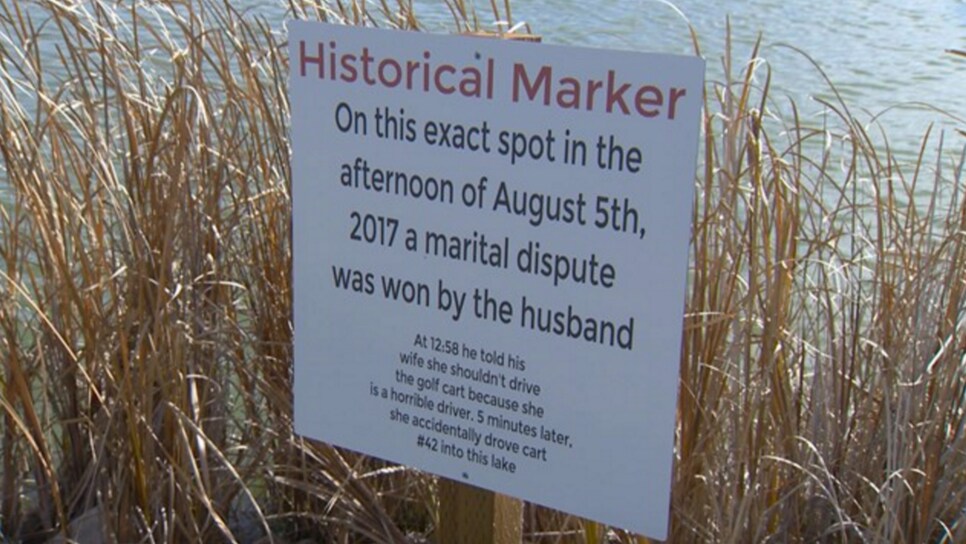 "Our marshal at the time came over the radio and all you hear is, 'We have a woman in the lake,'" Clay told 9 News. "'Wait, no, we have a golf cart in the lake!'"
Luckily, no one was hurt. And given the nature of the accident, the club decided to have some fun.
"Wouldn't it be nice to commemorate that time that that husband told his wife something and he was actually right about it?" Clay said. Thus, the marker was born.
So take solace, men. Somewhere in the Rocky Mountains, there's a sign, nodding to your astute observations that fall on deaf ears.