News
Collin Morikawa seems to have gotten over his first missed cut and four other takeaways from Thursday at the Workday Charity Open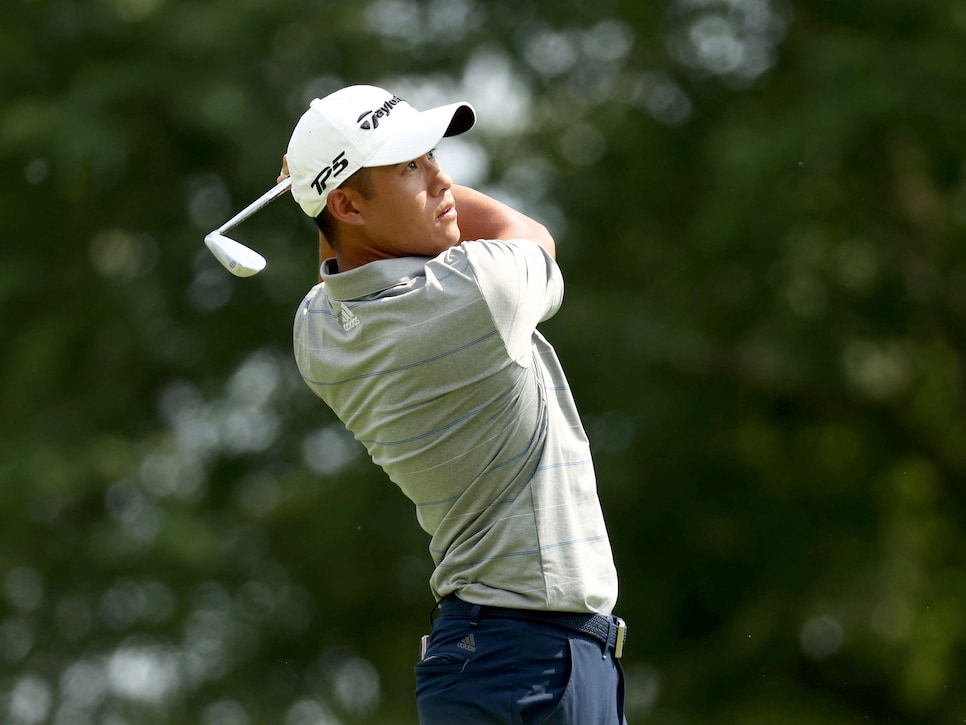 Collin Morikawa hits his tee shot on the 12th hole during the first round of the 2020 Workday Charity Open.
Gregory Shamus
Collin Morikawa's pursuit of Tiger Woods' record for consecutive cuts made to start a pro career came to an end two weeks ago at the Travelers Championship. Now he's focusing on a bigger goal.
Winning for the second time on the PGA Tour in just under 12 months. He's off to a good start.
Morikawa opened with a seven-under 65 on Thursday to take a one-stroke lead over Adam Hadwin at the Workday Charity Open. Hideki Matsuyama and Zach Johnson are among four players two strokes back in a tie for third.
"I think anytime any record is compared to Tiger it's always going to be good," said Morikawa, who began his tour career by making 22 straight cuts, three shy of Woods' mark. "I don't want to miss cuts. But the game … I learned a lot from those two days. I learned a lot last week. I learned a lot [during] the prep Monday through Wednesday with my coach. So you kind of reset, get ready for this week, and every week is a new week. So you've just got to get ready, and the game felt good."
Indeed. The 23-year-old Cal-Berkley graduate made six birdies, an eagle and had just one bogey in his first round since the cut streak came to an end.
The highlight? The eagle at the par-5 fifth. It's the easiest hole at Muirfield Village, and Morikawa took advantage, sticking his approach from 245 yards to three feet before holing the putt. Two more birdies followed, at the sixth and ninth, before he rattled off four birdies in his first seven holes on the back nine. A bogey on his final hole was his only mistake.
Meanwhile, the streak ending might actually have directly led to Thursday's exceptional play.
"After a week off I just had to kind of look back at my stats, see what I wasn't doing well, what I did differently, what I was playing well," Morikawa said. "I just wasn't hitting my irons as well. I wasn't giving myself chances to make birdie, and if I did, I wasn't converting. I just had to work on some iron shots, work on the swing a little bit and just go back to the basics."
The first four tournaments since the tour resumed its season have been marked by red, as in low numbers. The winning totals each of those weeks: 15 under, 22 under, 19 under and 23 under.
Thursday saw some low scores, too, but nothing like the last month. Only six players were at five under or lower after the first round.
Chalk it up to a likely combination of factors, from thicker rough, to slower greens, to a more difficult golf course.
"They're slow, obviously, compared to what we're used to seeing," Patrick Reed said of this week's green speeds. "As the week goes on, it's going to get a little faster, and then also next week they're going to be even faster than that."
The move was intentional, with the tour camped out at Muirfield Village for two straight weeks and the Memorial taking place there next week. Officials said before the event that they going to have the greens running at 11 to 11½ on the Stimpmeter this week, then back to the more traditional 13 for Memorial.
The rough? It's shorter than it will be next week, but it's also a little more gnarly than it has been at the courses the tour has visited the last few weeks, too.
"I was reading maybe it's just going to keep going up each and every day, so it's not ideal, but you can still manage it," said Johnson, who did just fine with his opening 67. "I thought the course played about what you'd expect."
The winning total at last year's Memorial? Patrick Cantlay's 19 under. Then again, maybe scoring won't end up being so different this week after all.
Brooks Koepka made his first start since withdrawing from the Travelers Championship two weeks ago when his caddie, Ricky Elliott, tested positive for COVID-19.
He didn't get off to the best of starts.
The former World No. 1 began his round on the back nine and made two sloppy bogeys on both par 5s (Nos. 11 and 15), the second of which included missing the fairway left, missing the fairway right with his lay-up and his wedge from inside 100 yards coming up short of the green. Then he added another bogey at 17 and made a mess of 18, where his second shot on the difficult par 4 went long, his third came up short of the green and he two-putted from 10 feet for double bogey to turn in 41.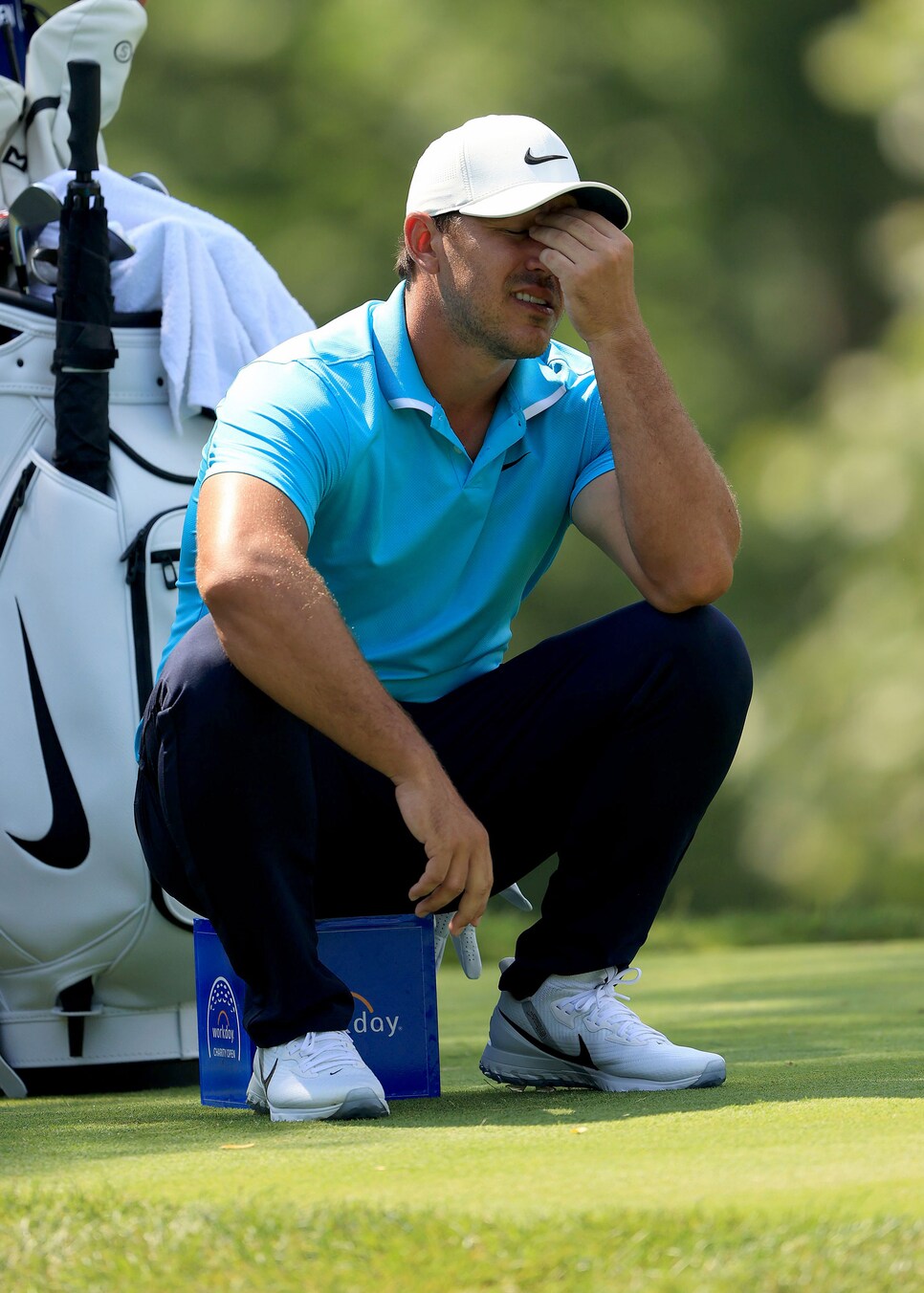 A frustrated Brooks Koepka shot a 41 on his opening nine holes at Muirfield Village before coming in with a 33.
Sam Greenwood
The abysmal start had him ahead of just one other player—Bubba Watson—on the course.
But Koepka steadied himself on the front nine, with birdies on the par-4 third, par-5 fifth and par-4 sixth. It wasn't quite reminiscent of Tiger Woods' 40-30 turnaround at the 1997 Masters, but the 41-33 split is a start.
Koepka, who has just one top-10 finish this season and sits 155th in the FedEx Cup standings, still has a little work to do, though, to make it to the weekend. He could use it. Because he's not playing in next week's Memorial, he might have only three more opportunities to climb inside the top 125 in the FedEx standings and qualify for next month's playoffs.
His younger brother Chase, meanwhile, likely will miss the cut after struggling to an opening-round 80. He's in the field on a sponsor's invite after also withdrawing from the Travelers Championship out of caution after Elliott had tested positive. This is his first PGA Tour event since the CJ Cup at Nine Bridges last fall.
Usually when a player makes a hole-in-one on tour they know immediately—even if they can't see the ball disappear, the reaction from the gallery lets them know.
But with fans still not allowed on site because of the ongoing pandemic, the result is a little more uncertain on tour these days. So when Keegan Bradley aced the fourth hole on Thursday, well, it took more than a moment for him to figure out what had just happened.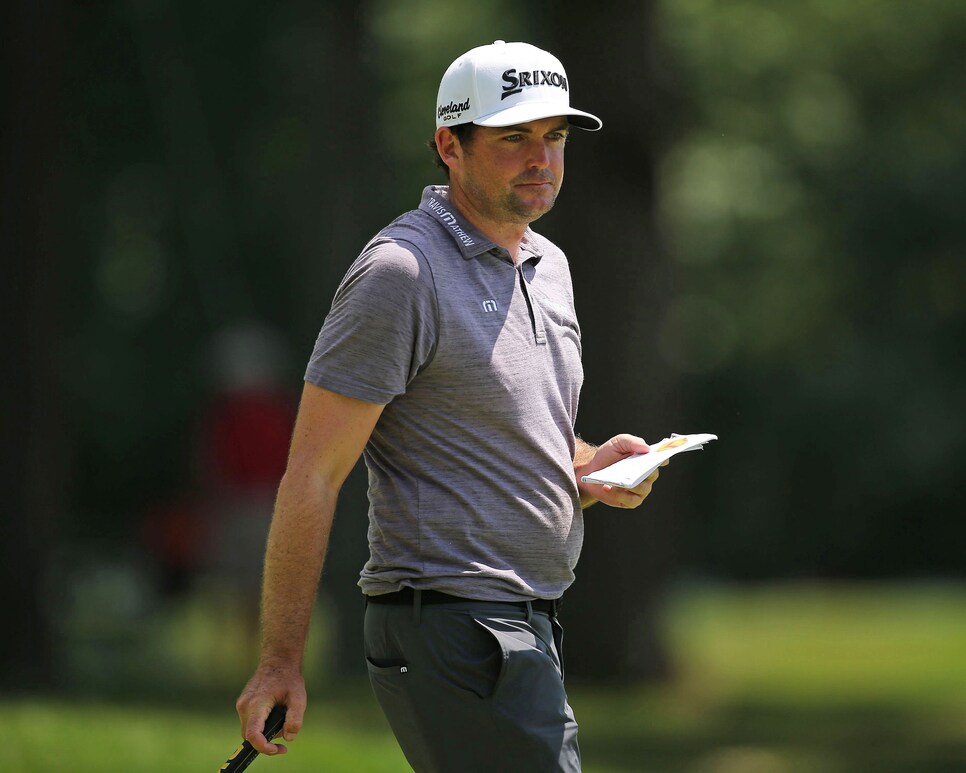 Keegan Bradley's hole-in-one experience on Thursday at the Workday Charity Open wasn't your typical celebration.
Leon Halip
"It's actually really weird, I hit a 6-iron, it was 210, and I hit the shot, and there was probably five or six people up by the green, and no one did anything," he said. "A guy raised his hand, and I said to my caddie Chad, I said, a guy raised his hand. Normally that happens when they go in, but no one did anything else, so we walked up to the green, I fixed my ball mark, I'm looking all over the green for it, and someone just goes, 'It's in the hole,' like really casually.
These are, after all, bizarre times.