News
Justin Thomas' good start at the Workday Charity Open looks even better given his mixed results at Muirfield Village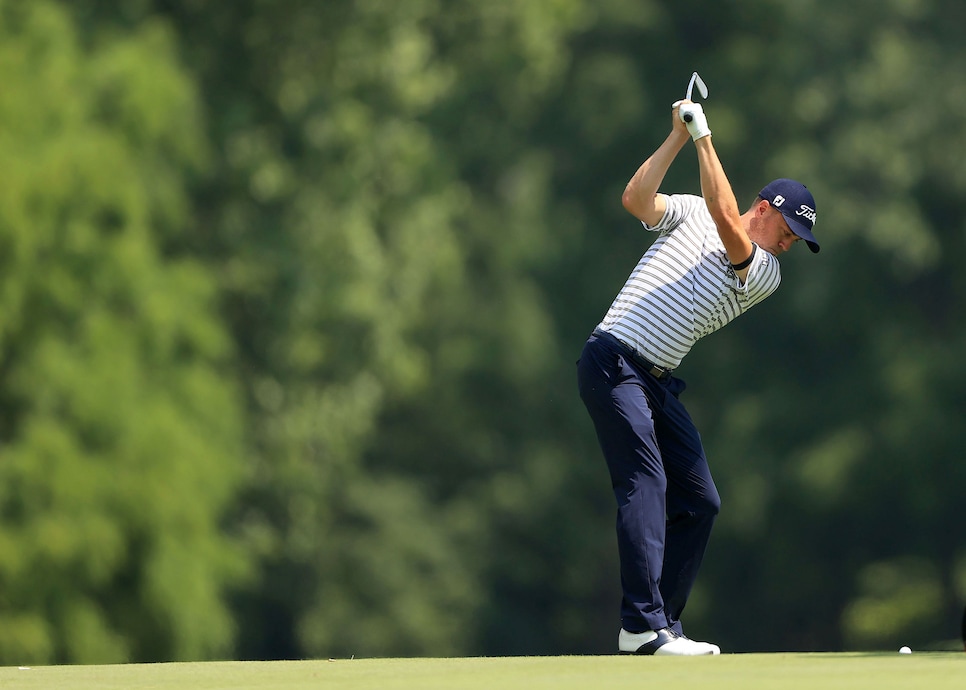 Justin Thomas plays his second shot on the fifth hole during the first round of the 2020 Workday Charity Open at Muirfield Village.
Sam Greenwood
Justin Thomas wasn't overly thrilled with his opening round of the Workday Charity Open Thursday at Muirfield Village Golf Club. But he should have been.
After missing the cut in his previous start, the Travelers Championship, Thomas cobbled together a bogey-free four-under-par 68 to solidly put himself on the upper tier of the leader board in the early going. Only four players scored better in the morning wave.
The former PGA and FedEx Cup champion didn't have his best stuff early, but he executed a tiny swing adjustment mid-round that afforded him plenty of scoring chances.
Oh, and he beat his last score at Muirfield Village by 12 strokes.
"It was a good score for how I feel like I played," said Thomas, one of only two multiple winners on the PGA Tour in this truncated season. "I didn't play bad, but I definitely didn't play great by any means. Didn't drive it very well on the front nine, and 18 was kind of the first of a few holes, or at least a stretch of holes where I really hit it well off the tee, hit a good iron into the green, hit a couple good putts."
A Kentucky native, Thomas is playing in what he considers "as close to a home game as I get," what with his fraternal grandparents residing in Columbus and his grandfather, Paul, having served as head golf professional at not-too-distant Zanesville Country Club for more than 30 years.
Thomas already owns one Ohio victory, that coming in the 2018 WGC-Bridgestone Invitational at Firestone Country Club in Akron. But his record at Muirfield Village is mixed. He missed the cut last year after that second-round 80, and in five other appearances in the Memorial Tournament he has two top-10 finishes and two additional missed cuts.
Thomas intimated that there is no mystery to the inconsistency.
"It's not like we figured it out this week, it was like, 'Oh, this is why.' At the end of the day, I was hitting it all over the planet the year that I missed the cut here, and that's what's about this place," he said. "If you hit it well, you're going to have some low rounds each day, but you can make just as many bogeys as you can birdies. But the holes that I did get out of play or hit it in the rough, I just understand that it's kind of like Riviera, you have to take the hole for what it is at that point. You have to try to make par. As soon as you start trying to make birdies on some of these holes from the rough, you're going to make bogeys and doubles, and they pile up pretty quickly."
True this. Just ask fellow Jupiter, Fla., pal Tiger Woods, the five-time Memorial winner, who once left a pile that added up to an 85 here. Heck, Thomas knows, too. Twice he's shot 77 at Jack Nicklaus' vaunted venue.
Thomas, who began the sun-splashed and warm day on the 10th tee, scrambled his way around his opening nine, but he didn't hit a decent drive, he said, until the tough par-4 17th when he found his first fairway of the day with a 3-wood. From there, he found a rhythm and a swing key. In all, he hit seven fairways and 12 greens, a middling effort, and yet the scorecard was unblemished, and he finished one stroke shy of his career low on this layout.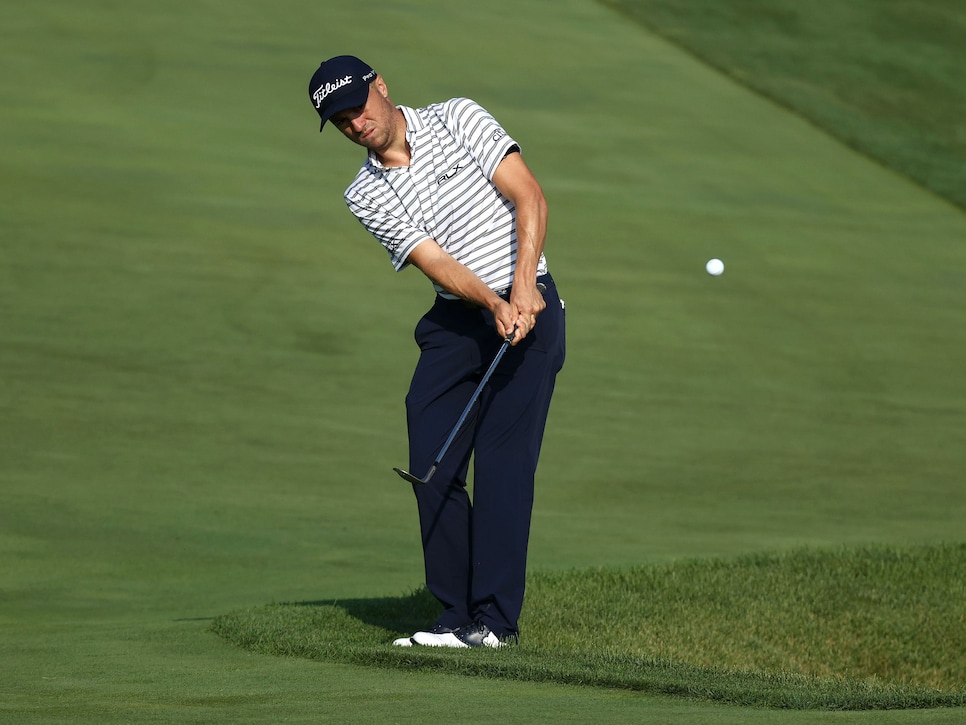 In 19 competition rounds at Muirfield Village, Thomas has shot seven rounds in the 60s and four rounds of 76 or worse.
Gregory Shamus
The swing key for one of the game's longer hitters was to shorten things up. Golf is always a game of opposites, no? Hard on the brain.
"I tried to shorten my swing a little bit on a few shots," he explained. "That's something I get in a bad habit of, getting a little long, and especially when it gets this hot, the body gets moving so well, I can kind of get a little long. Tried to shorten it up and then just focused on hitting my numbers. … I just had a hard time with that at the start."
In-round adjustments are integral to success in golf. Saving today's score could lead to more satisfaction as the week progresses.