WGC-Workday Championship
Unfazed, unbothered, unrattled: How Collin Morikawa makes winning on the PGA Tour look so easy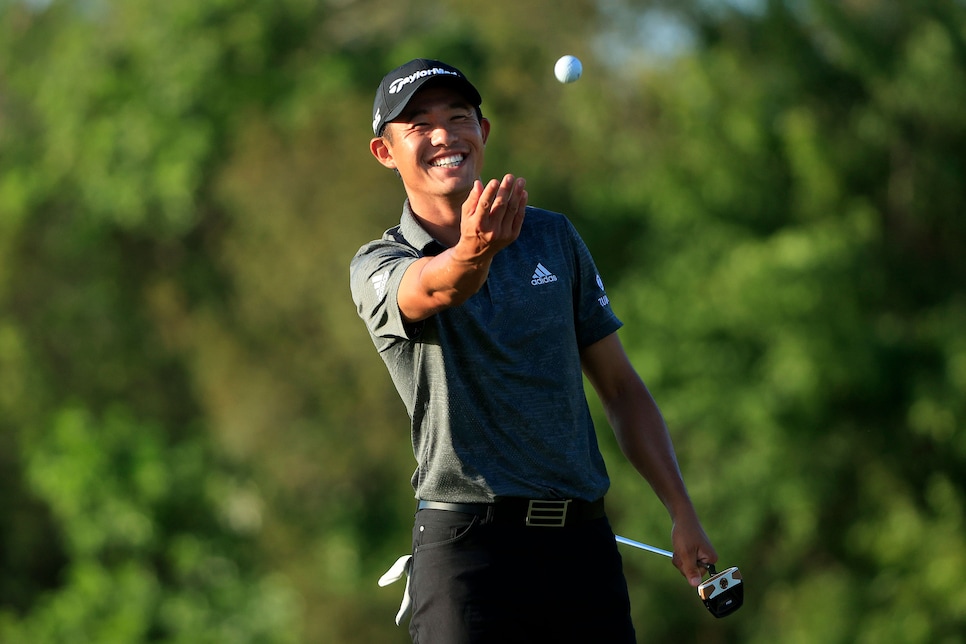 BRADENTON, Fla. — "Picture yourself in a boat on a river, with tangerine trees and marmalade skies …"
Or, if John Lennon's vision of tranquility isn't for you, picture yourself walking down the pale green fairways of western Florida, the sun brighter on the water than it is in the sky, everything about your day unnaturally comfortable to the neutral observer, as you, the man in black and gray and black again, barely break a sweat in winning a World Golf Championship. Close your eyes and imagine the feeling of flushing one iron after another, hitting fairway after fairway, while all around, the other best players in the world keep a respectful distance as you coast through a lovely afternoon.
There is reality, and there is perception, and the perception of Collin Morikawa's three-shot win at the WGC-Workday Championship was one of total ease, a young and absurdly gifted golfer at the peak of his early powers, untouchable on his own plane of existence after shooting an 18-under 270 total at The Concession Golf Club. It was comfortable, and nothing so stressful, nothing with such high stakes, should be this comfortable. The victory, his fourth since turning professional 20 months ago, was a far cry from his PGA Championship win of last August, when a single stroke of genius separated him from a crowded leader board in the final hour. This was front-running at its finest, a no-doubter from 4 p.m. onward (that's being generous), and it could have been even easier if not for an 11th-hour hiccup on Saturday.
Perhaps the final moment of drama came at the 11th green, when Morikawa, only 24 and now a four-time PGA Tour winner, made a testy 12-foot par putt to avoid the start of … well, something. Or maybe it was as late as the 17th hole, when Brooks Koepka ran his eagle putt 11 feet past the hole and closed the door on the last possibility of a real challenge.
In situations like these, it's tempting to constantly analyze the things that could go wrong, to go on permanent scan searching for the moment when things will change. And sure, sometimes they do. And sure, asserting that in some cases they never could—that the rhythms of the day were set in stone—is hindsight, golf's version of shooting an arrow and painting a bullseye around it. Still, to watch Morikawa on Sunday was to watch someone who was just too much better than everyone else to allow for any other outcome.
Of course, inside his own mind the picture wasn't quite so serene.
"It's never comfortable," Morikawa said. "You want to get as comfortable as you can. … There's a lot of pressure, a lot at stake heading into those last nine holes knowing where you sit. If you look back at my third round, it wasn't the finish we wanted. I couldn't have had that today. ... We just kept going on shot after shot, giving myself some good looks at birdie. And overall we were just able to kind of wear out the field."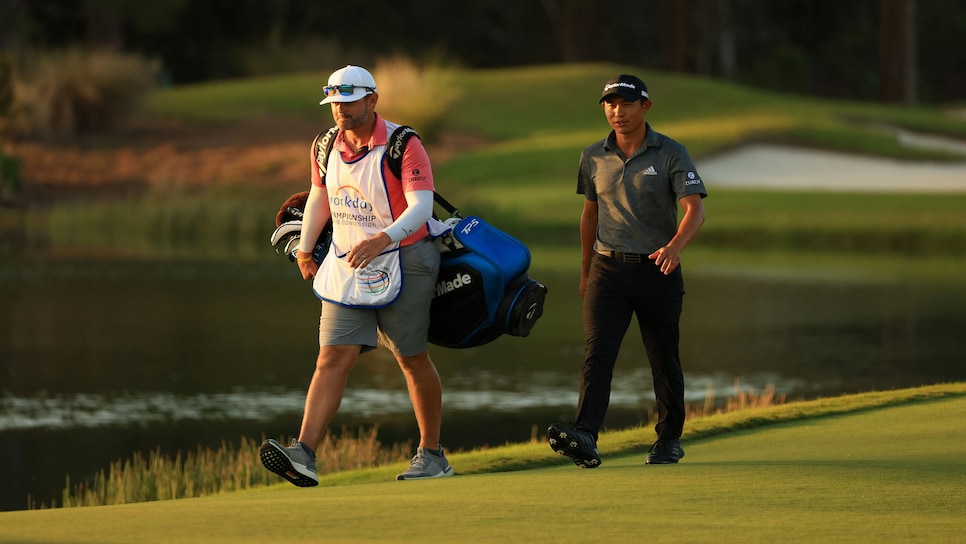 Morikawa's steady play is aided by the serenity of his caddie, J.J. Jakovic, a former NCAA D-II champion and player of the year.
Mike Ehrmann
There were moments that made you doubt the coronation, briefly. On the par-5 13th hole, after walking past a green feather that he briefly mistook for a caterpillar, and with a bird squawking somewhere in the water to the left, Morikawa reached the green in two but nearly invited disaster with his eagle putt, which raced past the hole and stopped just short of rolling off the ominous front ridge. Maybe that would have re-written the script, but he saved par. And then on the 14th hole, it was right back to the perfectly struck irons, that element of his game which never seems to leave him even on days like Sunday when his new saw grip putting stroke isn't quite as blazing as days past.
It was a simple matter of plotting his way home after that, easy par after easy par after easy par, and the repeated call of "Nice shot, buddy" from playing partner Billy Horschel was the chorus of the late afternoon. In fact, Horschel is about as comfortable a pairing as you could ask for. He's been known to show flashes of temper, but in a situation like this, nobody is more friendly or talkative, and he has a special way of lowering the temperature even in the cauldron of a final round.
Morikawa, however, doesn't mind the chatter. He and his caddie, J.J. Jakovac, keep a constant dialogue throughout their round, and the rapport is a little reminiscent of Jordan Spieth and Michael Greller. Like Spieth, Morikawa seeks reassurance through analysis, and like Greller, Jakovac has the steady, positive bearing and the quick intelligence of someone who is ready to dispense that reassurance at a moment's notice.
"I got super lucky having him as a caddie," Morikawa said, "especially just starting off as a professional, to really get such a good guy. And he's learning, he's getting better. We're doing it at the same pace, just trying to figure out how do we work well together and mesh well. You look at all the guys that win every single week, they have to work really well with their caddies. It's a tough thing to find, but I've been very, very lucky to have him on the bag."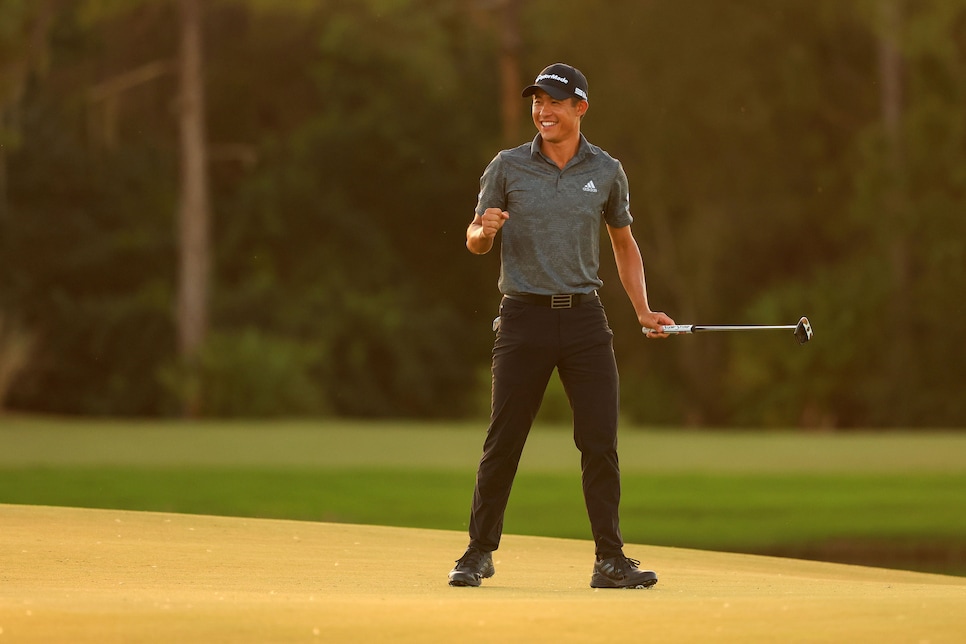 In 20 months as a professional, Morikawa how has four PGA Tour wins, including a major and a WGC title.
Mike Ehrmann
After another flawless approach and another par on 15, the two were already discussing the wind on 16 as they left the green, speaking in that terse code—"cross and a little help"—that's the special province of a golfer and his caddie. (At this point, Horschel had just taken his shoes off to hit his approach from a marshy pond-side lie, and was beginning to understand that the dream of winning was out of reach.) On 16, Morikawa didn't watch his tee shot—there was no need—made another simple two-putt par, and erased the last vestiges of doubt away with a perfect 315-yard drive to the right fairway on 17.
Now the sun was barely above the pines, and after showing some dissatisfaction with his final tee shot, Horschel broke the last bit of tension.
"Forward," he said, getting a smile out of Morikawa. "It went forward. That's all J.J. wanted, is forward."
Forward was plenty by then, and though his final approach of the day was one of his weakest, he made the up-and-down short right of the green to preserve the three-shot margin, a three-under 69 secured. A wide, professional smile, a wave of the hat, and an appreciative clap to the small gallery completed the performance, the comfortable finish of a player whose private doubts never made it out of his head.