Roll Tide
You'll never guess who this year's National Championship favorite is (or second favorite, or third favorite)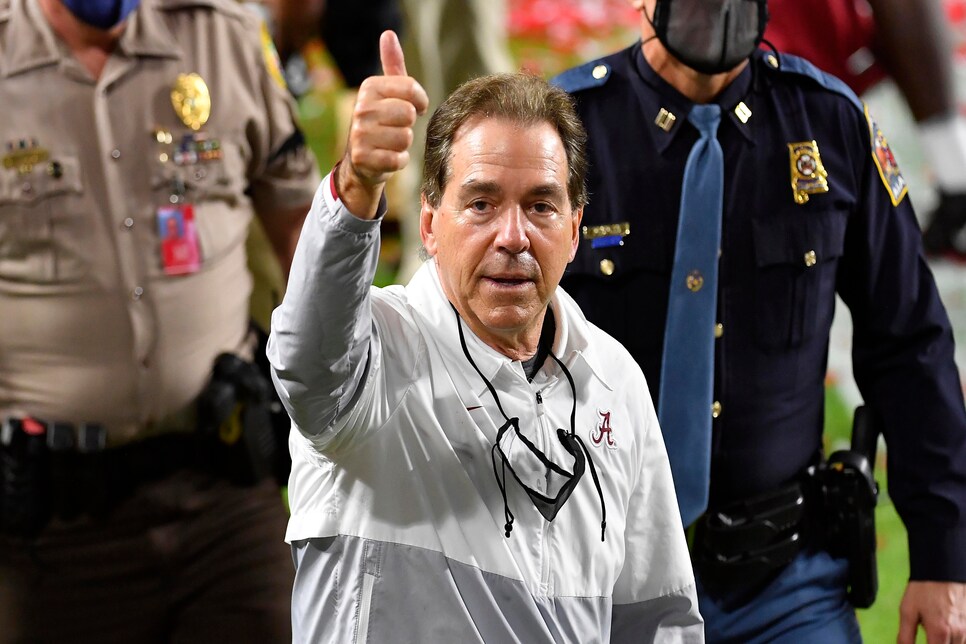 As you may or may not know, Saturday was Half-o-ween, that magical date on the calendar that marks the halfway point between last Halloween and this Halloween. This probably won't mean much to you, dreaming of summer Fridays and 8 p.m. daylight, but for a select few among us it is BIG news. No, we're not talking about the goths, though more power to them. We're talking about college football fans, who are now almost halfway back around to the first College Football Playoff rankings of the season. Rejoice!
The question now, with spring practices winding down, is which programs we'll see in the playoff positions after the committee convenes during the first week of November. According to DraftKings, who recently released their initial 2021 National Championship odds, we could be in for some big surprises . . .
PYSCH. It's Alabama again.
That's right. Alabama, who just lost their starting quarterback, two star wide receivers, starting running back, and shutdown cornerback all in the first round of the NFL Draft last Thursday, are projected to be top of the heap come not only November but January as well, and nothing could be less surprising. Such is the level of dominance from Saban and the boys over the course of the past decade.
You'll also be shocked to learn that following hot on the Crimson Tide's heels are the Clemson Tigers—who beat Alabama in the National Championship game in both 2016 and 2018—at +300 and inaugural CFP champs and 2020 runner-ups Ohio State at +400. Looks like another unpredictable college football season in the making, folks!
We laugh, of course, but mostly to keep from crying. The College Football Playoff, heading into just its sixth season, has become even more of a boys club than the BCS ever was. The solution is right there too, staring everybody in the face, and yet nobody has the guts to do it. Just expand the damn thing. Start at six teams if you have to. Or go to eight. In 2020, a weird year to be fair, that would have produced this CFP field:
Short of LSU and Georgia, fourth and sixth favorites for the national title heading into the 2021 season, that's still the usual suspects, but the addition of a non-power five in Cincinnati and the CFP debuts of programs like Florida and A&M more than make the proverbial juice worth the proverbial squeeze.
But alas, we wait, and while we do, go ahead and put some money on 'Bama. If they win, you win, and if they lose, well, we all win.