Candy cravings
Colin Montgomerie reveals the sweet treat that led to his late-round rally in Senior Open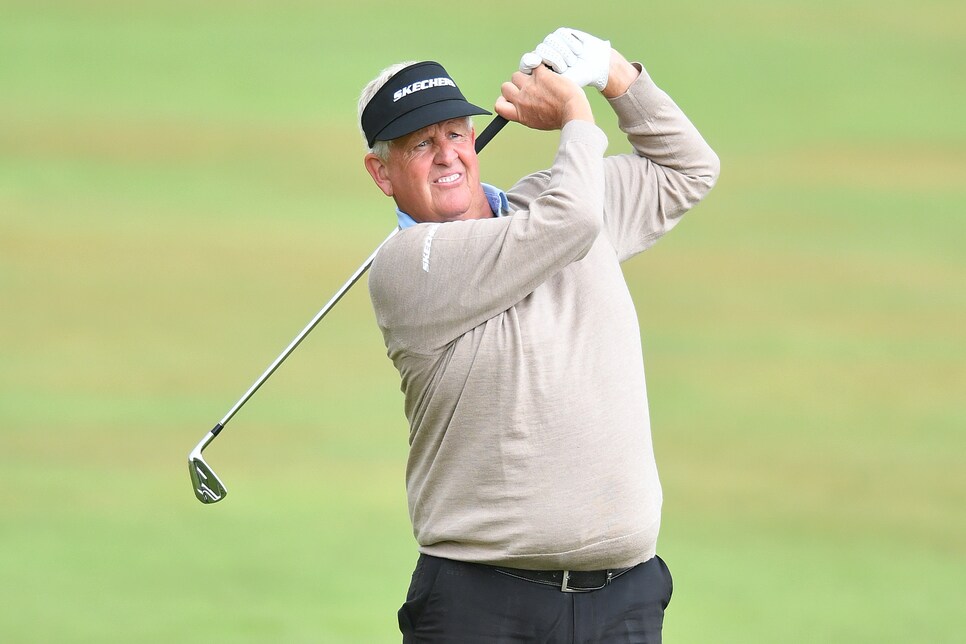 Colin Montgomery plays his second shot at the first hole in the third round the Senior Open.
Mark Runnacles
Some pros snack on fruits during the round. Others grab an energy bar or a PB&J sandwich. Colin Montgomerie found an elixir for his third round in the Senior Open Championship that might turn into a trend for anybody who's not diabetic.
Big Monty made three straight birdies to close out his round of four-under-par 68 at Gleneagles in Auchterarder, Scotland, on Saturday to climb three strokes back of leaders Darren Clarke and Paul Broadhurst, who stand at nine under. And then he revealed his secret to the resurgence: those chewy morsels of fruity candy, Jelly Babies. (The British version of Jelly Bellies.)
"My caddie, we were talking to Pádraig Harrington about jelly babies, actually, and we decided to eat Jelly Babies on the back nine—the best food for everything, apparently. His mental, his trainer, his physio. I thought, oh, he's won a few majors so we thought we would do the jelly baby trick today.
"And, wow, the Jelly Babies worked. So we're into Auchterarder to buy a load of Jelly Babies to keep us going for tomorrow because the weather is going to be iffy [on Sunday]. So we'll see how we go."
The next question was a no-brainer: Does Monty have a favorite flavor? "I avoid the darker ones," he said without explanation. "I like the reds. I like the reds, the yellows and the oranges. One each; one birdie for each one, perfect."
You gotta love Monty when he's in good spirits.