The Loop
Coastal Carolina is the gobsmacking sports story of the year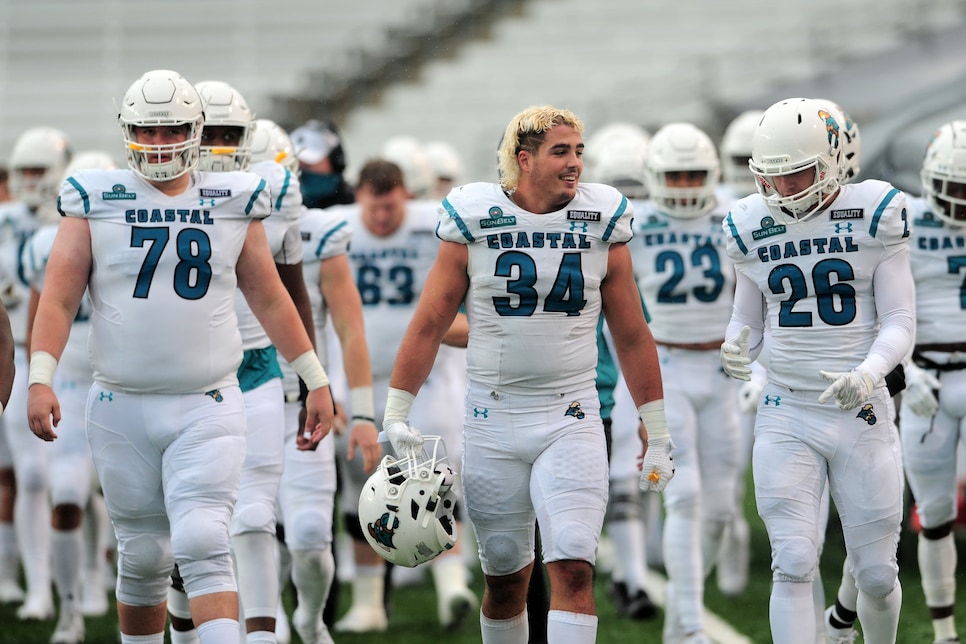 The first thought I had when I saw that 11-0 Coastal Carolina had cracked the top ten in the AP poll was, "holy crap...if this happened in a normal year, it's all anyone would talk about." The next thought was, "wait, could this have happened in a normal year?"
After a 42-38 road win against Troy, the undefeated Chanticleers (yes, I had to look that up, and I live in North Carolina, just a state away) moved from no. 13 to no. 9 in the poll released Sunday, leap-frogging some of the giants of the sport, including Florida, Oklahoma, and Georgia. Along with dominating the Sun Belt, Coastal beat Kansas early in the season, and beat fellow undefeated minnows BYU last week on this play:
This coming week, they'll play Louisiana, the other really good Sun Belt team, for the conference championship, and if they win that one, they'll get to show how good they are in a bowl game against one of the giants that everyone wonders if they can beat. It will also, of course, remind us yet again how sad it is that there's no eight-team playoff, and that unlike basically every other sport in existence, a team can go undefeated and still not have a shot at the title.
Be that as it may, this is still a wild story for a team that has never been prominent in a football context beyond that time their coach went on a strange rant about cats and dogs:
I'm sad to report that that man, David Bennett, is no longer the Coastal coach, having been replaced all the way back in 2011, but their current coach, Jamey Chadwell, is a stud who is almost surely destined for a blue-blood program. After success at North Greenville and Charleston Southern, he's got Coastal Carolina dreaming big in just his second year in...*looks up Coastal Carolina's town*...Conway.
He also left behind a heap of trouble at Charleston Southern, where the NCAA vacated 18 of his wins for various violations. And while "screw the NCAA" is always my official position, the culture at Coastal Carolina does seem particularly vicious. Watch what they did to the BYU quarterback Zach Wilson:
After the game, Jeffrey Gunter, the player who hit Wilson the hardest, was rewarded by his conference with the Defensive Player of the Week award.
So here you have a team playing on the "Redneck Riviera" in a place they call "Dirty Myrtle" (all their words), and they're taking college football by storm from almost literally out of nowhere—18 years ago, they didn't have a football team, and they were picked to finish last in the Sun Belt this year. This would be constant front page material if it had happened in any other year besides 2020, but a story this weird, this funny, and this complicated—are Coastal really the good guys?—couldn't happen any other time. Coastal and 2020: the perfect fit.
The Field Goal of the Year: Cade York, LSU
Playing on the road, in the fog, and going for a school record 57-year-old field goal for a massive win? Those are daunting circumstances, but LSU's Cade York absolutely nailed it. This is one of those kicks that will go down in college football history, and further proof that there are very few things in sport as exciting as a really long field goal attempt. Start at the 1:20 mark here:
Legend. Also, fog makes everything more epic.
The Thrown Cleat of the Year: Marco Wilson, Florida
Go back to that video above, and start at the beginning. The man who tossed the cleat is Marco Wilson, and his strange exuberance cost his team a very good shot to win the game, since LSU was about to be forced to punt.
It also led to the funniest line of the weekend, when the ref was forced to say the words, "after the play, unsportsmanlike conduct, no. 11 on the defense, throwing the LSU player's shoe 20 yards down the field."
This has to be the most famous thrown shoe since that Iraqi journalist tried to tag George W. Bush with the same maneuver. Whether you're getting tackled by the secret service or watching your team lose because of you, folks, throwing a shoe never ends well.
The Trash Fire With an Asterisk of the Year: The NFC East
God, look at these standings. Right now, the extremely mediocre Washington Football Team sits in first place with a 6-7 record, ahead of the horrendous Giants (5-8), the horrendous-er Eagles (4-8-1), and the horrendous-est Cowboys (4-9).
There have only been four teams in NFL history to make the playoffs with a losing record, and weirdly, since a sub-.500 playoff team has to be a division winner and hence gets to host the first game, two of them (the 2010 Seahawks and the 2015 Panthers) have won a game. But the Seahawks had Marshawn Lynch going full Beast Mode and the Panthers had Cam Newton, who used to be cool. Washington, and the NFC East, are just a football desert, bereft of anything exciting or even merely fun.
And yet...Washington has now won four straight games, the Giants had won four straight before this weekend, and both defenses seem to be especially strong. Despite the clearly wretched nature of the whole division, why do I still feel like the winner could make a crazy run in January?
The Man to Not Try to Dunk Upon of the Week: Derek Culver, West Virginia
Culver is an incredible player, and it's unfortunate that this is the best clip of his emphatic rejection from West Virginia's win over Richmond this weekend:
If this dude's around the rim, stay the hell away.