The Duke
15 immediate thoughts on Coach K retiring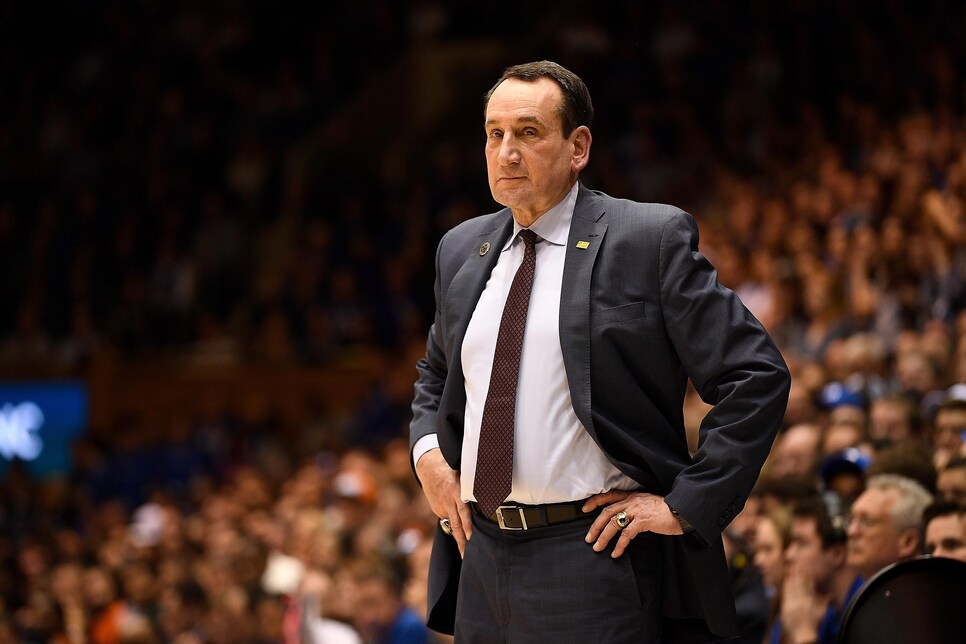 On Wednesday, out of a clear (dark) blue sky, Mike Krzyzewski announced that he'd be retiring after one more season at the helm of Duke. It had to happen someday, and maybe it had to happen someday soon, but it didn't feel like it would happen this day. It's impossible for me, a Duke alum and Duke fan, to put together any kind coherent narrative, so here instead is something verging on incoherent, based on a few thoughts that have come into my head in the 24 hours since.
1. One of my favorite Mike Krzyzewski moments comes in a book called To Hate Like This is to Be Happy Forever. The author, Will Blythe, is a massive UNC fan, and in the process of writing about his antipathy for Duke, he somehow managed to land an interview with Coach K. He came in prepared to dislike him, or at least to get hit with the corporatized maxims we've all seen him dispense in public—"five fingers make a fist"—but instead Coach K started talking about the sacrifices his mother made in Chicago when he was a boy, and he began to cry in front of Blythe.
2. Another favorite happened my freshman year at Duke, one season after the team won the national title with Shane Battier, and just before what was almost the greatest year of basketball I've ever experienced, with the second-greatest college team I've ever seen. Coach K came to speak at the Marketplace, the cafeteria on east campus used by freshmen, and in the midst of a fawning Q&A session, a student named Sasha stood up and asked if he was going to do anything about the poor free throw shooting from the year before. There was a collective gasp, followed by grumbling—how dare he insult the god of Duke! But Coach K loved it; he actually smiled in a kind of private delight, relishing the conflict, and rattled off a few statistics that showed that, well, Duke wasn't very bad at free throw shooting either. Everyone laughed, Sasha became the biggest Duke fan in our entire class, and the scintillating Duke team of 2001-02 lost to an entirely unworthy Indiana team in the Sweet 16 because Jason Williams couldn't shoot foul shots under pressure.
3. I once spoke with Christian Laettner on the phone for a project that never ended up happening, and he told me a story about his last season. It had surprised some people that he'd returned for his senior year after the 1991 championship, and he came in with perhaps more than his fair share of swagger. After a particularly dismal practice in the preseason, Coach K berated the team individually, and when he came to Laettner, he said something like, "I wish you'd never come back." It gutted Laettner at the time, but it also motivated him, and you know how this story nominally ends—a few months later, he hits the most famous shot in college basketball history, and Duke wins another title. But when I asked him how he felt about that moment now, his voice had real pain in it, and he said, "It hurt. It still hurts."
4. I heard a story once about a man who had long admired Coach K from afar, his integrity, his success, the whole package, and then was lucky enough to attend a Duke game in person. Not only that, he got to sit behind the Duke bench. A dream, at least in theory, but this man had delicate sensibilities, and the experience rattled him: He left dismayed and appalled at the language Coach K used on the court.
5. An often retold story comes from a 43-point blowout loss to Virginia in the miserable '82-'83 season, when it looked very much like he might be fired after three seasons on the job. After the game, a Duke SID said "here's to forgetting tonight." Coach K responded: "Here's to never forgetting tonight." It's worth noting that this is a story Coach K tells himself.
6. Maybe these stories illustrate something about Coach K: The passion, the pathological competitiveness, the rage, the capacity for motivation, the capacity for self-promotion, and also the thing that all great coaches share, which is a manipulative quality that effectively motivates and inspires but also hurts, and which is focused primarily, and always, on winning.
7. And the charisma! Imagine being an old man with (probably) dyed hair, a nasal voice, and perpetually white sneakers who manages to secure the devotion not just of his players, but of men like Kobe Bryant and LeBron James. He could make you feel the force of his personality, and he could make you love him.
8. One of the great ironies of recent college basketball is that John Calipari took all the heat from the moral arbiters of the sport for transitioning to the one-and-done model, and it's largely because he did it first. As time passed, Coach K did the exact same thing—you can't let the arms race pass you by, no matter how much it disgusts you, or you become Gary Williams—but because he's Coach K, he never suffered anywhere near the same criticism.
9. That said, I believe it's time for him to leave. He won his national championship in the one-and-done style in 2015, but you never got the sense then or now that he enjoyed it as much as the days when he could cultivate a team for a stretch of years. The "go for broke, lose it all, then re-tool" style can't have been satisfying for someone who prided himself on how he influenced his players and crafted their characters. When he got snippy with a student reporter this year, it seemed like a good sign that it was all wearing on him—COVID included—and that, at the very least, he wasn't having a good time.
10. I do not, however, believe he's too old for this. He's one of those ageless people who was allotted an unfair and undying supply of energy at birth and who may be frustrated and disenchanted but is not, I would wager, tired. He may never be tired, or at least not until some obscene old age.
11. Coach K detractors love to tell you that he's not a good in-game coach. Whatever else happens, don't believe this. He was an excellent in-game coach, always able to adjust, always willing to try anything to win. His greatest failure, to me, was that he never put Zion Williamson at point guard. I still don't understand it; do that, and you're almost guaranteed a national championship. Other than that, he maximized his talent.
12. The greatest college basketball team ever is not the 2012 Kentucky Wildcats Anthony Davis championship team, but the 2010-11 Duke team that existed for the space of a few weeks before Kyrie Irving got hurt. I'm still upset.
13. If you are sick of hearing about Coach K, and have been since, say, 1993, don't turn on ESPN anytime between now and next April.
14. A bit about Duke hatred: Like many of us who found our way to Duke, Coach K came from the north, and don't kid yourself that there are not a few very old hostilities at play in the Duke-UNC rivalry. Still, most of it comes from the perception of arrogance and elitism associated with a private university like Duke, which is not totally unfair. But I do think it's worth pointing out that despite his profile, and despite his prominence for a few years as a vessel for corporate jargon, Coach K is a poor Polish kid from Chicago. This is not some northeast blueblood with inherited wealth who was gifted his position. In American sports, Coach K is one of the great fighters, and one of the most intense human beings you'll ever encounter.
15. If you don't like Coach K for anything else, at least respect him for this: He played for Bobby Knight at Army, gutted him by beating him in the '92 Final Four—after which Knight wouldn't talk to him for years—but never became him. He's the greatest coach to ever live, and he was only as much of an a****** as he thought he needed to be.