The Loop
Closure On My Missing Clubs . . .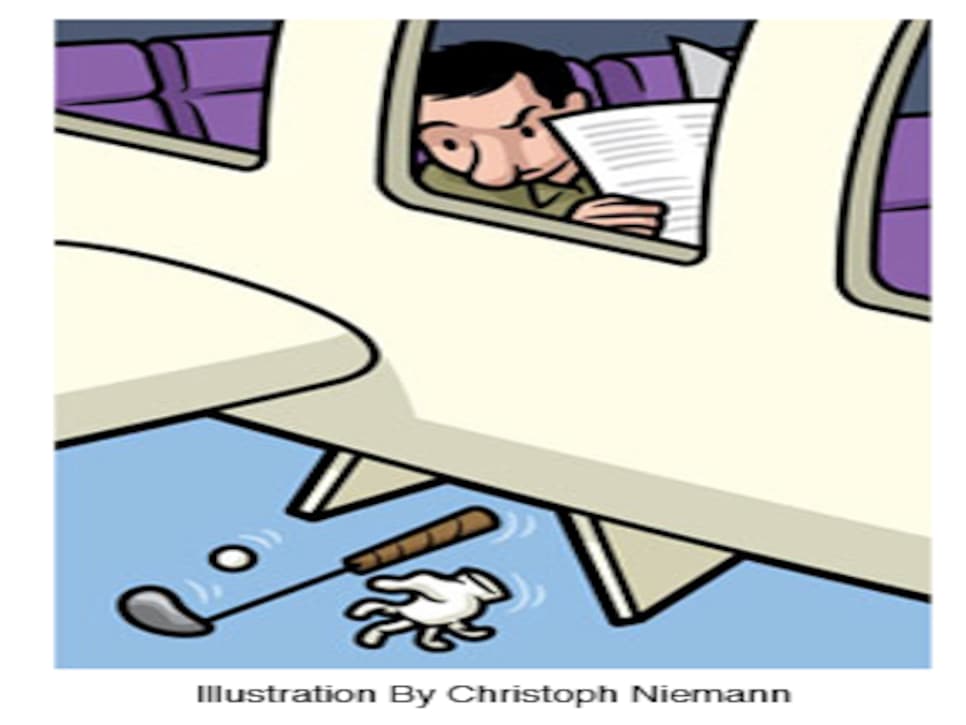 I write about travel troubles in the magazine and on this blog. In fact, I wrote a lot about my lost golf clubs a few times. To recap: Three months ago, en route to Chambers Bay in Washington for the current Away Game (a destination story that leads the travel section of Golf Digest every month), American Airlines lost my clubs. It was the same week they grounded their DC-80s for inspection. After they found the clubs in Los Angeles, they handed them off to Alaska Airlines so they could fly them to Tacoma. My clubs will never be stuffed into or pulled from my trunk ever again. My guess is someone is carrying around my Adidas golf bag, splitting fairways with my Hi-Bore driver, flushing my Taylor Made irons, spinning my Hogan wedges, marking his ball with a Turnberry coin, and winning bets with my Tommy Armour putter. If it rains he has two pairs of golf shoes, a nice rain suit and a pair of sneakers to change into after the round. (A pause to wipe the tear from the top of my cheek.)
After filling out all the necessary paperwork and waiting patiently by the phone, I did hear from American Airlines.
Here's the letter I received:
Please accept my sincere apology for the difficulties you experienced when you traveled with us recently. From the information I was able to review, it certainly seems that your entire experience was aggravating, and I am genuinely sorry that we did not provide the level of service you expect and deserve.
Our tracing efforts have not been successful and regrettably, we have not been able to locate your belongings. As a result, we have enclosed our check in the amount of $3,000; this amount represents our maximum domestic liability and it is full settlement of your claim against American Airlines.
We appreciate your business and I hope that we have not lost the capacity to express our sincere regret for this unfortunate incident. Meeting the highest expectations of our customers is our primary goal and we look forward to welcoming you on another American Airlines flight very soon.
That is a nice letter and a fantastic settlement. There's nothing better than flying one airline. I get to the front of the check-in line, I constantly get upgraded and if I lose my golf clubs, I get letters and checks that help ease the pain.
Just last week my direct flight from Cancun to New York was delayed four hours . . . then it was delayed six hours . . . and then it was canceled. I played like I was on the TV show, Amazing Race, got on the phone with my travel agent, booked another seat on a flight transferring through Dallas back to Newark. I got my clubs out of the belly of the plane that was no longer taking off, back through customs, back to the ticket counter, got my seat on the new flight, back through security and was home by 5 A.M. (I was originally due home by 8 P.M. the previous night. Even with all the lost time, it felt like I won the race.)
I never filed any complaint, never called the airline, but I just received this e-mail:
As hard as we try to ensure that our flights operate on schedule, there are occasions when that just doesn't happen--like on June 20. We are truly sorry for disrupting your trip.
We hope you will accept the 15,000 bonus miles that have been deposited into your AAdvantage account as our making amends. You will see the mileage in your account soon.
We'll look forward to providing you with a better travel experience very soon. Thanks for flying with us.
I just checked my mileage balance. Since 1996 I've flown 750,000 miles with American. In 2008 my total Available Award Mileage is 90,000. That's including the 15,000 bonus miles they deposited in my account.
I'm not defending the airlines or coming to their rescue, but what I can do is give praise where praise is due. I hate the fact my clubs are gone and I hated the craziness of June 20, but I appreciate the acceptance of responsibility and compensation for my loss.
Loyalty is a road that should go both ways. That's not always the case, but American Airlines is trying.