College Golf
Clemson men win ACC title, giving retiring coach 83rd career victory to break conference's win record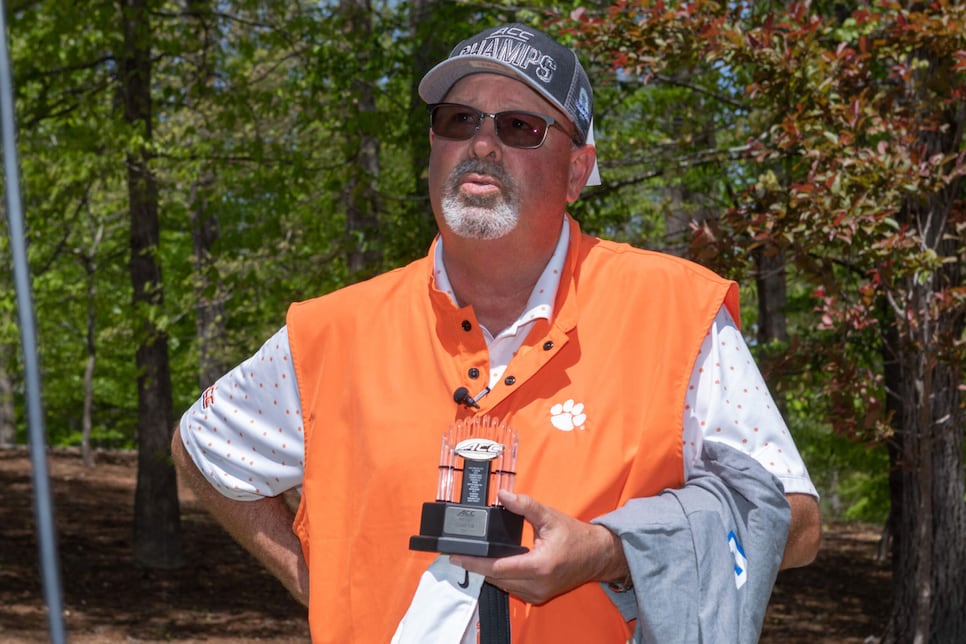 Larry Penley saw his Clemson squad win its 10th ACC title in his 38 years as head coach.
Larry Penley's retirement after 38 seasons overseeing the men's golf program at his alma mater, Clemson, is among the more intriguing stories playing out as the 2020-21 college season comes to a climax in the next month. Especially if there are more going-away presents like the one his Tigers gave him on Monday.
When Zach Gordon made a 20-foot putt on the third extra hole in his showdown against Florida State's Greyson Porter, Clemson had the deciding third point in the final round of the ACC Championship. In upsetting the No. 2 ranked team in the country with the No. 1 ranked player (John Pak), the Tigers earned a 10th conference crown under Penley and an 83rd overall team title, passing Wake Forest's legendary coach Jesse Haddock and his 82 wins for the most by any coach in ACC history.
Wearing a championship hat with the tags still on it, Penley soaked up the moment at the Capital City Club outside Atlanta. This was the fourth win in the team's last five starts, a run that's propelled them to No. 4 in the country and bodes well as the Tigers try to send Penley off with his second career NCAA title, the first coming in 2003.
"It's extremely special," said the 61-year-old with the slow drawl and graying goatee. "I couldn't be more proud of our players. They've done a fantastic job."
This was the first year the ACC used match play to decide the team winner, a change in format that Penley steadfastly opposed just as he did when the NCAA Championship adopted match play in 2009. Penley's beef is that there's too much luck involved.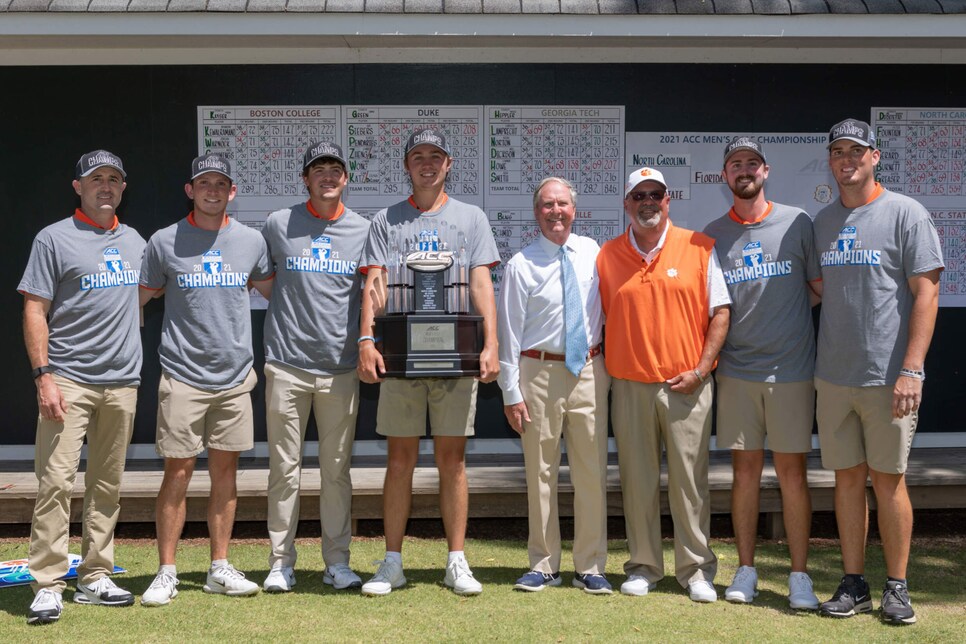 The new ACC champs pose at Capital City Club.
Of course, now that he was the beneficiary of said luck—Clemson was second in the stroke-play portion of the event, 15 shots behind North Carolina—he surely would say that he had made his peace with the change. Right?
"I'm not a fan. I might have been the lone non-vote. But I mean it's here to stay. The fans love it. I think you can tell from the excitement.
"Match play is roll the dice. … It is an interesting format. It's fun, it's exciting for the fans. But it's tricky. Match Play is tricky."
As Penley's career comes to a close, he's already broken the record for the longest-serving coach in any sport ever at Clemson and his 29 NCAA Championship appearances are more than any coach in any sport in school history. His 27 top-25 seasons is also a record for any coach in any sport.