Short Game
Clear the tallest bunker lips like Ian Poulter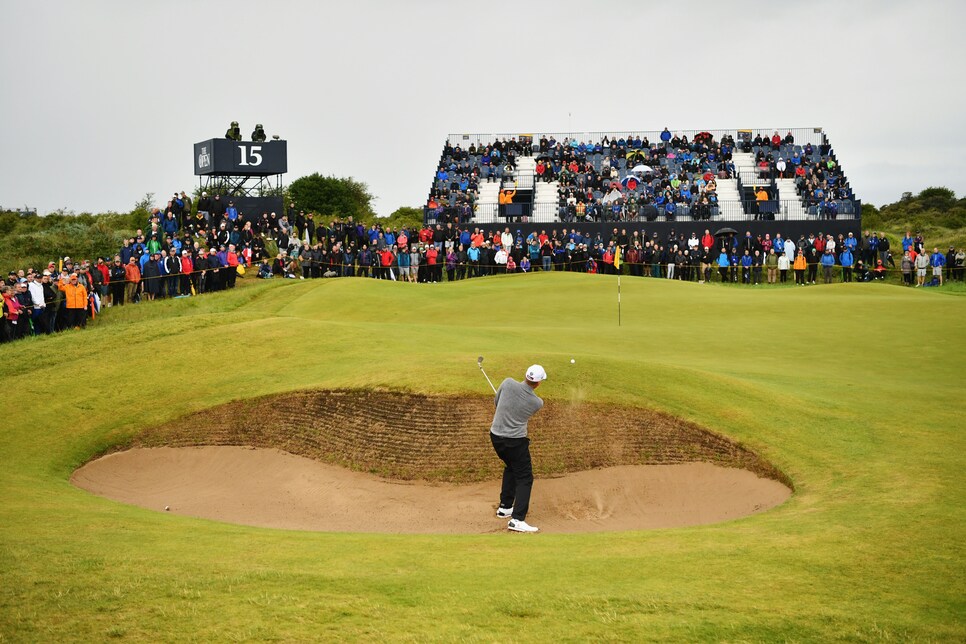 Navigating Royal Birkdale successfully on Friday took a particular set of skills. The wind and rain made patience a virtue -- and a sharp short game a necessity.
Ian Poulter was out right in the middle of the most confounding conditions -- an hour stretch when the wind completely changed directions and it started to pour. Hitting fairways and greens was a crapshoot, bringing Birkdale's steep-faced bunkers into uncomfortably frequent play.
Poulter's magnificent sand game saved him twice -- on 15 and 18 -- when he needed to dramatically increase his shot height to clear the sod faces. He left himself tap ins both times on his way to a solid 70 and a spot in the top three. The key to escaping isn't taking a 60-degree wedge, closing your eyes and hoping, says Golf Digest 50 Best Teacher Brian Manzella.
"To clear a high lip, you need two things -- loft and speed," says Manzella, who is based at English Turn in New Orleans. "To get the loft, think more about your setup than the loft that's stamped on the bottom of the club. Seve Ballesteros used to hit the prettiest, highest bunker shots you ever saw with a 3-iron by creating loft."
Make some of your own by opening the face on your 56-degree wedge and lowering the shaft at address, says Manzella. "Widen your stance and flex your knees, which gets the shaft lower to the ground and more horizontal," he says. "You also want to play the ball more forward in your stance. Since you're squatting, you're going to lose some of your pivot, so you really need to create speed with your hands and wrists."
The club should enter the sand on a shallow angle with lots of clubhead speed -- especially in the conditions they're seeing at Birkdale.
"When the sand is wet and firm and your angle of attack is shallow enough, you can hit anywhere from two inches to five inches behind the ball and get a good result," says Manzella. "But you need a lot of clubhead speed. Don't baby it."