The Loop
Clayton Kershaw's lifelong nightmare playoff odyssey continues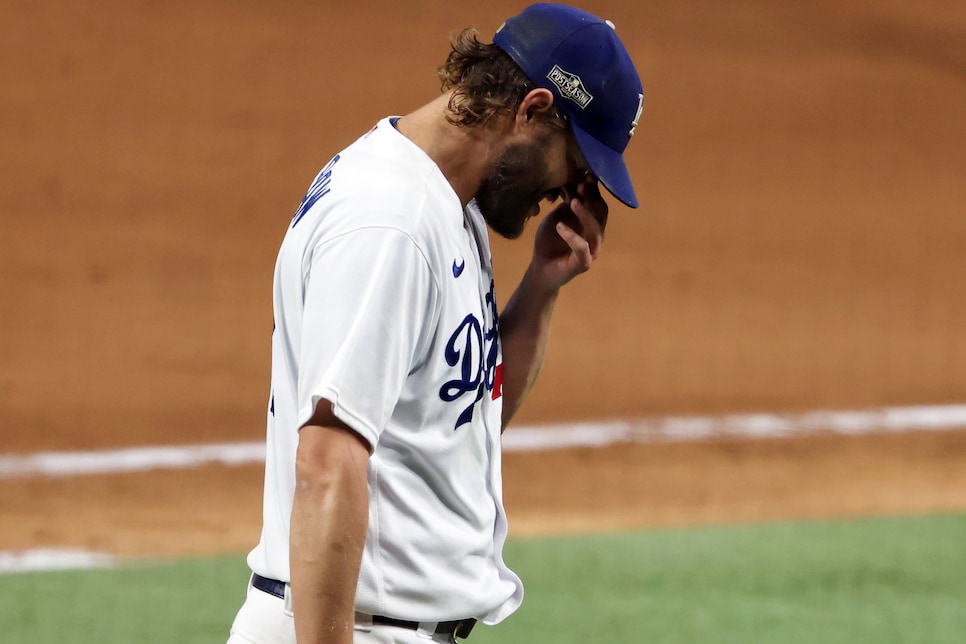 The sad part about this whole thing is that Kershaw was actually good this year. Not just in the regular season, where he excelled in the short season, posting a 2.16 ERA to bounce back from a mediocre (by his standards) 2019. No, he was also great in his two playoff starts also, particularly the eight-inning, three-hit, no-run gem against the Brewers in the first round. Coming into the NLCS against the Braves, this was looking like the postseason that might start to redefine his whole miserable career in postseasons.
Now? He's out with back spasms, because of course he is. The Dodgers are already down 1-0 to the Braves in the NLCS, and this news is particularly heartbreaking for a team that just cannot break through despite being excellent in the regular season year after year. (As a Yankee fan, it almost makes me want to stop whining about my own team's playoff futility. Almost.)
Kershaw has been a major part of the Dodger futility. With 27 playoff starts in his career, he basically has a full season's worth of postseason games, and it's an ugly "season": 11-11, 4.23 ERA, and a team that has gone 17-17 when he makes an appearance. He's got the second-worst ERA of any pitcher facing an elimination game (minimum 20 innings pitched), and every year, right up to last year, the final story has been one of collapse and disappointment. To compare him to one of his peers, he's basically the anti-Madison Bumgarner.
And by the way, the fake "season" comprising his playoff career would be the worst full season he's ever had. Take that 11-11, 4.23 ERA line, and compare it to his regular season career totals of 175-76 with a 2.43 ERA, and it's hard not to argue that he's one of the great playoff underachievers of our era, in any sport. He goes from a perennial Cy Young contender to replacement level pitcher the minute the big games start.
Look at this sad quote from last year, after he gave up consecutive home runs to blow a winner-take-all game against the Nationals, who eventually won the World Series:
"Everything people say is true right now about the postseason. I understand that. Nothing I can do about it right now, it's a terrible feeling."
And today, just when the 32-year-old seems to have turned a corner, the back spasms hit out of nowhere. There's no telling how long they'll last or whether Kershaw can return later in the series, but if the Braves manage to go up 2-0 on Tuesday, it might not matter anyway. The fate of the Dodgers has been tied to Kershaw for 13 years now, and that fate has been star-crossed at the best of times. They'll have to hope that even as their ace's rotten luck continues in 2020, fortune holds something more for the team than another premature exit.