Bengals By A Million
C.J. Uzomah ripping off his knee brace to announce he's healthy might be the most electric moment in Super Bowl pep rally history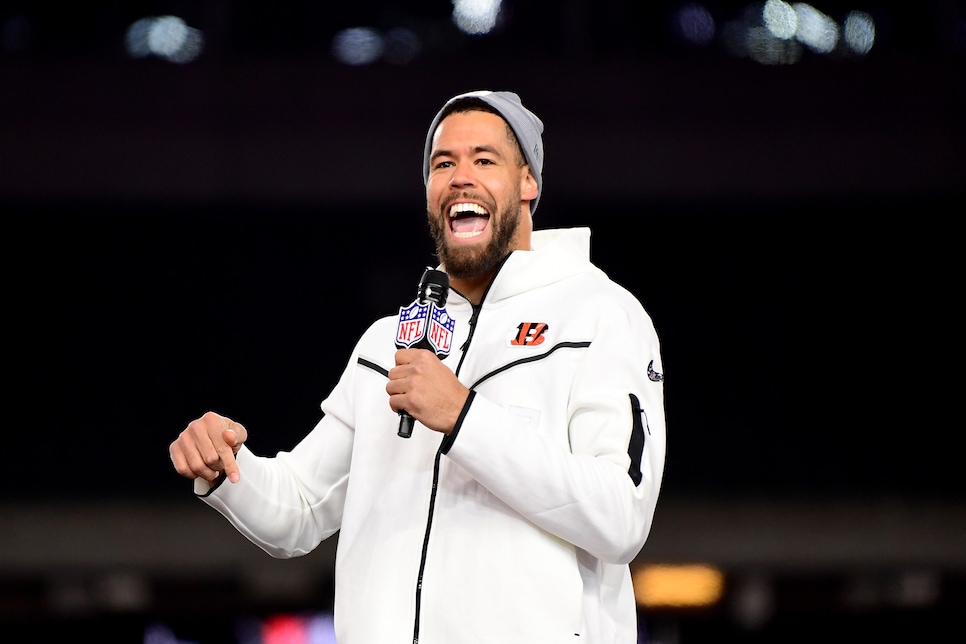 We're just days away from Super Bowl LVI now, and it still feels unthinkable that the Cincinnati Bengals—THE BENGALS!—are one win away from the most prestigious title in American sports. It has been nothing but blue skies for Bengals fans since their Lamar Hunt-clinching comeback against the Chiefs, but lost in the hubbub has been a not-insignificant storm cloud:
The status of tight end C.J. Uzomah's left knee.
Early in the first half of the AFC Championship game, with the Bengals on the ropes, Uzomah went down with a cut-and-dry ACL/MCL leg injury. He was carted to the locker room in tears, and it seemed for all the world like his season was over.
The prognosis since then has been murky at best, as it usually is with injuries leading up to the Super Bowl. Once a full-blown ACL tear was ruled out, Uzomah was diagnosed with a sprained MCL. He vowed to do everything in his power to be ready to go for the Super Bowl, but heading into the Bengals' pep rally on Monday night, nothing was clear. Taking the stage in a leg-length knee brace, it didn't look good, but then things took quite a turn ...
If that isn't the most electric moment in Super Bowl pep rally history, we really don't know what is. We'd say you can't write it, but you can. They do every night over in the WWE. That's what makes it so great. It's completely staged and totally real all at once and as you can clearly see, it had the Bengals faithful purring with delight.
Of course, players rushing back from injury for the Super Bowl has produced some iffy results over the years. Terrell Owens' gimpy performance in ​​Super Bowl XXXIX is probably of most concern for Bengals fans, who will need Joe Burrow's best safety valve to get off the line crisply against the swarming Rams pass rush on Sunday. If Uzomah's performance on Monday night is any indication, however, he should be good to go come kickoff.