News
Russell Henley can take big career jump with win and other takeways from Day 3 at Shadow Creek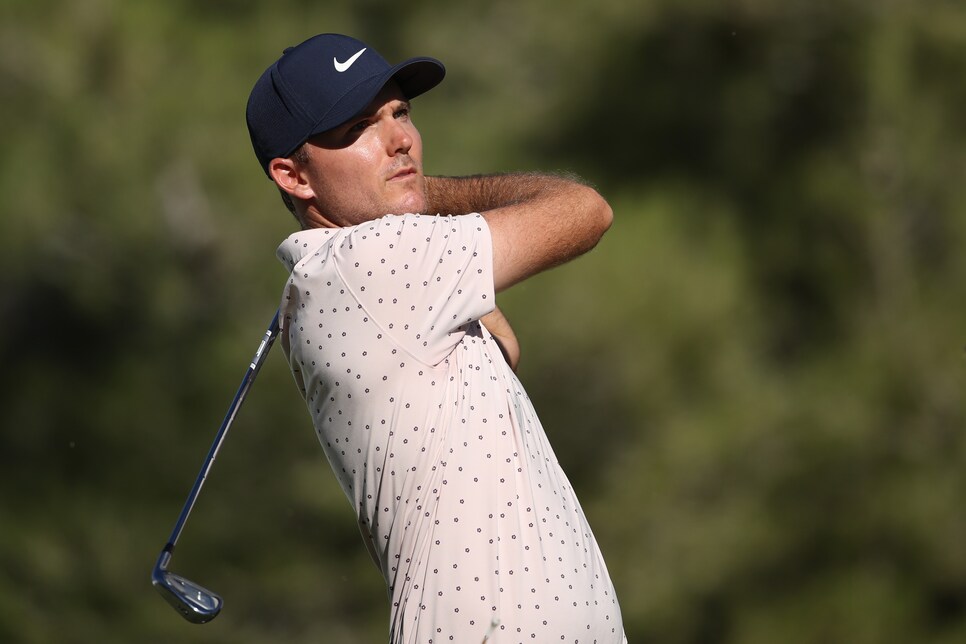 Russell Henley plays his shot from the 13th tee during the third round of the CJ Cup.
Christian Petersen
This CJ Cup boasted a world-class field, with 14 of the top 20 players in the world teeing it up at pristine Shadow Creek. And, yet, it's a player well outside the top 100 who sits atop the leader board heading into Sunday.
World No. 121 Russell Henley posted a bogey-free 67 on Saturday to get to 15 under, and the former Georgia Bulldog will carry a three-shot lead into the final round. Here are five takeaways from yet another windless, benign day in Las Vegas.
Henley, other lesser-knowns in position for the biggest title of their careers
Henley has quietly been playing quite nicely since the restart, with three top-10 finishes since July and four straight weeks of T-27 or better coming into this week. The 31-year-old now sits in prime position to pick up the biggest win of his career—he has three victories to his name but none since the 2017 Houston Open. A win over this caliber of field, on this golf course, would surely qualify as his most impressive.
But he's not the only one with a career-changing victory in sight. In fact, four of the current top five are ranked outside the top 50 in the World Rankings. Talor Gooch, 28, has yet to win on the PGA Tour but is squarely in contention at 12 under thanks to a Saturday 68. Lanto Griffin played 17 flawless holes and found himself seven under for the day and 13 under for the tournament, just two back of Henley, before pushing his tee shot into the water on 18. He convened an emergency session of Congress to decide where to drop his ball and eventually bogeyed the reachable par-5 18th to shoot 66. Can't ever be upset with a 66, but he surely had his eyes on 64 heading to the last. At 12 under for the tournament, he's certainly still in it. Also at 12 under is Jason Kokrak, who has 27 career top-10s but no victories.
That there are so many mega-stars playing this week, and that the top of the leader board looks like it does, speaks to the incredible depth of the modern game.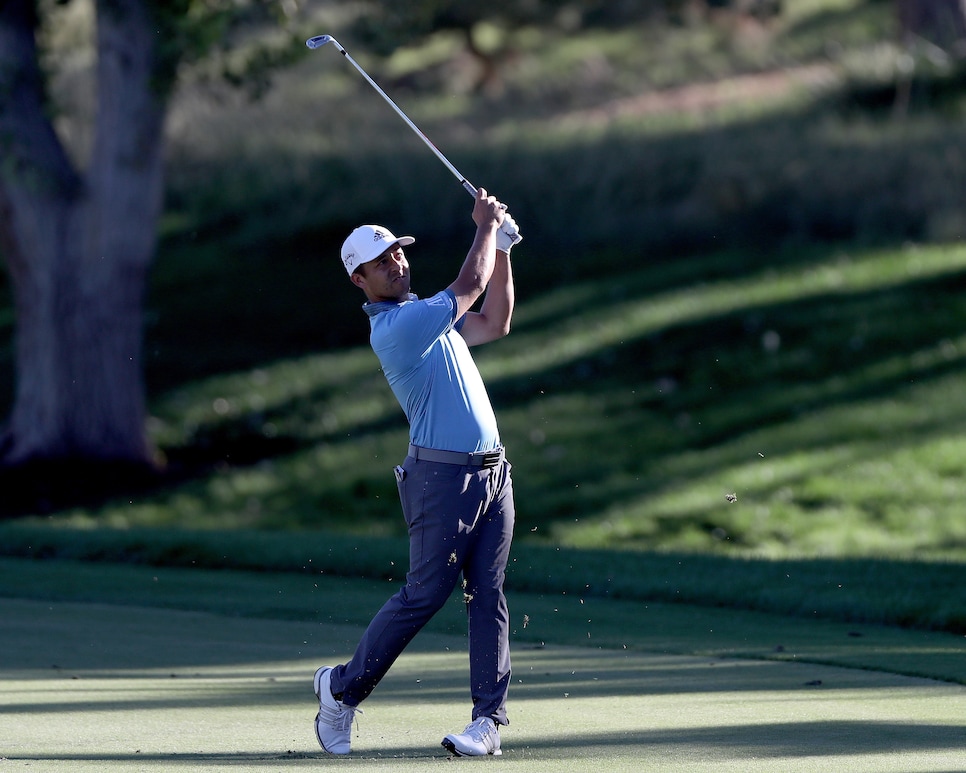 Xander Schauffele hits out of the 15th fairway during the third round of the CJ Cup.
Matthew Stockman
Xander Schauffele fought his swing all day and fell down the leader board
If seeing those guys contending is a bit of a surprise, the same can't be said for Schauffele, who seems to always be a factor in the biggest events. The world No. 8 slept on a three-shot lead after a Friday 64, but he never looked comfortable with his swing all day and shot a full 10 shots worse on Saturday.
At 12 under, Schauffele will still be within a shout Sunday afternoon, but he looked like he may run away with this thing midway through Saturday. That will not be the case.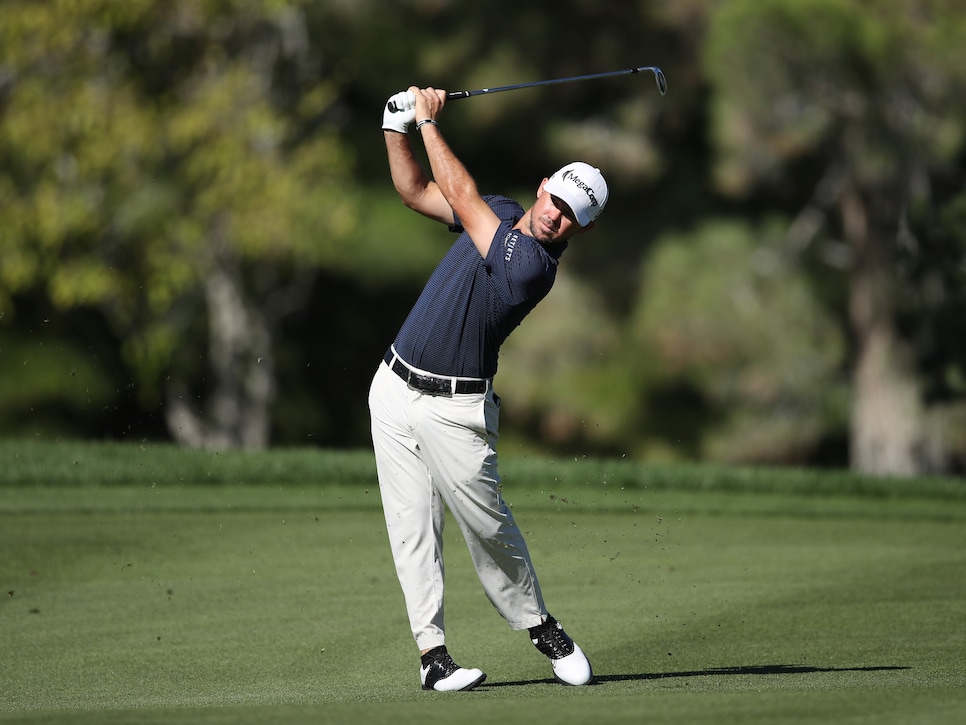 Brian Harman plays a shot on the second hole during the third round of the CJ Cup.
Christian Petersen
Brian Harman with an all-time psycho scorecard
Upon first glance, there was nothing particularly noteworthy about Brian Harman's round. He shot 35 on the front nine and 36 on the back for a one-under 71. But for Harman on Saturday, it was about the journey, not the destination.
Harman did not make a single par on his back nine, which was a tour de force in Rollercoaster Golf. Here's how it went down, in order: birdie-birdie-birdie-bogey-bogey-bogey-birdie-double bogey-birdie. I'm tired just writing that. Not all 71s are created equal.
These are the things that make you smile on Saturday of a non-major.
Brooks Koepka shoots a second straight 68, looks perfectly healthy
Koepka is making his first start in two months after a lingering knee injury sidelined him for the FedEx Cup Playoffs and U.S. Open. The four-time major winner said earlier in the week that he feels completely healthy, and that he knows he won't have any physical problems playing four rounds. He stumbled a bit off the block, displaying a bit of rust in a two-over 74 on Thursday. But he's now shot back-to-back rounds of 68, positive signs that the knee injuries might really finally be behind him. He entered this week as world No. 11, having dropped out of the top 10 on Monday for the first time in three years. Don't expect him to remain there long.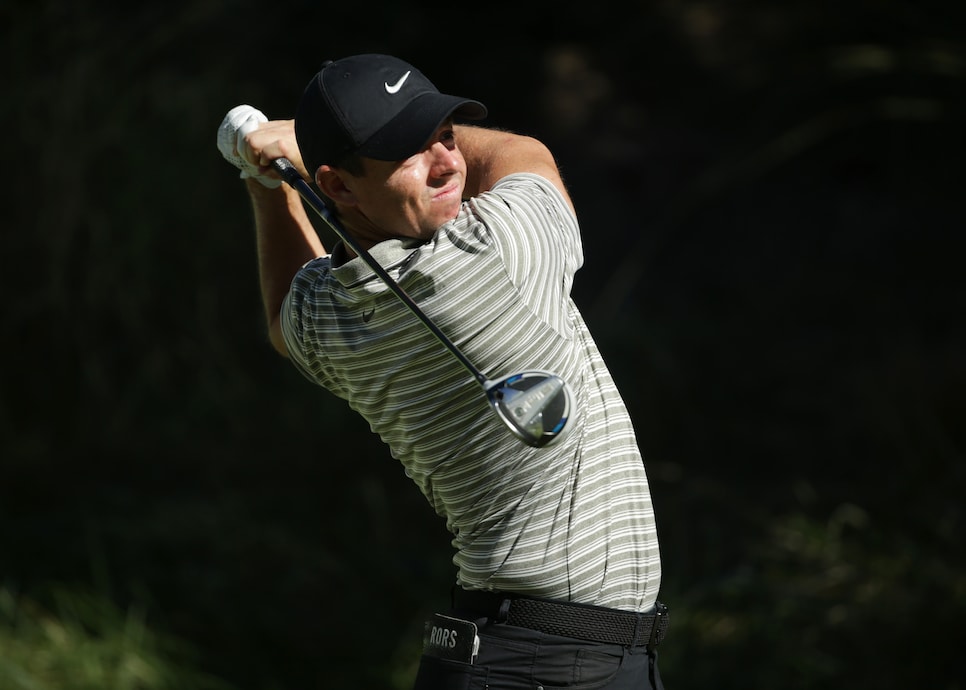 Rory McIlroy plays his shot from the second tee during the third round of the CJ Cup.
Jeff Gross
Rory won't win this week, but a six-under 66 had him looking like Rory again
It's been a rather strange 2020 for Rory McIlroy. He began it as the consensus Best Player in the World and posted four top-10s to begin the year before the hiatus. After the break, he failed to post a single top-10 in eight straight starts, a shocking stretch for someone of his ability. His wife, Erica, then gave birth to the couple's first child, and he's posted back-to-back top-10s in his two starts as a father. He's in good position to add a third on Sunday after a six-under 66 has him at eight under heading into the weekend.
McIlroy has spoken this week about wanting to limit his swing thoughts, about how he feels he's been to technical of recent and wants to get back to the freer-swinging ways of his youth. His back-nine 31 on Saturday seemed to suggest that's a good approach.
"You know, the last two weeks every swing that I've made, every ball that I've hit has been with at least two or three swing thoughts," McIlroy said after the round. Relatable. "So first day was sort of similar, yesterday was a little better and then today again I hit the ball pretty good, especially off the tee again. That was a big plus.
"I've been sort of complaining about my driving and off the tee, but this week's been really good. So if I can just keep continuing to see progress there into tomorrow, you know, it would be great to shoot another low one and get myself right up there. But I feel like I've made some good strides in my game this week."
The Masters is just three weeks away.