News
European Tour pro with harrowing backstory pulls out impressive win in home country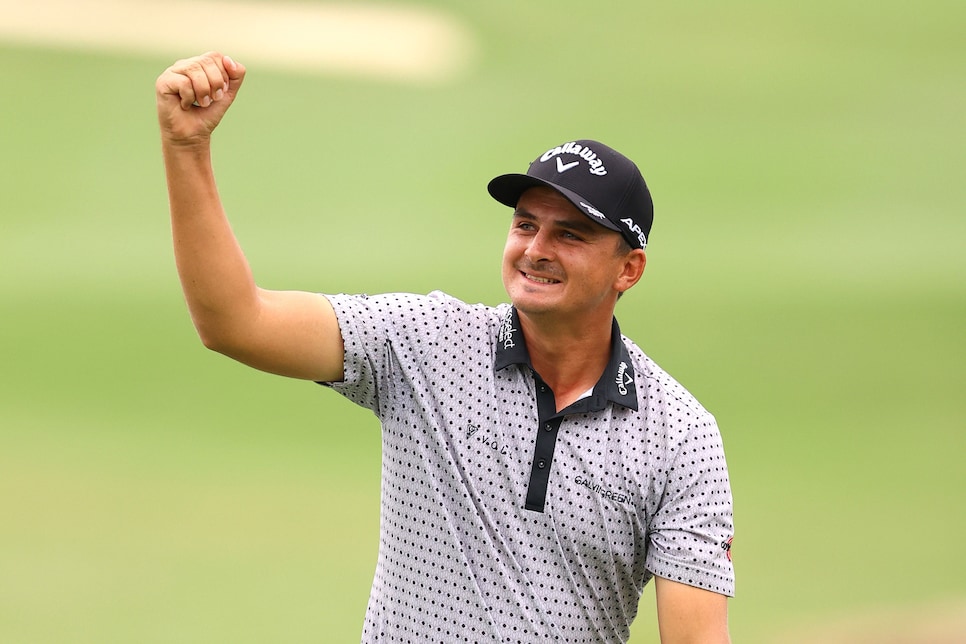 Christiaan Bezuidenhout celebrates on the 18th green after rallying to win the Alfred Dunhill Championship in South Africa.
Richard Heathcote
Often enough, the winning of golf tournaments at the professional level is more about the elimination of serious error than the making of plentiful birdies and eagles. An eventful Alfred Dunhill Championship at Leopard Creek turned out to be one of those times. While those around him floundered amidst a flurry of bogeys, doubles and triples over the closing nine holes, the only member of the top-five finishers making steady progress was eventual champion Christiaan Bezuidenhout. The combination of some evil pin positions and an ever-freshening breeze proved to be too much test for the rest.
Bezuidenhout's bogey-free back-nine 34, three under par over the picturesque lay-out that sits across the Crocodile River from the stunning array of African animals populating the Kruger National Park, was at least three shots better than anyone else in that top five. And that steadiness under pressure proved to be the key to the 26-year-old South African's second European Tour victory. His beautifully constructed closing 69 took him to 14-under-par 274 for the week, four shots better than the four runners-up, Jayden Schaper, Adrian Meronk, Richard Bland and Sean Crocker.
"This is incredible," said Bezuidenhout, who suffers from a stutter resulting from his ingestion of rat poison as a 2-year-old. "This tournament has been close to my heart ever since I played here for the first time. It is one I have always wanted to win. So to pull it off is very special to me, especially on a such a difficult day. That was a two-and-a-half club wind out there. It swirled a lot and led to my double bogey on the seventh. I actually hit a decent shot, but it just drifted way right on the breeze. But I'm proud of myself. It was all about sticking in there today."
Still, making his Masters debut two weeks earlier, where he finished T-38, also turned out to have some lasting benefits.
"I had a plan this week," Bezuidenhout revealed. "I played a practice round with Louis Oosthuizen and Charl Schwartzel at Augusta National. They told me to play the course as I would have done with the previous grass on it. I thought of it that way and played it as if it was firm and fast all week, which is how it was here today. I'm really pleased to have pulled it off."
In contrast to the winner's obvious excitement at triumphing in his homeland, there were obvious moments of regret for all of the second-place finishers.
• Standing on the 18th tee at 13 under par and one stroke back, Crocker badly pulled his tee shot on the 552-yard par 5, the ball rebounding out-of-bounds off the roof of a cart path. It all added up to a triple-bogey 8 for the Zimbabwe-born former USC All-American.
• Leading with nine holes to play, Schaper—widely viewed as the next star of South African golf—hit three balls off the 10th tee. Although he found the first one unplayable, the 19-year-old could do no better than a triple-bogey 7. Eight holes later, another drive flew OB off the 18th tee, the eventual bogey costing Schaper the chance to finish alone in second.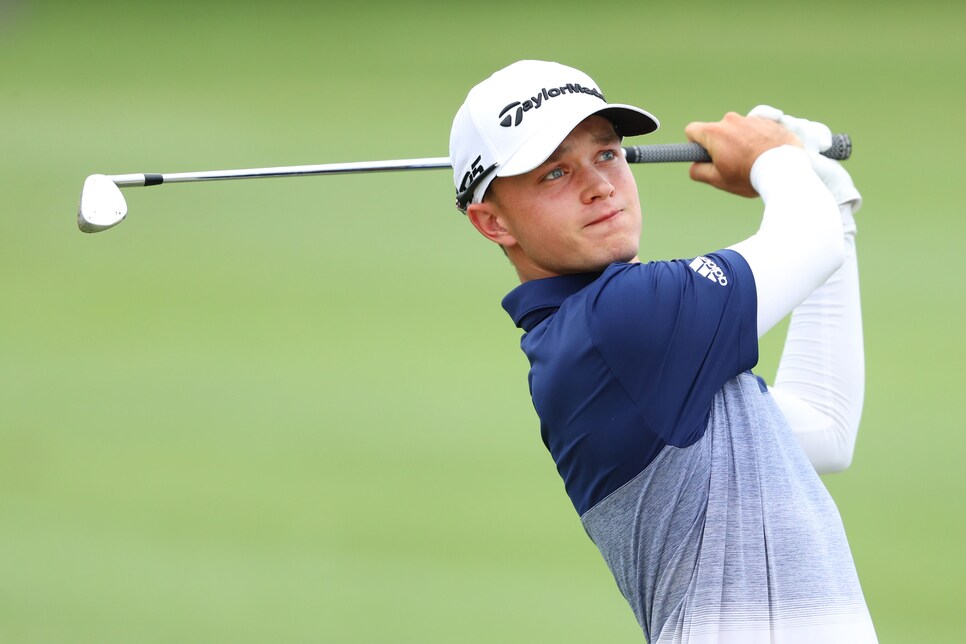 With his runner-up showing, Jayden Schaper, a 19-year-old South African, had the best finish of his nascent European Tour career.
Warren Little
• Bland was the steadiest of the four runners-up, playing the back nine in level par. But the experienced Englishman, winless in 468 European Tour starts, wasn't quite mistake-free. The 47-year-old's lost ball off the 15th tee led to a scrambled bogey on the 580-yard par 5.
Such catastrophic events weren't all down to the pressure that comes with contention either. Far down the leader board, Englishman Eddie Pepperell's closing 81 contained a back-nine of 47 marked by a pair of triple bogeys, one double and two other dropped shots. At least for one day, the Crocodile River separated not only golf course from national park, but wildlife from wild shots.