Instruction
This might be the scariest shot under pressure. Here's how you can handle it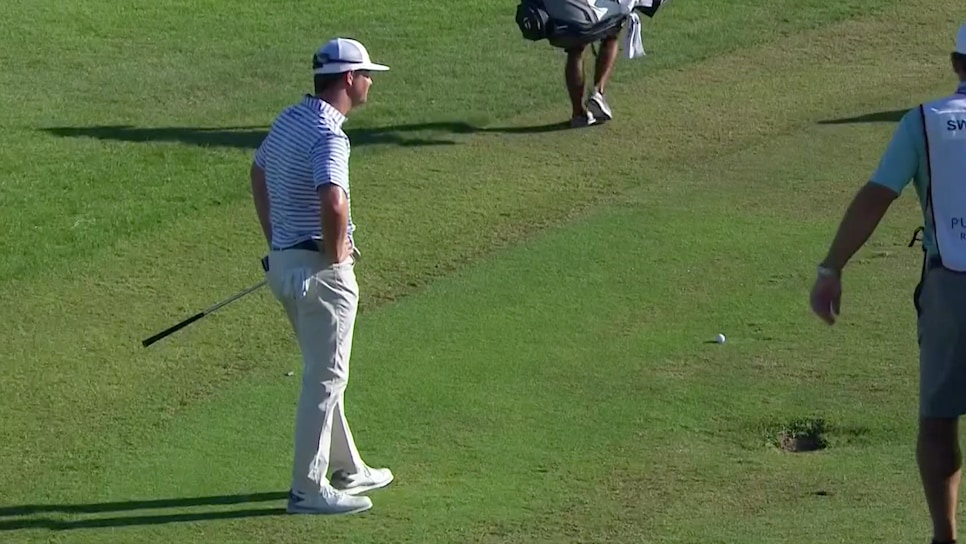 For all the daunting super-narrow tee shot corridors, forced carries and rough, something as subtle as grain could well be a PGA Tour player's kryptonite. It's a relatable struggle for average players—even if it's a low-pressure money match with friends, just a hint of pressure can cause us all to mis-hit the touch shot with meaning.
En route to winning last weekend's Corales Puntacana, Hudson Swafford made it interesting with some short-game duffs—flubbing an ultra-difficult chip shot at the par-5 12th hole and then doing the same thing on the following hole.
"Combine a short-game shot into grain under end-of-tournament pressure and you probably have what most tour players would consider their scariest shot," says top New Jersey coach Terry Rowles. "The kind of shots you saw Hudson Swafford hit are decidedly different even from Tuesday to Sunday."
Rowles says the main reasons touch shots like the ones Swafford struggled with are a change in tempo and the holding of the angle between the arms and the shaft. That was evident in this shot at the 13th hole:
"What those kinds of shots need are smoothness and softness and time for the club to extend and clubhead to slide on the ground," says Rowles. "But what happens when you're nervous is you get quick and force it through impact while holding onto the angle. That makes the leading edge dig into the ground."
The shot is made all the more nerve-wracking by the magnitude of the punishment when you make a mistake. Dumping a pitch or chip usually means you have to hit a similar shot all over again—with the same grain and even more nerves.
Here's that same shot Swafford had, but executed beautifully:
"Of course it's easy to say a player should do something specific like slow down and make sure let the club swing, but adding stress into anything makes it harder to do," says Rowles, who is based at Mountain Ridge Country Club in West Caldwell. "It's why the delicate, touch-dependent shots players are able to execute late on Sunday are so impressive to watch. They're harder to pull off than smashing a driver or hitting a full-yardage approach shot with a middle iron."
You probably won't encounter conditions as challenging as tour venues, but if you do have to deal with a pressure shot into the grain, a smaller swing with a less-lofted club is your friend.
"You don't see tour players putt from that kind of lie very often, but if the pressure was high enough and you absolutely had to get it on the green to a place where you could two-putt, that'd be the shot to choose," says Rowles. "There's a reason sayings like 'It's not how, but how many' become sayings."