Let It Out
Chesson Hadley would like to know if you think he's a good crier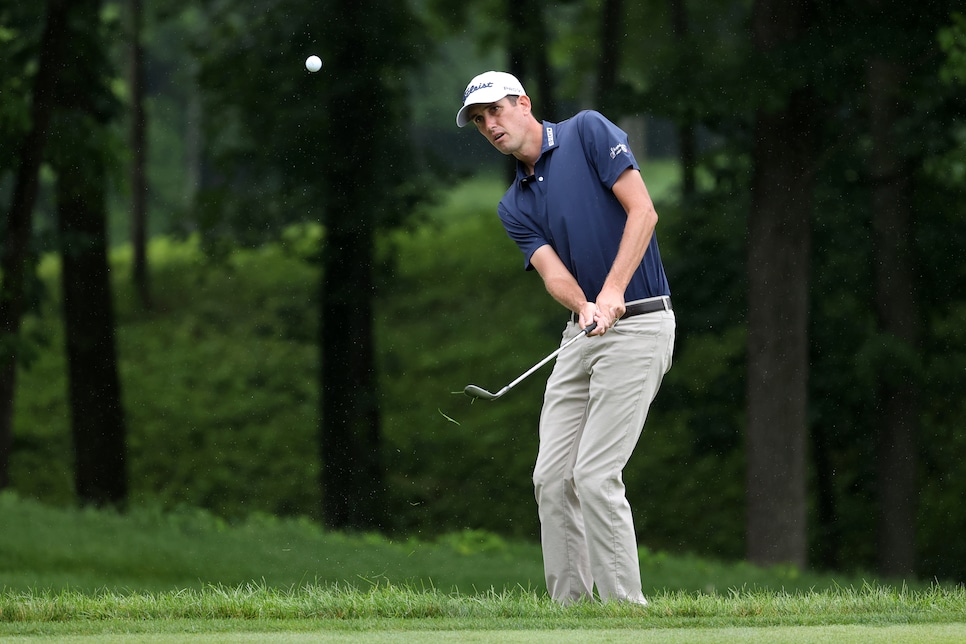 As real and raw as Doug Barron's interview was on Sunday at the Shaw Charity Classic, it didn't quite stack up with Chesson Hadley's incredibly emotional interview at the Wyndham Championship. Funny thing is, Hadley finished T-15, while Barron finished in first.
But that T-15 wound up holding enormous significance for Hadley, who, with the help of a missed putt from Justin Rose, snuck into the FedEx Cup Playoffs thanks to his final-round 62, which featured his first ever hole in one. Hadley, who missed out on the playoffs in 2020 after a rough season, was overcome with emotion when he spoke to CBS' Amanda Balionis Sunday afternoon.
Just two months ago, Hadley was in prime position to win the Palmetto Championship on Sunday at Congaree, but a final-round 75 saw him finish T-2, by far his best finish of the season. A win would have guaranteed him a spot in the playoffs, but because he hadn't had many other great results (zero other top 10s and 14 missed cuts), that lone top-10 finish left him with a lot of work to do to reach the first leg of the playoffs - The Northern Trust.
The 34-year-old grinded to the very end, making five of his next seven cuts and capping off his season with an inspiring T-15 to finish 125th in the standings. On Wednesday in New Jersey, he met with the media, fresh off a solid cry session on CBS for all of the golf world to see. Naturally, it was the first topic of discussion, with one reporter first asking him if he cried after the rough finish at the Palmetto Championship back in June. Hadley completely flipped the interview on its head, leading to this hilarious exchange:
Q. Did you cry after Congaree?
CHESSON HADLEY: Did I cry?
CH: Wow, no. No crying. I was disappointed, believe it or not.
Q. Sure. But I was just wondering because you were talking about crying at Wyndham and obviously the range of emotions in a few months for you.
CH: What did you think of my crying?
Q. I thought it was a great interview. Everyone loved it.
CH: Oh, but what about the crying specifically? Was I a good crier? Could I be better? How can I get better at it since you're asking about it?
I'm messing with you. I'm totally hijacking you.
Fortunately for Chesson, another reporter on site chimed in and told him he thought he was a very good crier, which is all Hadley was looking for. "I appreciate it," Hadley said. "I gave Sean every opportunity to tell me I was a good crier. Crickets."