PGA Tour
In the Honda as an alternate, Chase Seiffert takes unusual path into contention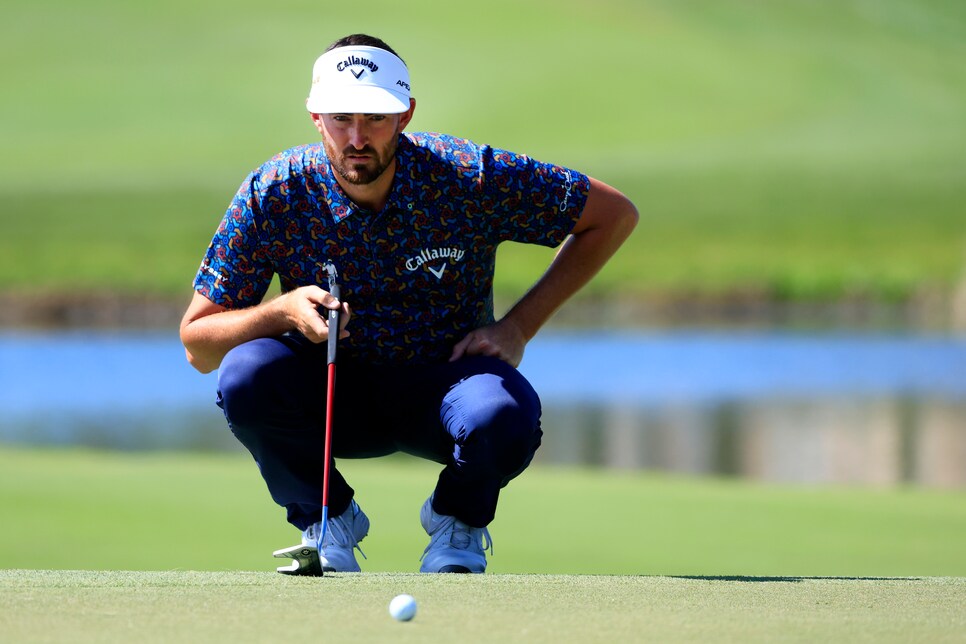 Chase Seiffert lines up a putt on the eighth hole during the second round of the Honda Classic.
Mike Ehrmann
PALM BEACH GARDENS, Fla.—When Chase Seiffert woke up on Tuesday morning and set out for Banyan Cay Resort and Golf, he knew his odds were poor. He was in a 16-for-1 playoff, a continuation of the Monday qualifying event for the Honda Classic, with a 6.25 percent chance of taking the final spot. And when he practically topped his second shot of the playoff on the par-5 10th and hit a mediocre third out of the bunker, it was over almost before it began. Rick Lamb was the only player to make eagle, and Seiffert took the unhappy walk back to the parking lot about ten minutes after he teed off.
To an outside observer, it would have looked like quite a blow. And you definitely wouldn't have guessed that just three days later, he'd have shot 69-66 to be inside the top six after two rounds at the PGA Tour event that seemed off limits.
Seiffert, 30, is a Florida State alum who has spent years trying to establish himself on the PGA Tour, but has yet to finish inside the top 125 of the FedExCup standings. That's why he had to go to Monday qualifying, and it's why he's struggled to find starts recently. The last calendar year has been hard on Seiffert, with 12 missed cuts in 22 tournaments, while his career highlight remains this very tournament. A year ago, he finished tied for third at the Honda, and to miss a return to a course he liked would have been a serious blow.
Lucky for him, he had an ace up his sleeve. He was the second alternate coming into the week, and on Monday morning, Cameron Tringale's withdrawal bumped him to first. Tuesday, moments after losing in the 16-for-1, he was on his way to use the range at PGA National when he got the call: Tyler Duncan had withdrawn, and Seiffert was in the field.
"It was really a relief, a weight off my shoulders that I didn't get through the playoff but was able to participate in the event," he said. "We were kind of preparing as if we were going to get in, because first alternate's almost always going to get in that early in the week ... so it was nice to then flip to the excitement instead of the anxiousness and just prepare for the week, get ready to go."
At that point, though, he learned to take nothing for granted. Last week, at a Korn Ferry Tour event, he was first alternate starting on Monday, and never got in the field. He seemed to be inside the cutoff at the Honda, but the re-sorting put him back on the outside looking in.
And now, with a five-under total on a course that has terrorized some very good players, he has a chance for the best weekend of his professional life. If this was a surprise to everyone else, though, it wasn't to Seiffert himself.
"I have just wonderful success at all of Nicklaus's golf courses," he said. "Even back to my amateur career. For some reason his courses look good to my eye. And I'm not sure if it's just the small areas for iron play or whatever, but all of his courses look good to my eye—here, Muirfield, and it's fortunate that I'm hitting the ball really well too the last two times I've been to this track, which is nice."
Not even the Bear Trap, the famously tough stretch between 15 and 17, could faze Seiffert, who played it in one-under on Friday.
"That's a nerve-wracking stretch of golf," he said. "Luckily, the last two days I had great numbers on all of the holes that I needed to, so that was a good thing. I hit a beautiful 7-iron today into number 15 in there to maybe 12 feet and was able to pour that in, which was a huge momentum boost. Sixteen's just a hard golf hole. I hit hybrid, 4-iron in there, good 2-putt. And then I didn't hit my best shot on 17, but I got a little fortunate it ended up in a nice spot with a good birdie look."
Seiffert credited his short game for the strong start, and the stats bear him out—he was 27th in the field in strokes gained/putting when he finished on Friday, and fourth in SG/around the green. His approach game has been almost as solid, and he's survived a few dicey drives to maintain a respectable number off the tee.
As we've seen in the past, life only gets harder for the leaders at the Honda Classic, and Seifferet's toughest work is ahead. But to some extent, he knows he's playing with house money, and nobody is quite as dangerous as the man who almost never played in the first place.